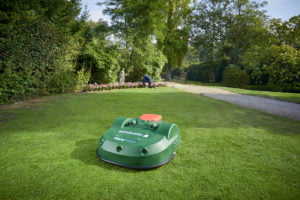 At Garden Equipment Review we are very pleased to be able to market the range of Belrobotics BigMow robotic mowers. Why cut the grass when a robotic mower can do it for you?
Belrobotics BigMow Robotic mowers are the world's leading robotic mower for large areas of grass. They are used on grass areas all over Europe, in Japan and in the USA.
24,000 M² Of Cutting Capability
With the ability to cut areas up to 24,000 m2, Belrobotics BigMow Robotic mowers gently manicure gardens. And the grounds of stately homes and company grounds, to the delight of their owners.
It is also used for special applications such as grass farms and water reservoirs. The robotic mower's low power consumption means that it beats all the records for energy savings.
The Belrobotics BigMow Robotic mowers can do what little robots can't.
A single Belrobotics BigMow Robotic mowers can mow a sports pitch or large garden in just a few hours! Imagine what you could do with their spare hours!
It's an uncompromising cutting method which is obtained thanks to its five floating heads. The floating heads adapt perfectly to the contours of the terrain.
Its all-powerful robust design means it rarely becomes stuck in challenging areas.
The BigMow is also very cost-effective due it is much cheaper than buying a tractor mower or several small robots with a lower performance specification. The BigMow is also very quiet and emits only 52 dB.
For More Information On Belrobotics Robotic Mowers Please Contact Roy On (07971) 648879.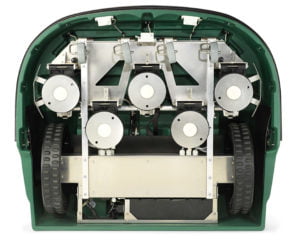 A Quality Cut
The BigMow Robotic mowers have a cutting width of 1033mm and are fitted with five floating cutting heads that adapt instantly to the ground's elevation. A total of 15 stainless steel blades provide perfect, constant mulching. Fitted with five sonar sensors, the Belrobotics BigMow Robotic mowers will instantly deactivate its cutting system if it encounters an obstacle.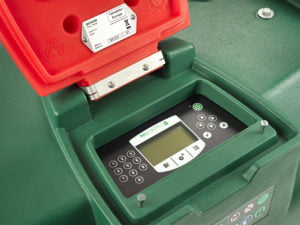 Smart Mowing
The BigMow Robotic mower works completely autonomously in all the zones delimited by the perimeter wires. Its activity remains quiet (max. 52 dB(A)) It saves data so its productivity can be controlled and adjusted if necessary. The charging process at a low voltage station is entirely automated and safe. It offers a sustainable mow with an average annual energy consumption of 830 kWh.
Mowing capacity up to 24000m2.
5 independent floating mowing heads.
Energy savings.
Absolute safety due to 5 sonars.
No more wasting time cutting grass.
Quiet mowing.
BigMow can be controlled from a PC, tablet or smartphone.
Program your grass to be cut at any time.
Rain sensor.
No more grass clippings to collect.
Mulching keeps your lawn greener for longer.
Stay Connected
Get lawn care at your fingertips with the Belrobotics App and Web Portal. Check the performance of your robot mowers wherever you are from your smartphone. Monitor live status updates, battery levels and their performance over the last five days. Get an easy overview of activities, parameters and schedules. Send any commands and get instant confirmation. Check robot GPS location with the associated alarms position. Search, sort, filter and group to compare all robot in your fleet.
Technical Specification For Belrobotics BigMow Robotic Mowers
Max. mowing area: 24.000 m2
Mowing width: 1033 mm
Number of heads: 5
Number of blades: 15
Speed: 3.6 km/h
Battery type: LIFePo4
Standard battery capacity: 19,2 Ah
More powerful battery options: (Ah) 24
Battery voltage: 26.4 V
Charging time: 80 min
Average annual consumption: 830 kWh
Anti-theft safety feature: Yes
Max. noise: 52dB
Monitoring: Track & Trace + SMS Included
Weight: (kg) 71 kg
Dimensions: 111cm x 127cm x 51cm (Length x Width x Height)
Low cut – minimum: 20 mm
High cut – maximum: 100 mm
Standard max. Slope 30%
Max. slope with option (Kit): 45%
Sonar: Yes
Adaptive mowing: Standard
Multizone: Yes
Obstacle sonar: Yes
Fleet management system: Yes