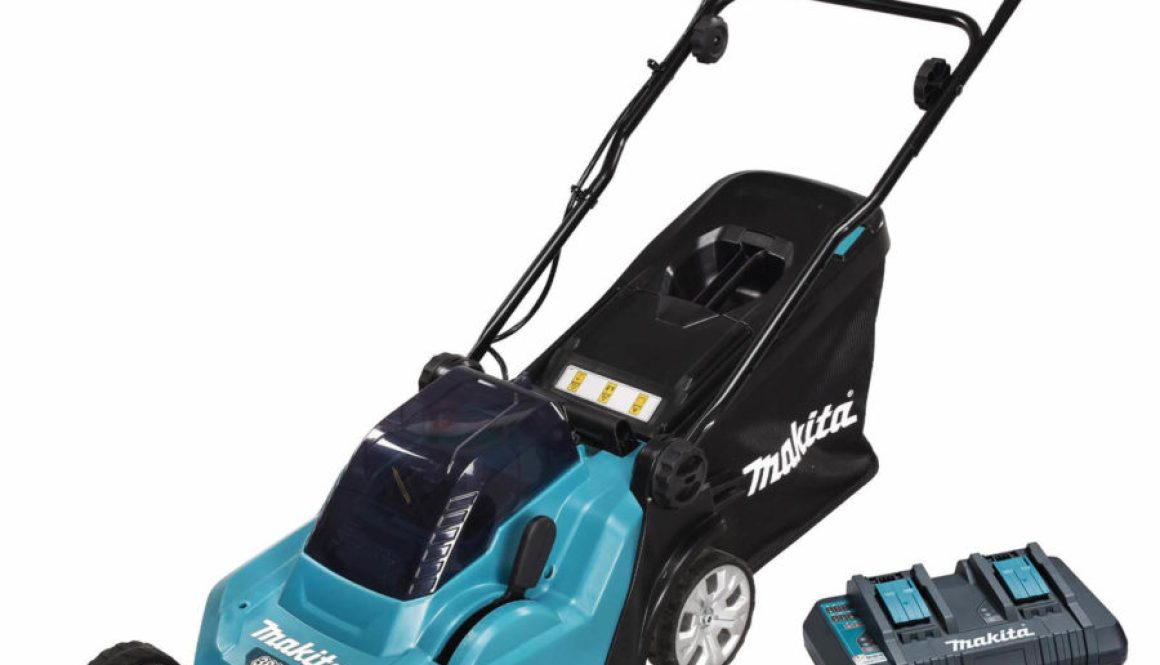 ..Recently I created a video entitled what type of Lawnmower 2023. My aim is to explain the various types of popular lawnmowers that are available. There are certainly quite a few different types. It's important to have the right type of mower for the type and size of the lawn that you are cutting. I have seen far too many people struggle in the garden just due to the fact of using the wrong tools or machines. You can see all the different types of mowers in the video. I will put the various categories and types of mowers below the embedded video.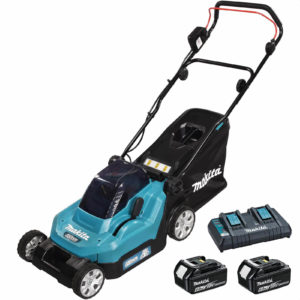 Cordless Lawnmowers
Cordless or battery lawnmowers are a great idea. Due to the fact that you have low maintenance and no trailing electric cable. However, care needs to be taken as often domestic battery mower's do not have very long lasting batteries. There are some manufacturers that have a range of attachments for the battery tools, so the same battery fits all the tools. It's always better to have a machine that is overpowered rather than underpowered. The commercial battery lawnmowers have come along way over the last couple of years. However, these machines are not cheap. So take care to make sure you have enough batteries or battery power to be able to cut your lawn in one go. There's nothing worse than having to stop halfway through a job due to the fact of running out of fuel. In this case, battery power!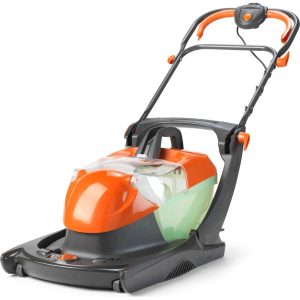 Electric And Petrol Hover Mowers
Hover mowers used to be very popular in the 70s and 80s, though they are not quite so popular now. Hover mowers are designed to work on a cushion of air. However, that's not always quite the case, I have often found it easier to pull the mower rather than push it. In this way, the mower tends to float on a cushion of air. Hover mowers are great for doing banks and around trees and obstacles. Some hover mowers mulch and others have a collection box. Traditionally, a hover mower would mulch. There are electric hover mowers and petrol hover mowers, personally, I prefer the petrol models as there are no trailing leads or cables to deal with.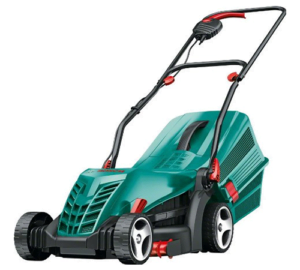 Electric Lawnmowers
Electric lawnmowers come in all different types, the majority of electric mowers are rotary mowers with a collection box. However, there are a few lightweight cylinder models available and hover-type mowers that mulch or collect the clippings. I'm not a great fan of electric mowers. However, they do potentially do the job and offer value for money. In general, electric mowers are designed for the smaller garden and will normally average around 12 to 14 inch cut. The plus points are that electric mowers offer value for money and are cheap to run. The downside is that you have a trailing cable and you need a nearby power source.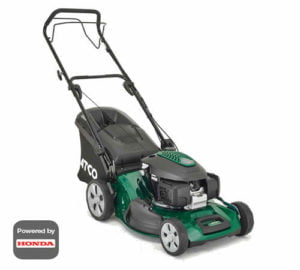 Four Wheeled Rotary Mowers
Four wheeled rotary mowers are powered by 4-stroke petrol engines. Most of these machines have a collection system or a mulching system and some of them both. They are available in push models and self-propelled models. I would definitely pay the extra money and go for the self-propelled models. We have a wide-ranging of these mowers on our website.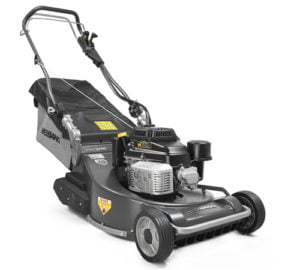 Rear Roller Mowers
Petrol rear roller mowers are great for that perfect striped finish that really helps to finish off a lawn. They are not ideal for really long grass. However, they will cut grass that has been left for a few weeks. However, they are really designed for once-a-week or fortnight cutting. Rear roller mowers are powered by the rear roller by a four-stroke petrol engine. They come in various sizes, from around 15 inches to 22 inches. Most of the roller mowers are powered through the rear roller, although there are a few of the smaller models that you need to push. I would personally go for a mower that drives; it's so much easier and much better for the operator. I appreciate that there is an extra cost, but I do believe that it is definitely worth the extra cost.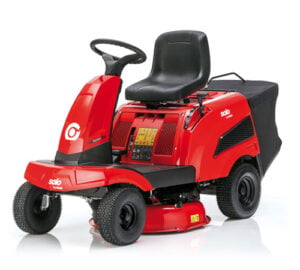 Ride On Mowers
Ride on mowers are designed for the larger garden, although they offer a bit more manoeuvrability than lawn tractors due to a slightly smaller size. It's important that you find the right ride-on lawnmower for your garden. If you have too many obstacles in your garden, sometimes you are better off with a decent walk-behind machine. In some cases, you can spend half the time manoeuvring your machine around obstacles. The majority of ride-on mowers collect the grass clippings, however, there are some models that are available for mulching.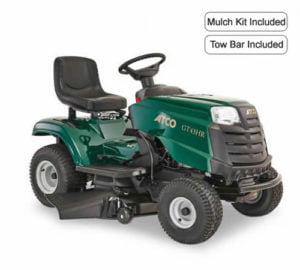 Lawn Tractors
Lawn tractors are for larger gardens and, in general, don't offer quite so much manoeuvrability as the smaller ride-on mowers. I must admit over the years that, lawn tractors have improved and become more manoeuvrable. Lawn tractors generally have collectors or sweepers to collect the grass. Some models have a mulching option which is always useful as mulching helps to keep your grass greener in the summer. There are also some models that are purely mulching machines. Take care before you purchase to make sure you purchase the best machine that you can afford.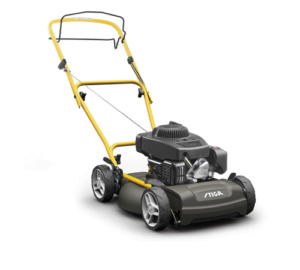 Mulching Mowers
Mulching mowers are great as there are no grass clippings to collect, which can be a huge timesaver. Some manufacturers offer dual functionality, so you have the option to collect or mulch the grass, this is quite a useful feature. Mulching mowers are available in walk behind versions, ride-on mowers and out-front mowers.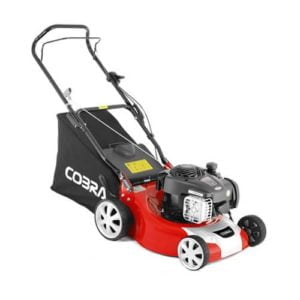 Push Mowers
Push mowers are available as rotary mowers, electric mowers and cylinder mowers, the most popular being the electric models and the four-wheel petrol models. For most people, I would always recommend purchasing a mower that is self-propelled. However, in general, push mowers are designed for small gardens.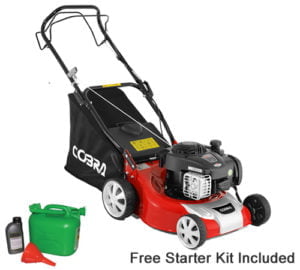 Self-Propelled Lawnmowers
Self-propelled lawnmowers are normally petrol four-wheeled mowers, or at least they are categorised in this way on our website. Unless you have a very small garden, it is definitely worth paying extra money to have a mower that is self-propelled, it makes life a lot easier. It also doesn't add a huge amount of money to the cost of the machine, especially if you are purchasing a budget mower.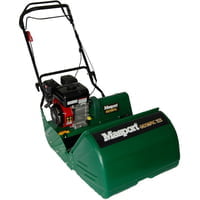 Petrol Cylinder Mowers
Petrol cylinder mowers are fantastic if you want that Bowling Green look on your lawn. However, for most people, a rear roller rotary mower is more practical than a cylinder mower. I don't want to deliberately put you off a cylinder mower. As they really do give a fantastic finish, especially when they are set up correctly. If your lawn is flat and smooth and you really want a Bowling Green finish, then it's definitely worth looking at a cylinder mower. With a cylinder mower, you need to cut your lawn regularly as a cylinder mower will not be able to cope with longer grass. The maintenance is also much higher on racial the mower. They have a very precision cutting action, so is important that the blades do not come out of alignment by hitting obstacles etc.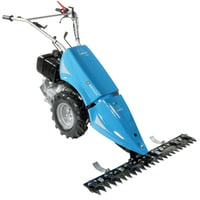 Scythe Or Sickle Bar Mowers
Scythe or sickle bar mowers are great for cutting long grass or tough grass and scrub areas; you can even use a sickle bar mower to make hay. The sickle bar mower will not chop your grass like a rotary mower, so in most cases, you will have to clear up after using the mower. However, they can cut through brambles and small saplings, which is great if you are clearing an area.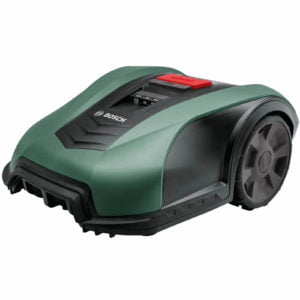 Robotic Mowers
Robotic mowers have been available for several years now, if you don't like cutting grass or you're very busy, they are definitely a good option to look at. Technology is improving all the time. The majority of robotic mowers have a perimeter wire which runs all around the garden and around flower beds and any other obstacles. If you have lots of obstacles, it may not be practical to use a robotic lawn mower.
It's important to take time to carry out the setup process as this can be a real-time saver if it's carried out correctly. In other words, if the installation is carried out properly, you will have minimal strimming and missed bits of grass to deal with! Most robotic mowers have their own base station and can be set up to come out at various times of the day. Due to their mulching feature, it pays to use the mower regularly to keep your lawn in tip-top condition. I have seen many robotic mowers used successfully in domestic and commercial gardens.
The only feature that robotic mowers do not offer at the moment is stripes. However, I am told that this may be something that will be available very soon.
Zero Turn Mowers
Zero turn mowers are the most manoeuvrable mowers on the market. They can literally turn on a sixpence or at least within their own length. A zero-turn mower has two hydrostatic motors on the rear wheels and two caster wheels at the front. Each rear wheel can be individually controlled by a lever which gives you variable speeds in forward and reverse and also enables the machine to dodge round obstacles exceptionally easily. There are now some models that actually have a steering wheel rather than two levers. I haven't used a zero-turn with a steering wheel. However, I am told that they work well. These machines are available in petrol, diesel and there are now some commercial battery models available.
Out Front Mowers
Out front mowers are not quite as manoeuvrable as a zero turn mower. However, they are still very manoeuvrable when it comes to going around trees and various obstacles. The majority of out-front mowers have an articulated body, which enables the whole machine to turn easily. The majority of the out front mowers are mulching machines which I have been very impressed with. They certainly seem to be very popular at the moment and of course, with no grass to collect, they are very quick and efficient to use. These mowers are available in petrol and diesel; I'm not sure if there are any electric models available as yet.
To Conclude
As you can see, there are huge amounts of mowers available. It really is important to purchase the right machine for the job and make sure that the machine does what you want it to. There are many people with larger gardens who will have two or three different mowers. But the majority of people, we just use one lawnmower. My personal favourites for lawns are the rear roller rotary mowers, these mowers leave a good finish and are probably the most practical machines for the majority of lawns. If you have a large lawn or paddocks and orchards, then the zero-turn mowers and the out front mowers are brilliant, especially if you have a mulching deck.
As I always say to people, by the best machine that you can as it works out cheaper in the long run. I appreciate that we all have a budget to stick to. However, in my experience, it pays to buy a good machine will give you many years of service.