Description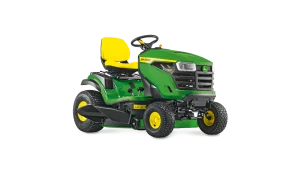 The John Deere X127 Ride-On Mower is a dependable, durable and powerful mower. It comes with a welded steel frame and cast-iron front axle. It has a practical, well-thought-out design and a powerful engine with variable-speed transmission in forward and reverse. The John Deere X127 comes with high-quality headlights, which all help to make the ride-on mower a pleasure to own. The John Deere X127 Ride-On Mower has replaced the John Deere X155R rear collection ride on lawnmower.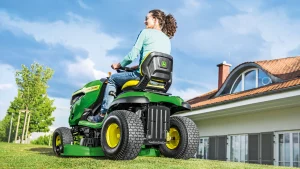 Engine
The powerful Briggs & Stratton V twin engine features for pressure lubrication for dependability and long life.
The large displacement 656 mL engine develops 20 hp (12.36 kW), which gives excellent performance.
Cast-iron cylinder liners guarantee longer engine life.
The V twin engine has plenty of torque and low vibrations and is generally quieter than its predecessors.
Overhead valves increase performance, power and fuel economy.
Choke protection ensures that the operator cannot leave the throttle lever in the choke position.
Electronic fuel admission for economy and efficiency.
Full pressure lubrication and oil filter ensure cleaner oil or longer engine life and extended time between oil changes.
Heavy-duty air filter.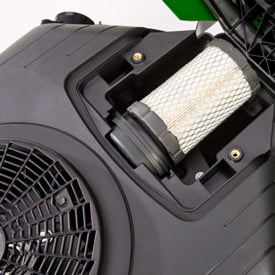 The engine oil filter and the in-line fuel filter help to give trouble-free operation. They are both sensibly located for easy servicing.
A very useful feature; the engine has a no-tools drain feature, which makes draining the oil exceptionally easy.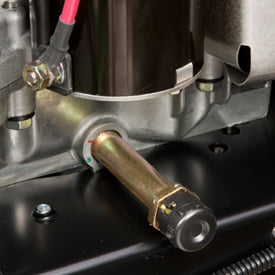 The fuel tank has a 9 L capacity which is approximately 2 gallons.
There is a large fuel filler cap which is conveniently located underneath the ride on mower seat, for easy filling.
The sealed fuel Helps to keep vapours inside the tank.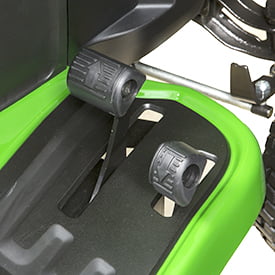 Hydrostatic Drive
The hydrostatic drive is the equivalent of having an automatic transmission. The hydrostatic transmission is simply an oil pump that powers the hydrostatic drive to the wheels. The two pedals give instant forward and reverse at variable speeds to the mower, making it highly manoeuvrable and efficient. It's much better than the old-fashioned gearbox and clutch method!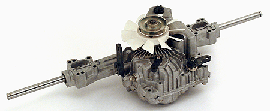 The hydrostatic transmission is powered by the popular Tuff Torq transmission, which is exceptionally easy to use.
Kanzaki and Tuff Torq are trademarks of Kanzaki Kokyukoki Manufacturing Co., Ltd.
More Features
Operator station design for comfortable operation.
Convenient controls and fuel level gauge on the dashboard.
Convenient servicing with easy-to-open hood.
Reverse implement option.
Cargo mount makes installation of the rear bagger feature very easy.
107 cm (42 inch) cutting deck gives excellent performance.
Cutting Deck
"The Edge" cutting system has been trademarked to emphasise the advantages of the John Deere ride-on mower deck designs, which gives the mower superior convenience, performance and reliability.
13 gauge 2.3 mm steel deck for long life and strength.
The three-in-one blades work well for side discharge, mulching and begging.
The blade-to-spindle design provides a unique mounting system for the mower blade that provides extra safety and convenience.
No tools are required to switch from mulching, side discharge or rear bagging.
The mulching cover comes standard with the John Deere X127.
High-performance mulching blades are available.
An optional high-performance mulching attachment is available if required.
The mower deck features a wash port, a great way to keep your deck clean.
The blades feature a stock lock blade design which stops the blade slipping.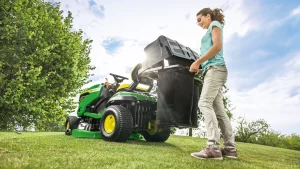 Optional Collector
An optional collector is available if you require to collect the grass clippings. The collector has a capacity of 230 L, which is collected into two separate bags. The bag kit can be set up in a matter of minutes without the need for any tools. Special blades are available for grass collecting if required; this helps to give optimum performance.