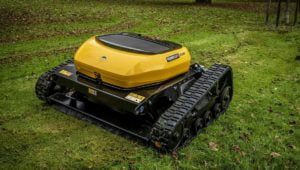 I have recently been looking at the range of McConnel Robocut tracked radio remote mowers. Having used radio remote stump grinders, I can see the advantage of having a remote-controlled mower. Especially in situations where the area is rough or where there are slopes and banks to be mowed.
McConnel Robocut RC28
It looks like there are four models starting with the McConnel Robocut RC28, which is the smallest model. This model is designed for finer turf applications, it comes with a 1.1 m rotary cutting deck with mulching capabilities. The RC28 mower can work on gradients up to 55°. The remote controls offer full precision and proportional control. The GPS auto steer helps to maximise productivity and efficient working helping to keep the operator and machine working safely.
Features
Powerful 28 hp EFI petrol engine.
Works on slopes up to 55°.
Fully radio remote.
Full remote control of the mower, including deck functions.
GPS auto steer.
Low ground pressure creates minimal damage to the surface.
Even weight distribution.
Light and easy to transport
Vanguard Engine
The Robocut RC28 comes with a Briggs & Stratton Vanguard 810 cc EFI petrol engine. The petrol engine develops 28 hp (21 kW). The great thing with the modern petrol EFI engines is that they are so much more efficient and reactive than the old carburettor type models.
With large rubber tracks, the Robocut RC28 has a very light footprint. The mower only weighs 480 kg, so the weight is distributed very evenly across the rubber tracks. Another great feature is that the rubber tracks are self-tensioning, so is no need to pump up the tracks with a grease gun anymore!
Mulching deck
The mulching deck comprises of three blades which offer bidirectional cutting. The drive to the blades is through a direct shaft with an electric clutch. To my mind, shaft-driven machines are much more efficient than belts. In my experience, I have found that on many machines, belts regularly need tightening, which increases downtime.
The cutting height varies from 30 mm to 180 mm, so there is plenty of scope available for various cutting conditions. It's always good to have the option to be able to cut at a high setting. Especially if the conditions are tough.
The blade stop time is just three seconds, so in emergencies, the machine can be stopped very quickly.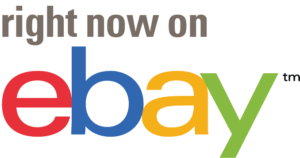 Remote control
The remote controls offer a 150 m working range, which is a considerable distance. The remote control is powered by two rechargeable batteries. The GPS auto steer helps to maximise productivity.
To Conclude
The Robocut looks like it is a great mower for clearing long grass and looks equally at home cutting paddocks. Its ability to work on 55° slopes is also a great feature. It looks very at home working on banks or on a slope. It's almost a go-anywhere mower. Something that I've always liked about radio remote machines is that you can keep out the way of the machine and the noise. You can find more info on the McConnel Robocut RC28 here
Specification
Engine
Make
Vanguard 810cc
Electronic Fuel Injection (EFI) engine
Horsepower
28hp (21kw)
Fuel
Petrol
Fuel tank capacity
2 x 10 litre, removable tanks
Drive
48V AC electric motor to final reduction
Maximum noise levels
98dB(A)
Speed
0-7 kph
ComplianceANSI B71.4 safety regulation
Mulching Deck
Cutting width1.1mCutting height30mm – 180mmProgrammable low height settingStandardBi-directional cuttingStandardUpdraft, mulching bladesStandardDrive typeDirect shaft drive with electric clutchBlade tip-speedVariable up to 5500m/minFast-stop rotorsStandard (3 second)
Tracks
Universal rubber standard ~ max working angle 55°Self-tightening spring washer Length (axle to axle)1000mm
Remote Controls
Working range150mFrequency434Mhz (certified by CE legislation)Battery2 x rechargeable batteriesProportional joysticksStandard
Dimensions
Overall width1500mmOverall length (without attachment)1510mmOverall height765 – 915mm
Weight
ROBOCUT RC28480kg
robotic