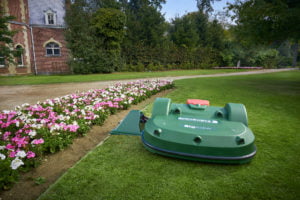 We are pleased to announce that we are now agents for the Belrobotics robotic mowers and the Belrobotics ball collector.
I first started selling robotic mowers for domestic gardens 12 years ago as I could see the benefits were massive. Many of us are very busy. The last thing we want to do is to spend time sitting on a lawnmower cutting grass. Although I know there are some people who actually find grass cutting very therapeutic! The fact is that a robotic lawnmower is totally automatic. A robotic mower can be controlled from your PC, tablet or smartphone. No more spending the whole weekend cutting the grass or trying to get it under control due to wet weather or being away. Your Belrobotics mower simply mows well you can relax or get on with other chores or hobbies around the home and garden.
For more information contact Roy on (07971) 648879.
We have a wide range of various mowers on our website including smaller robotic mowers for domestic gardens. However, it is a great pleasure to be able to supply the Belrobotics range of robotic mowers that cover large areas that would be traditionally cut with a ride-on tractor.
On this page, we have created a range of videos that explain the different uses that a Belrobotics mower can be used for.
The Advantages of Using A Belrobotics Robotic Mower In A Private Garden
The Advantage Of Using a Belrobotics Robotic Mower On Sports Pitches
The Advantage Of Using A Belrobotics Robotic Mower Around Offices And Yards