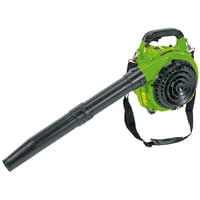 Today we are looking at the Chipperfield Pro EBV260 – our cheapest petrol blower Vac! I'm not quite sure how manufacturers can produce a petrol blower Vac for such a small amount of money. The Chipperfield pro EBV260 is available for £89.99 including VAT, it is our cheapest leaf blower and Vac on our website!
The Chipperfield pro EBV260 is a three in one design, in other words, it blows, vacuums and mulches.
The reviews are surprisingly good for a leaf blower that costs so little. The average review rating is 4.7 out of five which is very good indeed.
Let's take a closer look at the Chipperfield pro EBV260 petrol blower vac.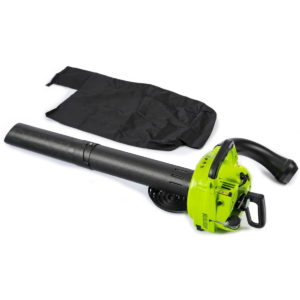 Features
An exceptionally low priced petrol leaf blower.
Blows, vacuums and mulches.
25.4 cc efficient two-stroke engine.
30 L collection bag.
Shoulder harness.
Tapered nozzle – direct the air to the right place.
Rubber impact mounts to protect the leaf blower.
One year warranty.
Chipperfield Pro EBV260 – Our Cheapest Petrol Blower Vac
As I've mentioned before in previous blog posts, the petrol leaf blower is the tool that I use the most in the garden. The primary use of a blower is for leaves, however, they are excellent for tidying up after a days work in the garden. Or if you just want to blow a patio down and give it a quick tidy up, a leaf blower is a time-saving device that literally saves hours of time, especially when it comes to clearing up.
Engine
The Chipperfield pro EBV260 petrol blower vac is powered by a high-capacity 25.4 cc air-cooled engine which develops 0.9 hp. A useful feature is the 0.65 L fuel tank which has an at a glance feature for taking the fuel. Two-stroke engines need a petrol oil mix as there is no oil sump on a two-stroke engine. It's important to buy a quality two-stroke oil to mix with the petrol. The majority of two-stroke engines today run on a mix of 50 to 1 which makes the engines run much cleaner.
Vacuum Feature
Many petrol leaf blowers feature as a vacuum as well as a blower. This is a useful feature for cleaning a patio or getting in those awkward places. In my experience, for the majority of the time, I find it much easier to use a leaf blower as a blower rather than a vacuum. In most cases, it is much easier to blow leaves and debris into a heap or into a corner and then load into a wheelbarrow or something similar. If you have a lot of vacuuming to do then I would suggest something more like a wheeled leaf collector with a large vacuum pipe.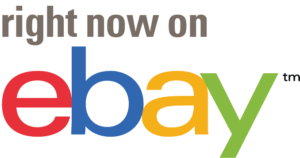 Mulching Feature
Mulching is a useful feature as it helps with composting and maximises the 30 L debris bag. Allegedly, the Chipperfield Pro EBV260 can shred the material up to 80% of its original size. Once again, remember that the primary job of this petrol leaf blower is to blow rather than mulch garden debris. Don't expect miracles from a machine of this size!
To Conclude
I always recommend people to buy the best machine that they can afford. The Chipperfield Pro EBV260 petrol blower vac certainly offers value for money at £89.95, it's a good way of getting a petrol blower cheaply. The blower comes with the manufacturers one year warranty. It is slightly heavier at 6.5 kg with its more expensive competitors, so bear that in mind, although it does come with a shoulder harness. I must admit that I prefer not to use any harnesses as I like the freedom of being able to move the leaf blow around freely. I have to admit that the reviews are surprisingly good, for a petrol blower at this price. The average review is 4.7 out of 5.
Although the Chipperfield PRO EBV260 offers value for money, long-term, I would recommend buying something more expensive and longer-lasting. I appreciate that this is not always possible. Having used the Stihl brand of petrol leaf blowers for many years, I can definitely recommend this brand. I know for a fact, that a Stihl blower will give many years of service, although the initial cost will be more, long-term, your investment can work out much cheaper though. Another fact to take into consideration is that you can feel when you are using a good quality and well-engineered piece of machinery!
Specification
| | |
| --- | --- |
| Wheel Kit | No |
| +Debris Reduction Ratio | 8:1 |
| +Shredding System | Yes |
| Vac Kit | Yes |
| +Bag Capacity | 30 Litres |
| +Harness | Yes – Adjustable |
| Warranty | 1 Year |
| +Weight | 6.5kg |
| +Engine Type | Petrol 2-stroke |
| +Engine Power | 0.9hp / 0.7kW |
| +Engine Capacity | 25.4cc |
| +Engine Fuel Tank Capacity | 0.65 Litres |
| +Engine Starting System | Recoil |