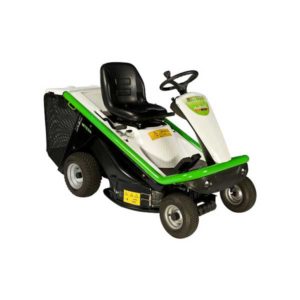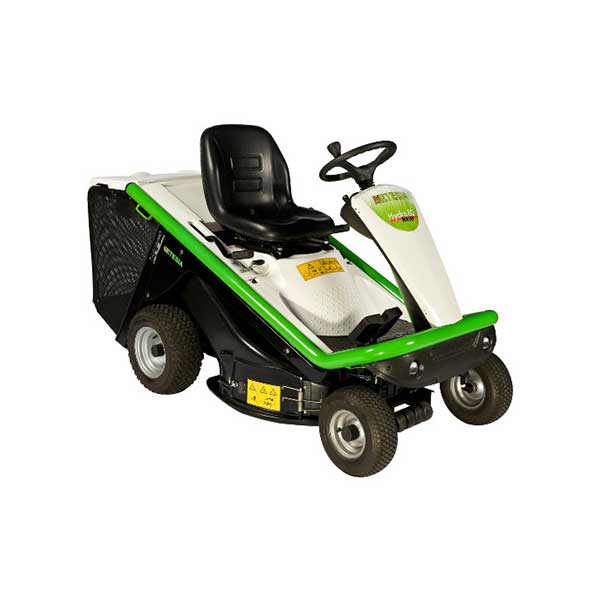 The Etesia Hydro 80 MKHP 3 is a small professional 32-inch cut ride on mower that has great wet grass collection capabilities and is highly manoeuvrable. Etesia is renowned for producing mowers that will cope with wet grass which will work efficiently in UK conditions. The Etesia Hydro 80 MKHP 3 is available for £5450 plus VAT.
Etesia was founded in 1989 in France, so it's a relatively new company, as far as mower manufacturers go. However, Etesia has grown very quickly and now has operations in more than 30 countries and five continents.
The reason I first purchased an Etesia Hydro 80 MKHP 3 was the fact that we were cutting a lot of grass with roller rotary mowers. In fact, I was using three Hayter Harrier 56 roller rotary mowers. It wasn't particularly the fact that I wanted a ride-on mower, it was more the fact that I needed a mower that would collect wet grass. This is something that Etesia machines do extremely well and the Etesia Hydro 80 MKHP 3 is no exception.
I was also looking for a compact and manoeuvrable machine that would be capable of working in tight spaces and go where a traditional roller rotary mower would go. The Etesia Hydro 80 MKHP 3 does this extremely well.
Let's take a closer look at the Etesia Hydro 80 MKHP 3
Features
A highly compact machine that can replace your roller rotary mower.
Excellent wet grass collection.
Built-in grass box for quick emptying.
Compact.
Low maintenance.
Built for long life.
Hydrostatic transmission.
Optional roller.
Electronic blade engagement.
Kawasaki twin 4 stroke16 hp engine.
The two main reasons that I purchased the Etesia Hydro 80 MKHP 3 was the fact that; I needed a machine that was very compact and could go where a traditional walk-behind mower could go. And secondly, I needed a machine that would collect wet grass. Unfortunately, in the UK, the grass is more often wet than dry! I'm surprised that the majority of mower manufacturers have been so slow to overcome the wet grass problem. Thankfully Etesia has used common sense and is producing mowers that make a great job of grass collecting.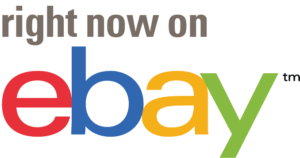 Manoeuvrability
The Hydro 80 measures just 1.98 m x 0.82 m wide, which is very compact indeed. This enables the machine to pass through most gateways and get into the tightest of spaces. The turning circle is excellent for a machine of this type and with the hydrostatic transmission, the mower can quickly be turned around for efficient mowing.
Hydrostatic Drive
Most ride-on mowers are fitted with hydrostatic drive today, in fact, I would not recommend purchasing a machine with a gearbox, even though they are slightly cheaper. Hydrostatic drive enables you to have variable speed and instant forward and reverse in either direction. It is much easier and more user-friendly to use than a traditional gearbox machine.
A hydrostatic drive consists of an oil-driven motor that powers the rear wheels of the mower, the motor is powered by a small hydraulic pump. On this particular machine, there is a belt that drives the hydraulic pump from the Kawasaki engine. Hydrostatic drive really is the best and most efficient way to power your mower.
Engine
Etesia has powered the Hydro 80 with the excellent Kawasaki 16 hp four stroke twin engine. This engine gives plenty of power, for all types of conditions, there are many similar machines that have much smaller engines. I have had Kawasaki engines on several machines and I have found them to be very efficient fuel wise, reliable and easy to start.
Excellent Grass Collection
To me, grass collection is one of the most important features on any mower. So many machines have issues when it comes to wet grass, however, the Etesia copes exceptionally well with all types of conditions.
With its compact design, the grass is blown up a short tube directly into the compact grass collector. The 32-inch blade that has large lifters creates a massive flow of air which forces the grass into the collector. The only time that I normally had a blockage was if a small twig became lodged in the tube. However, Etesia made the cutting deck with a hinged door to make it extremely easy to clear any blockages. Simply unlatch the door on the cutting deck and any twigs or wet grass can quickly be removed.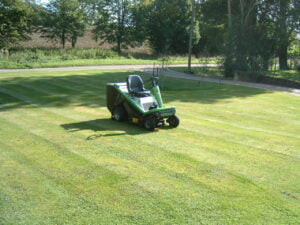 Grass Collector
The compact grass collector that has a large capacity of 240 L which can be emptied from the operators seat by simply pulling a lever. There is no need to dismount from the machine. I see far too many ride-on mowers with collection bags that need to be emptied manually and require the operator to leave the seat. I would avoid this type of machine as to me the idea of having a ride on machines as you stay on the machine until you have finished the job!
Once the grass collector is full the alarm will sound that stops you overfilling the grass box and creating a blockage.
Cutting Deck
The cutting deck is fitted in a central position underneath the machine that allows the machine to pass through tight spaces. The 32-inch cutting deck has one single blade with bolt-on lifters that can be replaced, a very useful feature indeed. There are also a couple of shear bolts to protect the machine should the blade hit a hard object. If I used to regularly change these lifters when I was contracting as I wanted maximum collection performance. The lifters enable the grass to be blown efficiently into the collector.
There is an optional mulching kit for the Etesia Hydro 80 MKHP 3, however, I much preferred to collect the grass as I didn't feel the mulching kit was the best.
If you do not want to collect the grass, simply remove the panel at the base of the collector and the grass will fall onto the lawn.
The blade is engaged electronically by simply pressing a switch from the operator's seat. Take care when engaging the electronic clutch, make sure that the machine is running on tick over. In this way, the clutch won't snatch in and it will prolong the life of the clutch.
The cutting height varies from 44 to 122 mm, the adjustment is simply made by a lever next to the operator's seat. I actually had a metal plate made up by an engineer that enabled me to have more adjustment. This was something that I found very useful, I'm not quite sure why Etesia didn't do this themselves.
The cutting deck can easily be cleaned, simply attach a standard garden hose to the cleaning port, engage the cutting deck and within a few moments you will have a very clean cutting deck.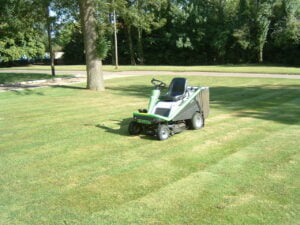 Optional Roller Attachment
I had an optional roller attachment fitted to my Etesia, this was made by an engineering company; not actually Etesia. I know that so many people like to see their lawn striped, the roller attachment made a good job of striping the lawn.
To Conclude
If you're looking for a compact professional mower that will collect wet grass and work in tight spaces, in the Etesia Hydro 80 MKHP 3 is a great choice. This machine literally saved me hours of time when I was contracting, due to its efficient collection system and compactness. Etesia's are not cheap, however, you have a quality machine that will last providing you take care of it.
Specification
Cutting Width: 80cm
Dimensions (L x W x H): 197 x 82 x 117 cm
Weight: 240kgs
Engine HP: 16HP
Transmission: Hydrostatic
Motor Specification
Horse Power: 16HP
Fuel: Unleaded fuel 95/98
Fuel Tank Capacity: 12 litres
Wheel Transmission Specification
Transmission Type: Hydrostatic
Number of Wheel Drive: 2
Forward Speed (km/h): 9
Reverse Speed (km/h): 9
Working Angle (%): 18
PTO: No
Mower Specification
Output (theoretical): 7200 m²/h
Number of Blades: 1
Rotation Direction: Hourly
Blade Protection: Shear Bolt
Cutting Width: 80cm
Cutting Height: from 44 – 122mm
Bade Clutch: Electromagnetic with built-in brake
Emptying System
Ground assisted emptying
Tubular structure – anti UV
Grass Box Capacity: 240 litres
Measurement and Weight Specification
Height: 117cm
Width: 82cm
Length: 197cm
Weight: 240kgs