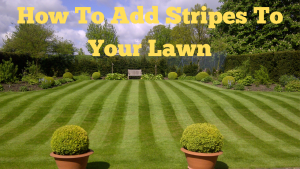 One of the questions that people often ask me is how can I have nice stripes on my lawn? It's very easy to create stripes on your lawn; all you need is a mower with a rear roller. I normally recommend a roller rotary lawn mower rather than a cylinder mower. For most people, a roller rotary mower is more suitable and more universal.
The lawn that you can see in the photograph was cut with a Hayter Harrier 22 inch lawnmower. It leaves a good finish, however, I wouldn't particularly recommend a Hayter Harrier lawnmower. I used to use Hayter Harriers all the time for lawn cutting. Unfortunately, they haven't really kept up with the times and there are much better models available.
You can see a couple more lawns here that are striped up with a roller rotary mower. In the last two photographs, I used a Weibang Legacy 56 Pro 3 speed Self-Propelled Rear Roller Lawn mower. In my opinion, they are a much better rotary mower than the Hayter Harrier. I have been fairly faithful Hayter Harrier brand for many years, however, I just don't find that they are up to the job now and there are much better alternatives.
Many British people really appreciate a traditional striped lawn. I have to say that I really think a striped lawn really enhances a garden. The garden can almost be quite untidy and yet if you have a nicely cut striped lawn, you don't actually see the untidy bits of the garden!
We Have A Range Of Roller Mowers
You can use two types of lawnmowers to create a striped lawn. However, I do really recommend a roller rotary mower for most people's needs. The other type of mower is the cylinder type of mower which do give a brilliant finish. However, they generally need a little bit more maintenance and they cannot cope so well if the grass has become a bit long. Cylinder mowers are often used on bowling greens and cricket pitches and golf courses. If they are set up right, they can give an absolutely brilliant finish. However, once again, I would say for 95% of people, are better off with a roller rotary lawnmower.
All the lawns in the photographs that I showed on the screen were mowed with a roller rotary mower. You can see the finish isn't bad as none of the lawns are bowling green-type lawns.
Various Models Various Prices
There are various models of roller rotary bars on the market. I would recommend customers purchase the best quality machine they can afford. I always believe that it's cheaper to buy a more expensive machine in the long run than it is to buy a cheap machine. However, I appreciate that we all have to work to a certain budget and that is not always possible to buy the best machine.
You see that we do have the Hayter Harrier 56 lawnmower on the website, however, unfortunately, I would not recommend purchasing one now. A few years ago, I would have definitely suggested purchasing one, but they have really not moved forward with the times; they have actually gone backwards! You can see the mower that I now use, it's a Weibang Legacy 56 Pro 3 speed Self-Propelled Rear Roller Lawn mower. It is a larger rotary mower and a professional machine, it may be too large for your needs. However, it's a well-engineered machine that could potentially give you many years of good service. They also come with a five-year domestic warranty and a three-year professional warranty. So, they obviously believe in their products.
We do have a range of roller rotary mowers at all different sorts of prices. Hyundai do several budget lawnmowers, I would not recommend them for contracting, but they do give a three-year warranty for domestic use. It comes down to the same old story, in most cases, you get what you pay for.
To conclude
If you want a mower that stripes, you either need a roller rotary or a cylinder mower. However, once again, I would recommend the roller rotary mower is great for most people. If you have any questions, I'm here to help; you can leave a comment in the YouTube comments area. I do try and respond to comments.