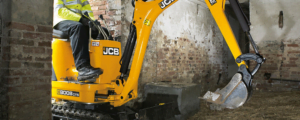 Today we are looking at something slightly different, the JCB 8008 CTS Micro digger. I plan to cover a range of different equipment over the coming months. From garden hoes to larger powered equipment for the professional landscaper or homeowner who wants to hire a machine for a garden project.
As you know I'm always looking for ways to keep things simple and easy in the garden. It never fails to amaze me how the smallest micro digger can actually do the work of many men and at ease. The JCB 8008 CTS Micro Digger weighs just 875 kg, in other words just under 1 tonne. It's a very compact machine that can reach the most restricted areas, including working within buildings and small rear gardens.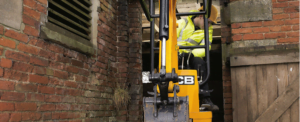 JCB claims the JCB 8008 CTS Micro Digger to be the most powerful machine in its class on the market. This micro digger can drastically reduce manpower and the time it takes to carry out a job. It can carry out jobs that traditionally needed extra manpower due to its compact size and his ability to work in small space.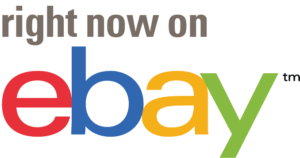 This JCB micro digger is a very popular machine which is why rental companies, landscapers, groundscare companies and do it yourself enthusiasts choose the JCB 8008 CTS Micro Digger. There is a choice of two options on the JCB 8008 CTS Micro Digger making your micro digger even safer. A folding safety frame is available or a front or rear-mounted TOPS protection.
Performance Of The JCB 8008 CTS Micro Digger If you are looking for an adaptable machine the JCB 8008 CTS Micro Digger certainly offers this. It has a JCB 9 kW diesel engine that can run on less than 11 L of diesel a day. With the extending undercarriage and the class-leading dig depths it has plenty of power to perform a wide range of tasks.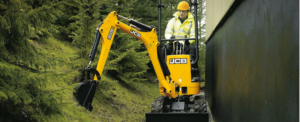 Lightweight Micro Digger
This lightweight machine is perfect for the landscape gardener, its low ground pressure and tracks keep ground pressure to a minimum. It's ideal for levelling soil prior to turfing and can reach those places many other machines cannot enter. With the extending undercarriage, it makes going through gates easy and with the extendable tracks gives the machine stability when it's working.
The tubular weight-saving boom helps to improve performance even more. The maximum digging depth to this machine is 1.69 m and a maximum dump height is 1.98 m. The normal operating weight is 950 kg.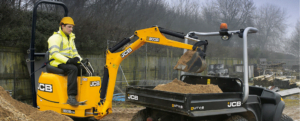 Serviceability
If you're looking for a micro digger that saves man-hours, the JCB 8008 CTS Micro Digger certainly does this. I know from experience the difficulty of getting into back gardens. So many houses are built with no thought for getting into the back garden. The ability to be able to enter through a garden gate is a huge plus point for this machine.
Daily checks have been kept to a minimal and are very simple to carry out on the JCB micro digger. With the 11.5 L fuel tank ensures a full day running time at a minimal cost. I really like the idea of the hydraulic hoses being routed through the inside of the boom for added protection. It may seem like a small feature, however, it's amazing when you are working in a confined space how easy it can be to catch a hydraulic hose. This design eliminates this problem. I always think simple is good, there's no need to overcomplicate anything.
There's plenty of legroom on this micro digger and there are no changeover switches to confuse the user. Each function operates independently which means that novices and new users can quickly become familiar with the micro digger quickly.
Attachments
JCB offers a range of attachments for their micro diggers, the attachments include; various buckets from digging buckets to ditching buckets. A useful attachment is the post hole borer or earth drill as it's known by JCB.
To Conclude
I've used JCB leading us on various jobs over the years. I'd really like the simplicity that these machines offer and the ability to work in tight spaces. It never fails to amaze me the output that these mini diggers have compared with manpower. Another great feature is the very good backup that JCB has for its machines. Parts are readily available and mechanics are on hand should you have a problem.