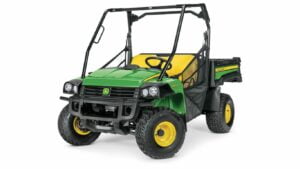 Today we are looking at a very useful piece of equipment known as the John Deere HPX815E Gator. I haven't used this particular model of the John Deere Gator, but I have used similar models which are an excellent workhorse in the garden or estate.
It is always difficult to know the best way to move things around the garden, the humble wheelbarrow is still a great tool in the garden. I also find that the large two-wheeled type of stable barrows which are good for grass clippings and leaves etc. However, if you're carting something heavier like earth or compost then this type of barrow cannot be used to full capacity.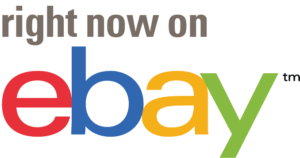 I have used electric and petrol power barrows in the garden, these are good, we will look at these power barrows another day.
I think one of the best inventions to come out in recent years, is the John Deere Gator. It offers a low ground pressure, compact and carrying capabilities that are great for use in the garden or estate. Once you have owned a Gator you will probably hardly use your traditional garden wheelbarrow and never look back!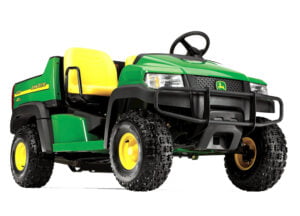 John Deere HPX815E Gator
The John Deere HPX815E Gator is described as a work serious utility vehicle. This particular model comes with four-wheel drive as standard, two-wheel-drive models are available on some models, although I would always recommend four-wheel drive if your budget allows.
The cargo box has a 16.4 ft³ capacity which can carry up to a thousand lbs in weight (450 kg), in other words getting near to half a ton. It also features a pickup style tailgate which in my experience is very useful indeed. This particular model comes with a powerful diesel engine, petrol models and electric model is available. I like the economy of the diesel engine myself.
The Gator utility vehicle has a precision-engineered drivetrain system to utilise engine power and increase acceleration. In turn, this helps with its hauling, towing and hill-climbing capabilities. Power is transmitted to a variable clutch system that then goes to the transaxle. This power system offers variable speed drive.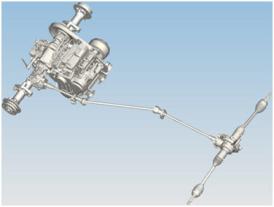 Variable speed drive
The variable speed drive system consists of two clutches and a drive belt. The drive clutch is attached to the engine which is then rotated by the engine. This then is attached to the drives and the transaxle.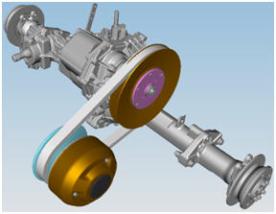 How variable-speed drive works
As the engine speed increases on the Gator, the spring-loaded drive clutch is closed by weights that are forced out by a centrifugal force. When the drive clutch closes, the belt rides up the largest diameter of the drive clutch which enforces open the driven clutch. With a belt running in the smallest diameter of the driven clutch the speed that is being transferred to the transaxle is increased.
The driven clutch is able to sense varying loads, like mud and steep inclines etc. The speed can be varied up or down at a constant throttle setting.
There is a two speed, fully enclosed, oil bath transaxle that allows superior pulling quality. The low range speeds are 0 to 12 mph and the high range is 0 to 25 mph.
Four-wheel drive is simply engaged by an electric rocker switch. When the rocker switches in the four-wheel-drive position the front differential will automatically lock for extra traction when needed. If the rocker switch is in the two-wheel-drive position the vehicle will remain in two-wheel drive.
Features on the John Deere HPX815E Gator
Highback bucket seats for the driver and one passenger.
Hip restraints that act as convenient and comfortable handholds.
Occupants protective structure that offers seat belts and passenger grab handles.
The bucket seats can be leaned forward to keep them dry in wet weather.
Easy entry platform.
Cupholders for operator comfort and ease.
12 V charging socket for accessories like mobile phone charger.
Hour metre to keep track of service intervals.
Traction control which is known as a differential lock, easy reach hand lever between the seats.
Glovebox.
Tank gauge which is easily viewed from the operator's seat.
Storage compartment located under the front hood.
Economical diesel engine.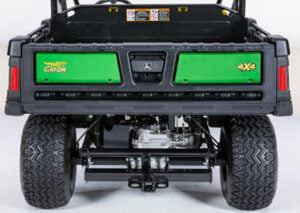 Suspension
Heavy-duty suspension on the John Deere HPX815E Gator is standard. This Gator is equipped with a MacPherson strut, independent front suspension, which provides a comfortable ride and has excellent capabilities.
The heavy-duty, cast-iron, single A-arm provides 5.15 inch of suspension travel, which in turn, returns excellent handling and ride quality.
Safety Frame
As with all machinery safety is of great importance. The John Deere HPX815E Gator has a safety Frame built around the machine. These have been designed with safety, easy entry and exit and great visibility in mind.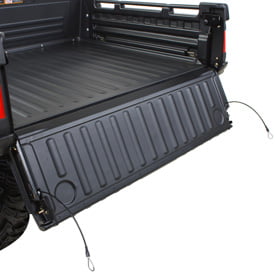 Cargo Box
The cargo box is constructed from a 15% glass fibre filled polypropylene composite material that eliminates dents, knocks and rust. When I see the word glass fibre I think that this may not be that tough enough. However, in my experience using this John Deere Gator's the buck has withstood the test of time and it certainly appears like a very tough material.
The tailgate is similar to a pickup truck tailgate, however, the tailgate can be lowered further for convenience.
The deluxe cargo box offers integrated tie-down points which is exceptionally useful for securing items. Another feature is that the cargo box can quickly be converted into a flatbed to hold larger items as shown in the photograph below.
To Conclude
I have used the John Deere Gator's on many occasions and I see these excellent machines being used in gardens, estates and golf courses. They are the modern version of a powered wheelbarrow! They're ideal for moving tools around and for carting weeds, compost, grass clippings etc.
I really would recommend the John Deere Gator, personally I would go for the diesel model for fuel consumption. There is an electric model available which I have seen and is surprisingly, exceptionally quiet. So quiet that you don't hear it coming. Just remember if you are looking at the electric model the top speed is slightly lower.
Specifications
Engine power
13.57* kW
18.2 hp
Maximum traveling speed
0-25 mph (0-40 km/h) forward
0-12 mph (0-19 km/h) reverse
Cargo box dimensions
1143 x 304.8 x 1320 mm
45 x 12 x 52 in.
Cargo box capacity (weight)
454 kg
1000 lb
Towing capacity
590 kg
1300 lb
Front suspension
Independent with McPherson Strut
Rear suspension
Coil over shock
Final drive
Two speed, oil bath
Four wheel drive
Yes
Fuel capacity
20.1 L
5.3 U.S. gal.
Engine
Type
3 cyl, 4-cycle diesel
Displacement
854 cc
Power
13.57* kW
18.2 hp
Cooling system
Liquid
Drivetrain
Transmission
Continuously Variable Transmission (CVT)
Final drive
Two speed, oil bath
Four wheel drive
Yes
Traction assist
Positive locking, mechanically actuated (hand-operated)
Descent control
No
Maximum traveling speed
0-25 mph (0-40 km/h) forward
0-12 mph (0-19 km/h) reverse
Suspension
| | |
| --- | --- |
| Front | Independent with McPherson Strut |
| Rear | Coil over shock |
Brakes
| | |
| --- | --- |
| Type | Hydraulic Disc brakes |
| Park brake | Rear mechanical disk, hand operated |
Tires / Wheels
| | |
| --- | --- |
| Front | 24 x 9.5-10 |
| Rear | 24 x 12.0-10 |
Dimensions / Capacities
Wheelbase
1910 mm
75.2 in.
Dry weight
681 kg
1526 lb
Length
2743 mm
108 in.
Width
1506 mm
59.3 in.
Height
1867 mm
73.5 in.
Tread centers
Front: 1257.3 mm
Front: 49.5 in.
Rear: 1219.3 mm
Rear: 48 in.
Ground clearance
152.4 mm
6 in.
Fuel capacity
20.1 L
5.3 U.S. gal.
Cargo box dimensions
1143 x 304.8 x 1320 mm
45 x 12 x 52 in.
Cargo box capacity (weight)
454 kg
1000 lb
Payload capacity
635 kg
1400 lb
Towing capacity
590 kg
1300 lb
Hitch
Standard 2-in receiver
Features
| | |
| --- | --- |
| Color | Green/Yellow |
| Power steering | No |
| Battery / Alternator / Power port | 480 CCA 40 amp @ 3200 rpm |
| Storage | Cup Holders, Glovebox |
| Seating | Bucket Seats (Bench Available) |
| Headlights | Halogen |
CARGO BOX SPECIFICATIONS
| | |
| --- | --- |
| Length | 1143 mm (45 in.) |
| Width | 1320 mm (52 in.) |
| Depth | 304 mm (11 in.) |
| Volume | 0.46 m3 (16.4 cu ft) |
| Weight capacity | 454 kg (1000 lb) |
| Dump angle | 47 degrees |