I am putting together a new lawnmower buying guide 2021. With so many different machines available from push mowers to diesel machines, for some people, it's difficult to know, understandably, what lawnmower to buy. Over the years I've seen far too many people struggling in the garden due to the fact of purchasing the wrong machine. I've also seen, so-called professionals using the wrong machines too!
We all know that when we put the search term lawnmower into Google there's a huge variety of different machines. In this guide, I want to briefly explain the various types of lawnmower available. The various types of lawnmower are not in any particular order, I will just work down the list and go through the various types of mower.
As I often mention in my articles, always go for the best machine you can afford, do the research. If you can, try and have a demonstration on the machine before you purchase. The great thing is with the Internet we can often do a great deal of research before we purchase.
So, let's look at the types of lawnmower that are available.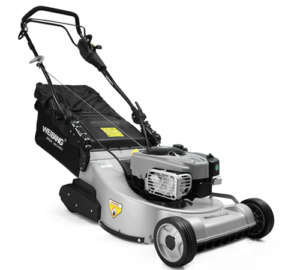 Rear Roller Rotary Lawnmowers
For most people, the rear roller rotary lawnmower offers a very versatile type of machine. There are push versions, which are powered by petrol or electric and there are roller driven models that are normally petrol driven.
These rear roller rotary mowers will collect the grass clippings and stripe your lawn at the same time. So, if you are someone who cuts your lawn regularly and wants a nice finish, the rear roller rotary could be your answer. Personally, I prefer the petrol models as most of the petrol models are roller driven which makes life much easier. However, there are a few smaller petrol models that still have to be pushed.
The roller rotaries are designed to be used to cut your lawn on a regular basis and to give a good finish. You will not be able to leave your lawn for three months and cut it properly with a roller rotary, this is not what they are designed for.
The petrol roller rotary has a rear roller that drives the machine forward. This is either powered through a gearbox or single or variable speed belt drive. Ideally, I would go for the gearbox models as they are generally more trouble-free and better engineered.
The grass clippings are thrown back over the roller into the rear collection bag. It is of utmost importance that these collection bags are kept clean to keep the airflow flowing. Failure to do this will slow down the efficiency of the collection system and potentially block the grass chute. The collection bag capacity varies from 40 to 70 L depending on which model you choose.
Electric Or Petrol?
There is a huge choice of roller rotary mowers, smaller models tend to be electric or battery machines and the larger model's petrol. Over the last few years, battery models have become more popular; however, these can work out quite expensive. The great thing is with electric or battery electric is that you do have almost silent running. However, I do prefer to have a petrol model as they are generally more powerful, there is no lead to drag around and they can go anywhere, within reason!
Electric Start Or Recoil Start?
Petrol roller rotaries are generally recoil start; however, the larger models have an electric start option. I have never purchased an electric start roller rotary mower as modern engines are very easy to pull start. I appreciate that some people prefer electric start as it makes everything effortless!
Popular manufacturers are Weibang, Honda, Mountfield, Hayter, Cobra, Masport and more.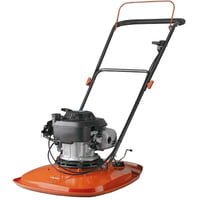 Hover Mowers
I remember in the 80s hover mowers being particularly popular. A hover mower floats on a cushion of air and in general mulches the grass clippings, although there are a few models that collect the clippings. Another great feature of the hover mower is its ability to mow a bank, something that can't be achieved with the traditional wheeled or roller mower.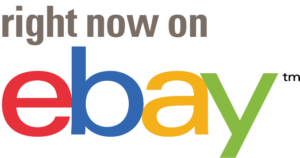 There are electric and petrol models available, the smallest being around a 10-inch cut and the largest approximately 20 inches. The small electric models are ideal for small patches of lawn whereas. The petrol models can cope with larger areas, including large banks. I have seen people attach ropes to their Flymo so that they can cut a bank leading down to a moat or pond and standing on the level ground. Not a bad principle, but obviously care needs to be taken.
I believe the reason that Flymo is not so popular now is due to the fact that there are alternatives and large brush cutters or strimmers can perform an excellent work rate when mowing banks.
Once again, I favour the petrol models although obviously for a small garden and electric model is perfectly adequate. Battery models are becoming available as the battery technology improves, just be aware that replacement batteries can be expensive.
Popular models include Flymo, Toro and Cobra.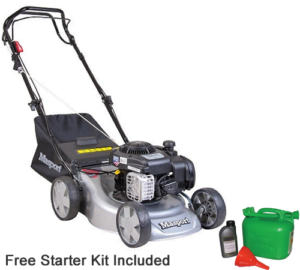 Four-Wheeled Rotary Mowers
Four-wheeled rotary mowers offer a very practical mower for your lawn, however, they don't stripe your lawn like the roller rotary mowers.
Prices for the smallest electric four-wheeled mower start at approximately £75 and the largest petrol models go up to approximately £1600 for the professional models. There is a wide choice of four-wheeled mowers to choose from, ranging from domestic machines to commercial models.
As the name suggests these mowers have four wheels, some of the machines are single lever adjustment. Other models have two-wheel adjustment and some have independent wheel adjustment. In general, I would say that independent wheel adjustment is not necessary. However, it's important that your machine has a good range of cutting heights so that machines will cope with long grass, should the need arise.
Four-wheeled mowers are available in push models or wheel driven models, most driven models drive on the rear wheels. Avoid machines that drive on the front wheels as this is a very poor way to drive the machine. The problem arises when you are turning, and you lift the front of the mower and you immediately lose traction. This defeats the object of having a power-driven mower!
Collection System
The collection system on a four-wheeled machine is generally better than a roller rotary since there is no roller to obstruct the grass flow. These machines can cope better with long grass than a roller rotary mower. There are a few models that offer a mulching facility which is a good idea, although your lawn will need cutting regularly to maximise efficiency.
Electric Or Petrol?
Electric models are fine for the small garden, providing you don't mind the trailing cable. However, battery models are also available but can be expensive. I actually prefer the petrol models as they are basically go anywhere machines and more powerful than electric models.
Popular models are Weibang, Honda, Hayter, John Deere, Mountfield, Lawnflite, Cobra, Efco and more.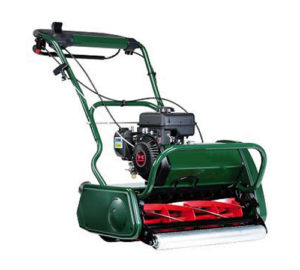 Cylinder Mowers
Cylinder mowers are the type of machines that most of us first think about when we think of a lawnmower. Many Cylinder mowers can often be seen on golf courses, bowling greens and cricket pitches. If you're looking for the perfect lawn, then a cylinder mower is the answer.
However, having said this, lawns need to be cut regularly if you are using a cylinder mower, they will not cut long grass. For most gardens, I would not recommend a cylinder mower, although, if you're keen and want a great finish then I would definitely say to go for a cylinder mower. Often a decent roller rotary mower can be a good option, it offers more flexibility than a cylinder mower and gives a good finish.
A cylinder mower has a very precise cutting action, it is almost like a scissor action. There is a straight flat blade below the cutting cylinder, as the cylinder turns against the bottom blade the grass is cut. It is of utmost importance to keep your cylinder blades sharp and to have the blades adjusted correctly. Failure to do this will result in a very poor cut, with blades of grass bent over rather than cleanly cut.
Keep Your Lawn Clear Of Objects
It's also very important to make sure that you don't have hidden obstacles on your lawn, like stones, dogs' toys et cetera. A cylinder mower can easily be damaged by hitting obstacles and the performance will be quickly affected.
If you're thinking about purchasing a cylinder mower, make sure you choose wisely. Many cylinder mowers are very well engineered and can almost last you a lifetime if they are looked after. I still have my late father's Ransomes Ajax which works perfectly and is over 60 years old!
Push, Electric Or Petrol?
Cylinder mowers are available in push models, electric, battery and petrol.
If you have a small garden a decent push cylinder mower can be a good option, as there is no electric cable or engine to maintain.
Electric models are available, although you do have the issue of the cable dragging behind you. Battery models are now becoming much more popular and much more readily available. Just be aware that batteries can be expensive, the good thing is that you have an almost silent machine.
My preferred type of cylinder mower are the petrol models, Allett and Masport make some well-engineered machines.
You Can Find More Cylinder Mowers Here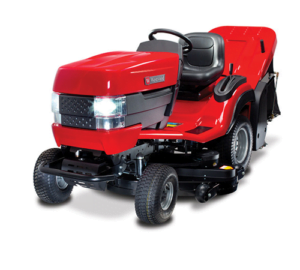 Ride On Mowers
Ride-on mowers and tractor mowers come in all shapes and sizes. These range from the small compact ride on to the larger type lawn tractors. Our cheapest machines start at around £1000 and go up to £10,000.
Depending on how large your lawn is or how many obstacles you have to go around, you can sometimes be better off with a quality walk-behind mower. The reason I say this is because some ride-on machines can be slightly cumbersome in smaller areas. However, there are also some very compact ride on rotary mowers available.
Hydrostatic Drive
I would always recommend purchasing a ride-on mower with a hydrostatic drive. A hydrostatic drive is a drive that is oil-driven and offers instant forward and reverse and variable speed on one lever or foot pedal. There is simply an oil pump attached to the engine which then drives the hydrostatic motor. It's a bit like driving an automatic car! The hydrostatic drive makes your ride on mower extremely manoeuvrable and there's no need for time-consuming gear changes.
There are still a few gearbox ride on mowers available, which does help to keep the cost down slightly. However, if finances allow, I would definitely go for a hydrostatic drive machine as they are so much more efficient and much easier to use. The performance against a traditional gearbox machine is incredible. For example, if you are in an area of grass that is lush, you simply slow the machine down on the foot pedal. If the weather is dry and the grass is not very long you can go considerably faster, all at the touch of a foot pedal, no gear changing, no clutch!
Grass Collection
The majority of ride-on mowers have a collection system fitted, make sure that you can empty the collector from the operator seat. Some manufacturers fit a number of bags that have to be manually emptied, so, in other words, you have to leave the operators seat. To me, this defeats the object of having a ride on lawnmower and it is much more time-consuming than being able to empty the collector from the operator's seat.
Some machines have a rotary brush collector, these type of collectors, in my opinion, are good because they are excellent for collecting wet grass. Whereas, the type of machines with a tube that comes out the side of the machine can easily become blocked with wet material or small twigs. I would avoid the type of machines with tube type collection, they can also be rather bulky. The third type of collector is the type that blows the grass into the collector at the rear of the machine. If the grass is very long or wet these machines can become blocked, however, many of the machines are much more efficient than they were a few years ago.
Popular manufacturers include Lawnflite, Honda, Mountfield, John Deere, Feider, Stiga, Westwood and more.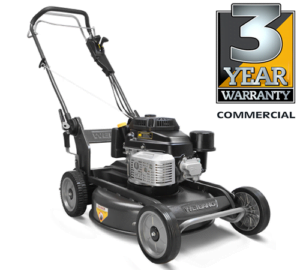 Mulching Mowers
If you don't like the idea of having to collect your grass or compost your grass clippings then a mulching mower is an option.
Mulching mowers have come a long way in the last few years, if used regularly, a mulching mower can do an excellent job. Mulching also helps to keep your lawn looking greener and healthier, especially in dry weather. The green mulch acts as a green fertiliser, so every time you cut your grass you are actually putting something back into your lawn.
Mulching mowers are available in petrol walk-behind machines, tractor type ride-on mowers and out-front mowers which will cover later in this article. I wouldn't recommend an electric mulching mower as mulching takes quite a bit of power as the mower is chopping the grass.
Popular mulching mowers include Weibang, John Deere, Stiga, Cobra and more.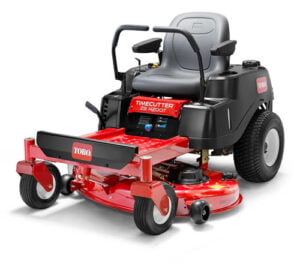 Zero-turn mowers
I believe that zero-turn mowers are the most manoeuvrable type of mower on the market today. Having owned several zero turn mowers over the years, I have come to realise their excellent manoeuvrability and their cutting efficiency.
Zero-turn mowers are extremely compact machines that consist of two large driving wheels at the rear and two caster wheels at the front of the machine. The rear wheels are powered by two independent oil-driven hydrostatic motors that give instant forward and reverse and variable speed to the rear wheels. This enables the machine to literally be turned around on a sixpence, they are the most manoeuvrable machines on the market today.
Zero-turn prices start at full around £2300-£18,000 for a commercial machine.
Various Cutting Decks Available
There are various types of cutting deck's available for zero turn machines. The side discharge machines are popular in the US, whereas in the UK the mulching and rear discharge models are more popular. Collection models are available although this can make the machine slightly more cumbersome than they were originally designed to be.
Many of the zero-turn machines are built for contractors, however, they can be an excellent option for the large garden. Due to the zero turns mowers manoeuvrability the work rate is excellent, even when negotiating around trees and obstacles.
My first zero-turn mower was a Ferris 48 inch cut walk-behind machine. I could cut well over 1 acre an hour with this machine even when manoeuvring around obstacles. My second machine was a Ferris IS5000 61 inch zero turn machine which could cut 2 to 3 acres per hour.
If you are a contractor or have a large garden a zero turn machine is definitely a very good option. Some of the machines have suspension which enables you to cut even quicker and have a much smoother ride.
Popular models are manufactured by Ferris, Ransomes, Toro, Simplicity, Stiga and more.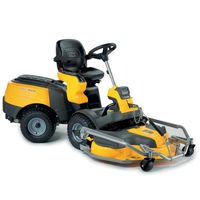 Out-Front Ride On Mowers
Out-front ride-on mowers offer a very practical solution to cutting grass efficiently. My personal preference for a ride on machines is the zero turn models, however, out-front ride on mowers can be a very efficient option.
Prices of the articulated out-front ride on mowers start at £1960 and go up to £9050.
My preferred type of out-front mower is the articulated steer ride-on machines. Stiga and Husqvarna make some excellent out-front mulching machines that I can strongly recommend. These machines generally come with a mulching deck that mulches the grass very efficiently. That is providing that your lawn is cut regularly. As I mentioned earlier in this article, mulching is a great option as there are no grass clippings to collect or dispose of. Also, due to the fact that there are no grass clippings to dispose of; the grass cutting time is reduced as there is no stopping time!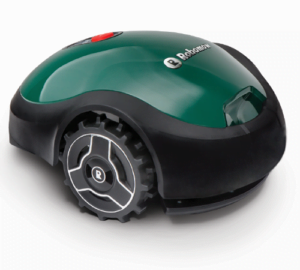 Robotic Mowers
Robotic mowers have been around for several years now and offer a great solution to keeping your lawn tidy if you're not keen on mowing! I have personally used the range of Robomow robotic mowers which I believe are the original manufactures in robotic mowing.
Obviously, the technology on robotic mowers is almost growing daily as technology increases. The robotic mower can literally mow the grass for you. The most important part of owning a robotic mower is to make sure and do the installation correctly and properly.
When you purchase your robotic mower first and you will need to do is to fix the perimeter wire to your lawn. The perimeter wire is simply laid down and pinned down with plastic pegs, at an equal distance around the edge. The mower literally mows over the perimeter wire which is fixed securely to the ground. After a few weeks, the perimeter wire will not show at all as the grass will grow over the top of the cable.
The reason the robotic mower runs over the perimeter cable is to enable the machine to get close to the edge of flower borders and obstacles. In this way, it means that your mower can make a neat job and minimise any strimming work.
Any flower borders or areas where you don't wish the robotic mower to go will need a perimeter cable. It's worth taking your time to do the initial set up for your robotic mower as it will save you huge amounts of time in the long run.
Base Station
Robotic mowers come with a base station which is where the robotic mower will be parked up when not in use. The base station also acts as a charging station. If your lawn is not completely cut the robotic mower will return to the base station and recharge itself to complete the job. Most machines have a rain sensor that sends the machine back to base if the weather is wet.
Some of the companies do offer an installation service for your robotic mower. This is often an excellent service to use as it ensures that your robotic mower is set up in a very practical and efficient way.
Robotic mower prices start at £499 for the smallest Robomow, the largest Robomow costs £2799.
A robotic mower can be a real time saver for people who do not enjoy cutting the grass or if you just want to automate the process. However, if you have a lawn with lots of obstacles and small paths etc, it may not work particularly effectively. Although it is still possible, you just need to ideally have a professional install your robotic mower.
Robotic mowers are ideally suited to areas of grass that are reasonably straightforward. The great thing is that the technology is improving all the time. If you purchase a machine and find it's not suitable for your needs, then it can be returned.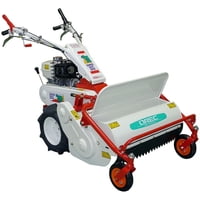 Flail mowers
Flail mowers are generally used for rough cutting and overgrown areas. The Flail mower is great for cutting down long grass and brambles and nettles et cetera. However, they are not really a lawnmower they are more of a rough-cut mower designed for long grass and overgrown areas.
A flail mower has a series of flails (which are metal blades) these blades are attached to a horizontal spindle. The blades are held in by a bolt which allows the blade to swing freely. It also enables the blade to move should it come into contact with something solid like a tree stump.
There are various models of flail mower available from pedestrian models, three-point linkage models and ride-on machines. If you are a contractor or have an area of rough grass that you want to cut a couple of times a year then a flail mower is ideal. The flail machine also chops the grass as it cuts, so there is minimal grass left to clear up. Normally a second pass one week later will chop the remainder of the dry grass.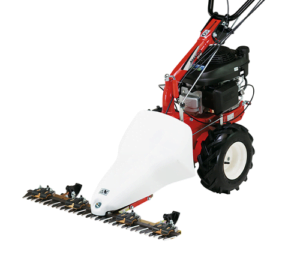 Scythe Mowers, Finger Bar Mowers Or Sickle Bar Mowers
Scythe mowers, finger bar mowers or sickle bar mowers as they are often referred to are quite an old-fashioned design. The original Allen scythe was first manufactured in 1935 and carried on production until 1973.
I have heard many people tell me a story about how the Allen scythe ran off with them! and they ended up in the hedge or the machine ended up in the hedge. Apparently, the Allen scythe had rather an unusual clutch control that caught many people out!
These finger bar mowers have reciprocating blades that are similar to a combine harvesters cutter blade. They are ideal for cutting long grass and overgrown areas. A scythe mower will not chop your grass, it will just leave the grass lying on the ground. However, due to the nature of the cutter bar, a scythe mower can cut brambles and small saplings in overgrown areas.
These finger bar mowers can be used for making small amounts of hay. The machines come in various sizes of cuts varying from 60 cm to 110 cm.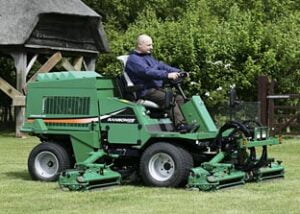 Gang Mowers
Gang mowers are normally a series of cylinder mowers linked together. They can be towed behind a lawn or agricultural tractor or they can be self-propelled.
Originally gang mowers were towed by a tractor and then power is transmitted to the cutting cylinder through drive wheels. Modern gang mowers are generally powered by hydrostatic motors which power each cylinder individually. Some of the older machines have a series of belts to drive the cylinder. Hydrostatic drives are by far the most reliable and efficient way to power a cylinder blade on a gang mower.
Gang mowers can be seen operating on golf courses, parks, playing fields and large gardens. Sizes vary between 6 foot and 20 feet cutting widths.
To Conclude
We have looked at all the common types of lawnmower in this article. If you need any help, please comment or ask a question in the comment box below.