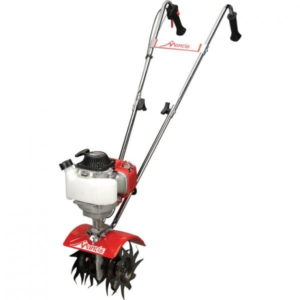 Today we are looking at the Mantis Classic 4-Stroke Tiller, this is a small but very well built tiller with multiple uses for the garden.
Mantis obviously trust their product as they give a five-year consumer use warranty on this particular tiller. They also offer a lifetime guarantee on their tines, however, tines do wear when they are digging soil, so the warranty is more for damage to the tines.
With over 2 million Mantis tillers sold you can buy this machine with confidence, this Mantis Classic Tiller also has excellent reviews which average 4.65 out of 5.
Mantis Classic 4-Stroke Tiller
The Mantis classic 4-stroke tiller is the perfect machine to make light work out of heavy garden tasks. It can be used to cultivate your vegetable patch, hoe between vegetables and to weed shrub and flower borders.
The tiller is lightweight and yet heavy enough to dig compacted ground. Now obviously this isn't a contractors tool for tearing up compacted ground, but it can, however, make light work of tough jobs in the garden. Jobs that you would have had to call a professional in for can be carried out with the Mantis classic 4-stroke tiller. If you require a larger machine you can find more tillers here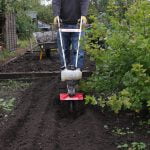 Lightweight
The Mantis classic 4-stroke tiller ways just 24 lbs (11 kg) and with its fold-down handles, it easily fits into most cars and can be taken to the allotment or carried to the garden shed very easily.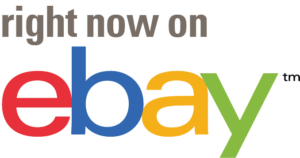 Mantis Classic 4-Stroke Tiller Engine
The tiller is powered by a Honda 25cc four-stroke engine, so in other words, there is no petrol to mix like traditional two-stroke engines on small machines. However, there is an oil sump on this machine that needs to be checked and changed according to the manufacturer's instructions. I always like to change the oil regularly on machines as it is far cheaper to replace engine oil than worn engine parts.
Over the years, I have had a lot of experience with Honda engines and I can say that they are probably the best starting engines on the market. I have often left machines for a few months over the winter and came to stop them in the spring and they start on the first pull! I do like to normally run engines a couple of times in the winter just to keep things moving.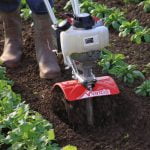 The Mantis Tiller Makes Gardening Easy
The Mantis tiller definitely helps to make gardening much easier, once you own a Mantis, you will wonder how you manage without one! I was reading a review from a 65 year old lady who uses her machine on a regular basis and has no problem handling and manoeuvring the machine.
The Mantis Tiller is just 9 inches wide (23 cm) which is perfect for getting into the small places, hoeing around plants and shrubs and in the vegetable garden.
Designed To Last
The Mantis tiller is designed to last, with a one-unit gearbox and still mudguard in Serpentine tines which come with a lifetime guarantee against breakage. So you can use your Mantis tiller with great confidence.
A Versatile Machine
The Mantis tiller is more than just a tiller. It has some great optional attachments available to help you in your garden. These attachments include a dethatcher, lawn aerator, a furrow for bulking up potatoes or overwintering. And the ability to weed between plants and shrubs in borders.
90 Day Money Back Guarantee
Mantis trust this tiller so much that they offer a 90 day money-back guarantee trial period if your tiller does not meet your needs.
95% of customers were very happy with their Mantis classic 4-stroke tiller, you can see reviews here.
Here Are Some Of The Main Features Of The Mantis Tiller
Light and easy to handle.
Powerful.
Efficient and adaptable.
Easy-to-use.
Easy to carry.
Designed to last.
Versatile.
Free kickstand.
90-day moneyback guarantee.
Honda four-stroke engine
Specification
Tilling width9″ / 23 cm
Weight24 lbs / 11 kg
Engine25cc, 4-Stroke Honda® engine
No mixing of petrol/oil required
Starting/operating Recoil
Variable speed throttle
Tines spin at up to 200 rpm
Free Kickstand