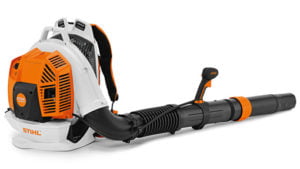 Today we are going to talk about the Stihl BR800 backpack blower. This Stihl BR800 backpack blower has only been available in the UK for a few months, I believe the BR 800 backpack blower was available earlier in the US.
Features
Stihl's most powerful backpack blower.
Antivibration system.
Powerful 79.9cc two-stroke petrol engine.
User-friendly starting system.
Comfortable shoulder and waist harness.
Solid dealer network.
Two years domestic and one-year commercial warranty.
Stihl blowers are used by many professionals.
Stihl BR800 Backpack Blower
I've always liked Stihl products and I've used them commercially for over 30 years and I am still using Stihl products today.
About three years ago I was starting up a new business. I needed a powerful blower to assist me in the cleaning up process after I had completed a job. The original leaf blower that I owned was a Stihl BG86CE which is a 27 mL handheld blower. It's a great blower and it's a machine that I still use today, however, I needed something larger so that I could really move debris quickly.
I decided to purchase Stihl's largest backpack blower at the time which was the BR600. However, literally, a few days after purchasing this blower, the BG 700 came out! If I had of known I would have purchased the BG700 as the BR600 and 700 are identical in physical size, but obviously, the BR 700 has more blowing power.
I have to say that I am more than happy with my Stihl BG 600 blower. However, when you know there's something a bit more powerful on the market there is a feeling that it may be time to go for the more powerful machine.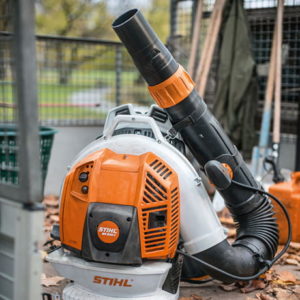 Let's Compare The Differences In Specification
The BR 600 has a 64.8 cc engine, the BR 800 has a 79.9cc engine, so that is almost 25% larger.
The BR 800 has a 4.4 hp engine against the BR 600 which has a 3.8 hp engine.
To See The Full Specifications, Have A Look At The Chart Below.
Technical data
BR 600
BR 800 C-E
Capacity ­cm3
64.8
79.9
Performance ­kW
2.8
3.2
Performance ­hp
3.8
4.4
Weight ­kg
10.2 

1)

11.7 

1)

Sound pressure level ­dB(A)
100 

2)

104 

2)

Sound power level ­dB(A)
108 

2)

112 

2)

Vibration level left/right ­m/s²
2.1/2.5 

3)

2.9/2.3 

3)

Blowing force ­N
32 

4)

41 

4)

Air speed ­mph
199
181
Max. air speed with round nozzle ­mph
237
216
Tank volume ­l
1.40
2.00
Running time per full tank ­min
69
79
CO2 ­g/kWh
775
858
Displacement ­cm³
64.8
Sound power level with metal tool ­dB(A)
108 

2)
Weight Difference
There is very little weight difference between the BR 600 and BR 800. The weight difference is approximately three pounds or 1.5 kg. I have to say that I have never found the BR 600 to be heavy on my back. I believe this is because it is very well balanced, and it has an excellent shoulder and waist strap that can be adjusted to suit every size of body.
If I'm clearing leaves with my backpack blower, I will normally run the machine until it runs out of fuel. This normally takes around the one-hour mark. I've never thought to myself that I need to get this blower off my back due to the weight or the discomfort of carrying it. The weight really is distributed very well indeed, it's certainly much easier than using a handheld blower and much more powerful!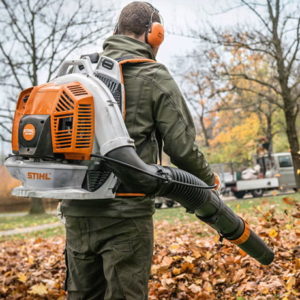 Start The Engine On Your Back
One of the best features that I like about the BR 800 is the option to be able to start the blower without removing it from your back. This may not sound like the most exciting feature but to me, it is extremely useful.
For example, if your phone rings or a customer comes out to see you, there is no need to remove the blower from your back! With the recoil at the side, you can just simply pull the starter cord without removing it from your back, this really is a great feature!
Just remember that when you are carrying out a cold start, make sure you don't touch the throttle lever otherwise this will release the choke and make for difficult starting. It's a very natural thing to do when you are putting the backpack blower on your back, for some reason we want to touch the throttle trigger!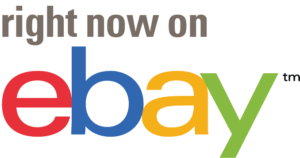 How Much Better Is The BR 800 Backpack Blower?
I find my BR 600 blower a really great tool for blowing leaves and clearing up in the garden. So I don't want to run this machine down as it's a machine that I really recommend. However, when you know there's something more powerful on the market for a similar cost and similar type of machine, it seemed a good idea to upgrade. I will definitely be going for the larger BR 800 machine, even though I haven't personally tried it as yet.
There are many reviews and videos for the BR800 and they are all praising up this backpack blower. I have used the BR 700 model and although it's the same engine size as the BR 600, even this offers more blowing power.
Why Choose Stihl?
I know that there are many manufacturers who make good leaf blowers at all different prices. However, I have used and I still use Stihl products today as I like to purchase a quality product that will last and be reliable. Another good plus point is if you have a need to sell a Stihl product, providing the machine is in good order and condition it will hold its value.
Even if you're not a professional but you want to purchase a product that will last you for many years, I would recommend Stihl products.
As I always mention in many of my posts, buy the best product that you can afford, it's far cheaper in the long run. It's also nice to use a product that feels well-engineered and works efficiently.
You can see more leaf blowers here.
Please feel free to comment below