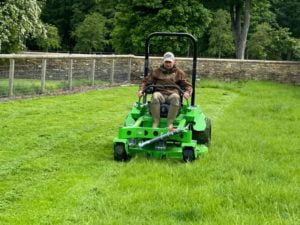 Recently I have been seeing a lot of publicity on the Mean Green electric mowers.
Stuart Rose recently posted on LinkedIn the following post.
"Sometimes you just can't beat a satisfying couple of hours cutting grass and it is so much more pleasurable when you are operating a Mean Green electric mower with little noise, low HAV's, no heat from an engine and zero emissions! Don't just take our word for it, contact us now for a demonstration"
I find it amazing that an electric zero-turn mower has the capacity to run for eight hours without recharging, that's quite something!
The Zero-Turn Principle
I have been using zero-turn mowers for almost 30 years, I really like their ease of use and their ability to manoeuvre around obstacles.
Zero-turn mowers are powered by two hydraulic motors that are attached to the rear wheels of the mower. The two hydraulic motors are powered by a hydraulic pump. Which in turn enables the operator to have instant forward and reverse control on each rear wheel and variable speed.
At the front of the zero-turn mower, there are two large caster wheels which help the mower to literally be able to turn around in its own length.
Traditionally, a zero-turn mower was controlled by two levers which gave individual control of the two rear wheels. So in other words, variable speed in forward and reverse on each wheel which enables excellent manoeuvrability.
Some manufacturers are now fitting a steering wheel to their zero-turn machines. I must admit I have never used a zero-turn with a steering wheel, it would be interesting to try one to see if they offer the same manoeuvrability.
The Mean Green Electric Mower has traditional lever steering which gives fantastic manoeuvrability. I look forward to seeing the mower in action at a later date. It does amaze me that these mowers can run for up to 8 hours on a single charge, it really is quite something!