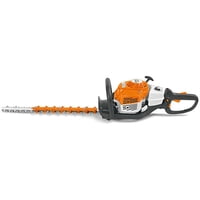 Today, I would like to look at choosing the right type of hedge cutter. There are various types of hedge cutters and hedge trimmers on the market today. Some are budget machines for the low-use home user and others are designed more for contractors. Below I will explain the different types of hedge cutters that are available.
Petrol Hedge Cutters
A petrol hedge cutter is my preferred type of machine. I like the fact that they can be used anywhere without any limitations. No trailing cable or batteries to charge! All you need is a can of two-stroke petrol to keep going all day long.
Petrol hedge cutters generally have more power than the battery and electric models. On the more commercial models, the teeth can cut through much thicker wood rather than the smaller basic battery or electric models.
However, the downside is that petrol hedge cutters can be quite heavy on the user's arms. Especially if the hedge cutter is being used for long periods. The electric and battery models tend to be much lighter.
If you are a contractor, I would go for a commercial petrol hedge cutter. I have found the Stihl HS82 T Professional Petrol Hedgetrimmer and the Stihl HS82 RC-E Professional Petrol Hedgetrimmer to be great models for commercial work.
Of course, there are cheaper models available, but I have found the Stihl models give excellent service.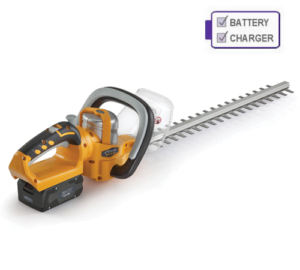 Battery Powered Cordless Hedge Cutters
Although I prefer petrol hedge cutters, I have to admit that battery power has come a long way over the last few years. I do know of several contractors that are now using battery equipment commercially.
The biggest advantage is the fact that battery hedge cutters are much lighter than petrol models. Also, general hedge trimming does not take a huge amount of power, so the batteries can last a considerable time without a single charge. They also have the added advantage of no trailing electric cable which can so often get in the way and easily be cut through.
If you do purchase a battery hedge cutter, I would make sure and purchase a backup battery. There is nothing worse than getting halfway through a job and not being able to finish. The majority of batteries charge fairly quickly, so in most cases, two batteries are enough.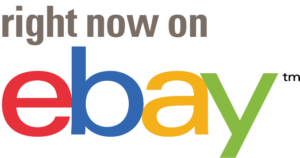 If you're thinking of buying other battery equipment for the garden, for example, a battery strimmer or chainsaw. It's worth sticking with one manufacturer so that you can use the battery and charger on multiple equipment. Just remember that if you're using something like a chainsaw, the batteries will drain quite quickly. As I mentioned earlier, hedge cutters do not take too much power. Stihl makes a number of battery items where the batteries are all compatible.
I have a battery screwdriver drill and a battery angle grinder, they both use the same battery. It appears that the drill battery lasts for ages, however, if I use the angle grinder the battery can be flat in 10 minutes. I'm using a fairly large five-amp battery, however, the grinder soon drains the battery!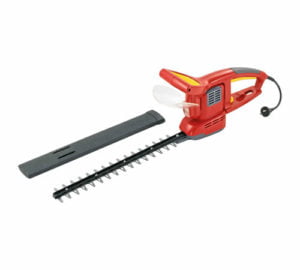 Electric Hedge Cutters
Electric hedge cutters are much less popular than they were a few years ago. This is due to battery power having become much more popular and efficient. Also, there are some decent budget petrol head cutters on the market.
The good thing with electric hedge cutters is that they are generally reasonably cheap. They are also used more for trimming rather than cutting thick woody stems.
The downside is that you have a trailing cable to deal with. I have seen many people cut through the power cable. Make sure and purchase an extension power cable with protection.
Our electric hedge cutters start from just £34.95. The Racing 500EHT-1 Electric Hedgetrimmer certainly offers value for money and has good reviews. It comes with a two-year manufacturer's warranty.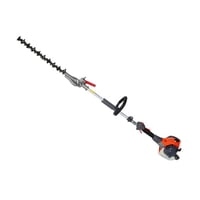 Long Reach Hedge Cutters And Trimmers
Long-reach hedge cutters and trimmers have become very popular over the past 20 years. It's amazing how awkward some hedges can be to cut, some of them can be considerably wide. This is where a long-reach hedge cutter is extremely useful. Not only for cutting the top but also using to trim the sides of the hedge.
Long reach hedge cutters are available in petrol, battery, and mains electric power. Once again, my preference is the petrol models, but the rechargeable battery models are becoming increasingly popular and better as time goes on.
Long reach hedge covers are great for tall and wide hedges. On many occasions you can work from the ground, providing the hedge isn't too high. Just remember that long-reach hedge cutters are a bit heavier than traditional hedge cutters. In an ideal world, I would suggest having a long-reach hedge cutter and a traditional hedge cutter. However, I appreciate that we all have to work to a budget.
Combi Models
Many manufacturers offer a Combi-type system that can be used with various types of attachments. I use a Stihl Combi system that enables me to use a hedge cutter, strimmer, chainsaw and many more items if I require them. My Stihl Combi is a petrol model, however, Stihl now makes some good battery models with interchangeable accessories.
To Conclude
As always when buying machinery, I always suggest buying the best you can afford. In my experience buying a good product that is long-lasting works out cheaper than buying a cheap product!
As I mentioned, I do prefer the petrol models as they can be used anywhere. However, over the last few years, battery power has come a long way. As I suggested earlier in this post, it's important to have at least one backup battery. It's not much fun having to stop halfway through a job.
Fortunately, hedge cutters do not take too much power, especially if you are literally just trimming a hedge. So for most users, two batteries should be adequate for the average home user.