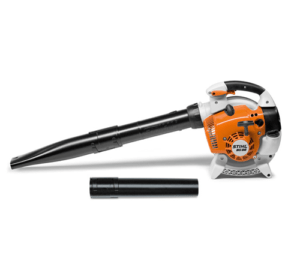 Today I am carrying out a review of the Stihl BG86C petrol blower, shredder and vacuum. This is a blower that I have used and owned over the years, this particular blower in the video is approximately five years old. I normally use this Stihl petrol blower at least twice a week and more in the autumn.
You can see my video review below
Engine
The Stihl BG86C petrol blower it is powered by a 27.2cc two-stroke petrol engine that delivers 0.8 kW of power, which converts to approximately 1.1 hp.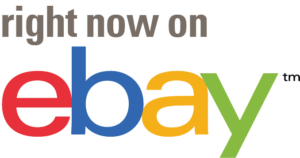 Reliability
As mentioned in the previous paragraph I have never had any problem with any of these Stihl BG86C petrol blowers. These blowers have been totally reliable and completely trouble-free! A few things that I make sure I carry out on a regular basis is to keep the blower clean and to handle it with respect. I make sure and use the correct Stihl 2 stroke oil which is mixed at a ratio of 50 to 1. You can buy sachets that you mix with 5 L of petrol; this is a very convenient way to mix your fuel. I personally purchase my oil in a 1 L squeezable bottle which allows me to add the precise amount of oil to petrol. I cannot stress the importance of getting the petrol and oil mix correct for smooth running and for engine protection.
Another regular maintenance practice that I carry out is to clean the air filter out regularly The filter doesn't get particularly dirty as the blower is handheld and doesn't particularly pick up a huge amount of unwanted debris. However, it is highly important that you do keep your engine air filter clean for long-running and smooth operation. I normally clean every couple of months for maximum life.
Stihl Vacuum
The Stihl blower also adapts as a vacuum and shredder, this is not something that I would particularly recommend as I think this particular blower works much better as a blower rather than a vacuum. However, I have tried the blower attachment out on my own patio and it worked okay and I achieved what I wanted. Having said this, it is far quicker to blow your leaves and debris into a corner and pick up manually.
If you're actually looking for a vacuum I would suggest purchasing a purpose designed vacuum that actually has a much better output. It's like using a powerful vacuum cleaner outdoors! You can see our range of various garden vacuums here.
The Throttle
At the top of the blower on the handle, there is a throttle lever which can be moved with your thumb and locked on, this is also used to turn the machine off. Underneath the handle, there is a finger trigger which acts as the variable speed throttle as you don't always need full revs when you are blowing leaves, especially if you're working into a corner.
Starting The Stihl Petrol Blower
Starting the Stihl petrol blower is very straightforward, although, two-stroke engines have a slightly different technique to starting a traditional four-stroke engine.
As the video shows, turn the choke lever to the start position, in other words, the close position, prime the fuel into the carburettor, this requires three or four pumps and then pull the recoil start. Once you hear the engine fire, take the choke off and the engine will either run or stop. If the engine stops pull the starter cord again without using the choke and it will probably start on the first or second pull. Be careful not to over choke the engine as then become flooded and difficult to start.
Just one point to remember when you are starting the engine, if you touch the throttle lever with your finger it will release the choke. So you may wonder why the engine is not firing properly, but this is probably because the choke has been turned off by accidentally touching the throttle lever, in fact, it's very easy for this to happen.
Once the machine is warmed up you probably won't need the choke again, unless you are stopping the machine for long periods.
I've never had one of these Stihl petrol blowers fail to start, which is not bad as I have used these machines a lot and also seen many contractors using the same blower, which proves something.
Benefits
One of the best things about this handheld petrol blower is the fact that it is very easy to use, very easy to transport and has a very good blowing capacity for the size of the machine.
The actual blower pipe can be disconnected from the actual blower which makes the machine exceptionally compact, far more compact than a knapsack blower.
Most the time I use a backpack or knapsack Stihl blower which is great, however, they are a bit more cumbersome and take up more space in your truck or van or shed come to that. I like the convenience of just being able to pick this blower up in one hand pull the starting cord and you're off to work, instantly!
Economy
The Stihl petrol blower is very economical indeed, I guess the fuel tank lasts approximately 45 to 50 minutes and has a capacity of 0.44 L. From my experience, my guess would be that 5 L of fuel would last you all day if you are using the petrol blower continuously.
Final Points
I have worked in landscaping all my working life and this is definitely the most popular blower on the market, literally, every tree surgeon owns one of these Stihl BG86C petrol blowers, which definitely says something!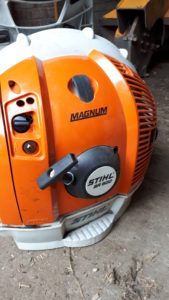 Some contractors prefer the backpack or knapsack machines which obviously have more power but don't offer the same ease-of-use.
If you're a keen gardener and want a product that will last you for many years. I would definitely recommend the Stihl BG86C petrol blower as is the type of machine that would last you many many years, providing you have looked after the machine.
Please feel free to comment on this video below.
Thank you for watching or reading!
Product Specification
| | |
| --- | --- |
| Brand | Stihl |
| Fuel Type | Petrol – 2 stroke 2-MIX |
| Engine Displacement | 27.2cc |
| Engine Power Output | 0.8kW |
| Starting System | Recoil with ErgoStart |
| Blowing Force | 15N |
| Air Speed | 89m/s |
| Collection Bag Volume | N/A |
| Vibration Levels | 1.9m/s² |
| Noise Levels | 104dB(A) |
| Weight | 4.4kg |
| Domestic Warranty | 2 Years |
| Commercial Warranty | 1 Year |
| Power Type | Petrol |