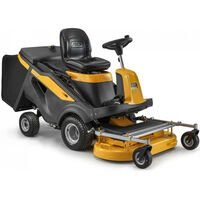 Today we are looking at the Stiga MPV 520W multi-purpose mower. The mower is currently on special offer at £4999 including VAT, which offers a £1000 saving.
The Stiga MPV 520W is slightly different to the traditional ride-on mower, having an out-front deck and rear-wheel steer. The out-front deck and rear steer offers great manoeuvrability and excellent visibility.
The Stiga MPV 520W multi-purpose mower is designed for substantial domestic lawns. It is a large 280 L collector that can be discharged from the operator seat.
The mower is powered by a Briggs & Stratton Vanguard V-twin cylinder engine.
Features
A very efficient out front deck mower with great visibility.
Designed for large domestic lawns.
Powered by a V twin Briggs & Stratton engine.
Large 280 L grass collector.
Instant hydrostatic forward and reverse and variable speed via a foot pedal.
Rear-wheel steer for maximum manoeuvrability.
Steering ball enables you to drive with one hand.
Five-year warranty.
The Stiga MPV 520W multi-purpose mower
I have always liked the idea of a ride on mower with an out-front cutting deck. This is far better for mowing up to objects and around obstacles. The operator has a great view of the front deck due to the seating position. This enables the operator to cut close to edges and obstacles, which in turn minimises strimming and spending time on the finishing touches.
The rear-wheel steer helps to make the mower even more manoeuvrable.
Traditional ride on mowers generally has the cutting deck underslung between the front and rear wheels. It's probably the cheapest way to create a ride-on mower, but it's not the most practical for the operator. I have always preferred mowers with an out-front deck.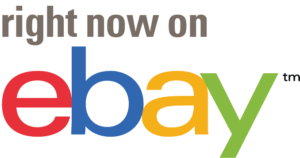 Cutting Deck
The out-front cutting deck has a 112 cm (approximately 3'6") which is capable of cutting lawns up to 15,000 m². An out-front mower will always outperform a traditional mower with an underslung deck. This is mainly due to the manoeuvrability and having the ability to cut right up to obstacles, like flower beds and trees.
The cutting height is adjustable from 20 to 70 mm. It's always good to have the option of various cutting heights. You never know with the British weather; a lawn can soon get out of hand. Using the high cut, you can quickly bring the lawn into shape again.
Hydrostatic Transmission
Hydrostatic transmission enables instant forward and reverse and at variable speeds. This is much easier than the traditional gearbox as the machine can be varied accordingly to the conditions.
A hydrostatic transmission is basically a hydraulic motor powered by an oil pump, which in turn gives variable speeds in forward and reverse. There is no clutch required, so it really does speed up the mowing process. Once you have used a hydrostatic mower, you will never go back to a gearbox type mower.
V-Twin Engine
The powerful V-twin Briggs & Stratton 4-stroke 627cc engine develops 21 hp. The overhead-valve engine gives excellent fuel consumption. The cast-iron engine cylinder sleeves and forged crankshaft help to give the engine long life and durability. The engine comes with electric key start.
Large Collector
The Stiga MPV 520W multi-purpose mower comes with a large rear grass collector which can be operated from the operator's seat. The collector has a large 280 L capacity.
To Conclude
Having used grass machinery all my life, I have always preferred machines with out front cutting decks. The efficiency and ease of use are so much better and easier.
The Stiga MPV 520W multi-purpose mower offers great manoeuvrability with the out-front deck and rear-wheel steer. I am surprised that the mower doesn't come with an option to mulch as mulching is a useful feature.
If you have a large lawn the Stiga MPV 520W multi-purpose mower is definitely worth a look. I appreciate that it's not cheap, however, if you look after the machine give many good years of service. The mower comes with a five-year warranty so Stiga obviously believes in their product. To me, a five-year warranty gives peace of mind and confidence to purchase.
Specification
| | |
| --- | --- |
| Engine Make | Briggs and Stratton |
| Engine Model | Vanguard™ 21 V-Twin OHV |
| Engine Type | Petrol 4-stroke |
| Engine Capacity | 627cc |
| Engine Power | 15.6hp / 11.66kW @ 2600rpm (21hp Gross) |
| Engine Cylinders | Twin |
| Engine Starting System | Electric Key Start |
| Engine Fuel Tank Capacity | 24 Litres |
| Air Cleaner System | Dual Element |
| Transmission | Hydrostatic – Foot-Pedal Operated |
| Drive | Front Wheel |
| Speed | 8km/h (Max.) |
| Cutting Width | 112cm |
| Cutting Heights | 20-70mm |
| Height Adjustment | Lever |
| Blade Engagement (PTO) | Manual |
| Mulching | No |
| Side-Discharge | No |
| Grass Collector | 280 Litres |
| Headlights | No |
| Steering Wheel | with Steering Ball |
| Tow Bar | No |
| Wheels – Front | TBC |
| Wheels – Rear | TBC |
| Lawn Size | Up to 15,000m2 |
| Warranty | 5 Years |