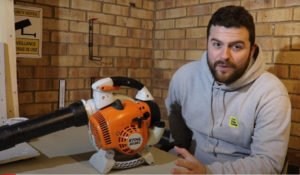 Today we are looking at Dan's Stihl BG86C leaf blower review. I believe that the Stihl BG86C leaf blower is one of the best leaf blowers on the market. It offers excellent value for money and is great for professional and domestic use.
The Stihl BG86C leaf blower is available for around £300 mark, including VAT. I have owned and used the Stihl leaf blower on many occasions. They are a very popular choice for landscapers and tree surgeons.
So Let's Hear Dan's Review
Let's get straight into the Stihl BG86C leaf blower review. We will take a look at the specifications and some technical information and then go into a demonstration and a final review.
Technical Data
Looking at the technical data (I will put the specification below this post), the co2 output is 848, and the performance in kilowatts is 0.8. The sound power in decibels is 104, the sound pressure is 90 and the vibration value is 2.5. The air velocity is 69 and the tank capacity is 0.4 litres. The equipment comes with a flat nozzle and a round nozzle.
Moving on to the features now and what it actually has to offer. The Stihl BG86C leaf blower has the standard features of a reduced emission engine technology. This means it's a two-stroke engine with reduced fuel loss during a single charge cycle. This results in more power and lower weight by up to 20%; lower fuel consumption than a regular two-stroke engine which is a bonus. It's got a manual fuel pump, the purger or the purging bulb. It has a standard Stihl recoil start or the e start. This is basically less effort to start the engine. Stihl is saying that it takes one-third of the normal force and it takes two fingers and a gentle pull action to start the leaf blower.
The Stihl leaf blower has the HD2 filter, which offers 70% more protection than the previous filters. The air filter is made of polyethene and which repels oil and water therefore, it is very easy to clean. It's got a 100 soft grip, as you can see from the video, for a secure and comfortable grip. With the antique vibration system in place, it has a throttle lock withbuilt-in stop switch, so you don't have to hold the trigger down, which becomes a hindrance after a long period.
Now For The Demonstration!
Trust me! Now the first surface was a play surface, kind of like a rubbery material. The type that you often find in playgrounds. The Stihl BG86C leaf blower managed to shift most of the leaves with ease with no hassle whatsoever.
Moving on to the next surface, this was all very worn astroturf. It did struggle a little bit with the wet leaves, as you can see. Especially with bird feathers, but I found with a little bit more concentration in that area, it managed to do the job as expected.
Now moving on to the grass area, as you can imagine, it was almost like blow-drying hair! It was a bit of a nightmare, but after a while and a bit of patience, I managed to move all the leaves to the side. The grass was also slightly long and wet, which made it more difficult to blow the leaves.
Now, we are moving onto tarmac and concrete again, another easy surface to work on. I manage to move all the dried and wet leaves very easily; however, again, with some of the sticky patches, a little bit more blowing and patience were required. With a bit of concentration, we managed to shift all the leaves.
Now moving onto the final surface was the tarmac again. This was an area where people were walking on the leaves quite often as it was a very busy road. As you can see, some of the leaves were very trodden into the surface, however, a little going over backwards and forwards and we managed to get all the leaves shifted.
The Importance Of A Good Air Filter
Before we finish up, guys, I just want to check the air filter and what condition it's in. It's been going for a good 11 months from start to finish; I have not taken the cover off once! I use this probably three times a week, sometimes four, so we give it some grief; as you can see, it is in very good condition that's not what I expected! To be perfectly honest with you, the new filters are much better than the old ones. The old filters were letting in a lot more dust than necessary. You can see that the filter still looks spotlessly clean, along with the carburettor.
This is why I upgraded to the new filters if anybody's into that sort of thing! It always pays to have a good air filter on a engine for longevity.
To Conclude
So there we go, guys; now, in my eyes, this sort of kit is brilliant. You pay a little bit more for it but you get what you pay for. The Stihl BG86C leaf blower has had a terrific amount of use over the past 11 months.
There is only one niggle that really gets to me. I am ambidextrous, so I tend to use my left on my right when I'm using my left hand. The fan itself is, obviously, on this side of the motor. And by all means, I know they've got it put it somewhere. But when you're blowing the leaves, if you're wearing a high-vis vest, what's going to happen? It's going straight on the engine fan cover, but for the
sake of switching over to your right hand, I mean, you're not writing an essay with it; you blowing leaves for God's sake!
As I say, that is my only niggle in there, but they've got to put the fan somewhere! So that's it, guys, I hope you enjoyed the video; make sure you give me a thumbs up and hit the subscribe button and I'll see you on the next video.
Specification
| Technical data | Value |
| --- | --- |
| CO2 g/kWh | 848 |
| Blowing force N 1) | 15 |
| Weight kg 2) | 4.4 |
| Performance kW | 0.8 |
| Sound power level dB(A) 3) | 104 |
| Sound pressure level dB(A) 3) | 90 |
| Vibration value, right m/s2 4) | 2.5 |
| Air velocity m/s 5) | 69 |
| Tank volume l | 0.44 |
| Max. air speed m/s | 76 |
| Weight kg 6) | 4.4 |
| Equipment | round nozzle and flat nozzle |