Today we are going to take a look at the Stihl BG86C leaf blower. I believe that this Stihl BG86C leaf blower is probably one of the most popular petrol leaf blowers on the market. I see many professionals using this particular model and also many private houses. I guess this is due to the compactness, power, reliability and power of the blower for its size.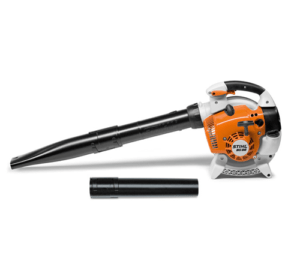 I have personally owned a Stihl BG86C and I have used many of these particular models. If you are a professional or need a decent blower for your private garden, I would strongly recommend this model. If you look after this leaf blower, it will give you many years of service.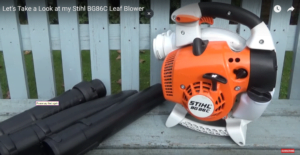 What's In The Box?
So in the box, we have the actual Stihl BG86C power unit and three pipes which connect to the power unit. One of the pipes connects to the actual power unit. Simply connect this pipe by pushing onto the power unit and turning until you see the padlock key where it will be locked into place.
You then have the option to choose between a round pipe or a tapered end pipe. I generally go for the pipe with a tapered end as this seems to direct the airflow slightly better than the round ended pipe. Once again just slide the pipe on and just turn until it locks on the tabs.
Optional Shredder/Vacuum Kit
Stihl does offer an optional shredder/vacuum kit that comes complete with a collection bag for vacuuming your patio or cleaning out gutters etc. Personally, I have used this vacuum kit, it does work but my preference is to use this particular model blower as a blower as I feel it works much more efficiently. I would normally blow leaves into a corner or a particular area and then collect by hand. As the video shows you can purchase large hands which make the collection process easier.
Once again, the collection bag does have its uses for cleaning gutters et cetera and it can be handy extra for small jobs. If I was carrying out a lot of vacuuming then I would go for a larger purpose-built garden vacuum, preferably something like a Billy Goat.
Fuel And Engine
This particular model is powered by a 27 cc engine two-stroke engine which develops approximately 1.5 hp, it certainly has plenty of blow for a model of this size.
It is very important to use the correct fuel mix in a two-stroke engine. Two-stroke engines use a mixture of petrol and oil, if no oil is used the engine will quickly seize up. So it is of utmost importance that the correct grade of oil is used and the correct amount of oil is mixed with petrol.
I actually use the Stihl oil, this is available in sachets, 1 L measuring bottles and 5 L plastic cans. I actually buy the 1 L measuring bottles as I can simply squeeze the bottle and add 100 mL to a litre of fuel.
The fuel mix for two-stroke Stihl engines is 50 to 1.
Keep Your Leaf Blower Clean
As with all machinery, it's always good to keep it clean, especially around the engine area as you do not want dirt and dust entering the engine. It's a good idea to check the air filter on your blower regularly. Fortunately, in my experience these blowers do not pick up too much dirt as in general they are not working in a particularly dusty environment.
However, it is a good practice just to clean your air filter every month or so as it only takes a few minutes. It is far cheaper and better to make sure that your petrol leaf blower is not taking in dirty air which will cause unnecessary wear to the engine components.
In the video, this particular blower has been used and there is a small amount of dirt in the fuel tank. I would clean this out with neat petrol making sure that the fuel tank is completely empty before refuelling with a 50 to 1 two-stroke fuel mix. The fuel tank does have a fuel filter within the tank, however, it's a good practice to keep the fuel tank clean. I normally have a clean rag handy just to wipe away any dirt around the fuel cap area.
Starting The Engine
Fill the fuel tank with a 50 to 1 fuel mix. Prime the engine by pressing the primer on top of the carburettor. I normally press three or four times, you can normally feel when the fuel is coming through. The primer is actually clear so you can actually see when there is fuel coming through. If your leaf blower is new or hasn't been used for several months it may take slightly more pumps to prime your engine.
On the side of the engine, there is a choke, there are three positions, I must admit I have never used the midway position. I just put the choke on full choke and then pull the starter cord. Please note that on this model if you press the throttle trigger it will automatically release the choke. So from cold starts, be careful not to touch the throttle trigger as it may release the choke without you realising.
I often find that the blower will start first time and on other occasions 2 to 3 pulls of the pull cord. Two-stroke engines can be slightly temperamental, so be careful not to flood your engine with fuel.
Normally once you hear the engine fires, press the trigger and the engine will normally come to life. Two strokes are definitely much more reliable and easier to start than they were a few years ago!
As you can see in the video, this was the first start in eight months and on the fourth pull the blower is running!
Tips For Efficient Leaf Blowing
• Make sure that you are not trying to blow against the wind if possible.
• Don't try and blow to many leaves at once.
• It's far easier to make small heaps rather than trying to blow to many leaves all at once.
• Use a large barrow or sack to remove your leaves to the compost heap.
• Large hands as shown in the video are very useful for clearing leaves properly.
• Use a plastic flexible rake for gathering the odd leaves.
• A lightweight tarpaulin with handles at the corners is another useful way of transporting leaves.
• Clear your leaves regularly in the autumn as this is far quicker in the long run.
• Avoid trying to blow leaves that are saturated as this slows the process down considerably. (I appreciate that this is not always possible if we have a wet autumn.)
Happy leaf blowing!
Please feel free to comment below.