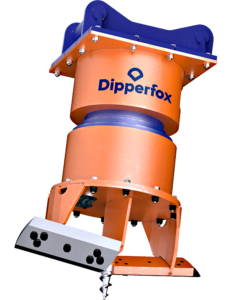 I've just been looking at the Stump Crusher 850 Pro by Dipperfox. I came across this machine by accident through communicating on LinkedIn, it's amazing what you can find on LinkedIn! Apparently, the Stump Crusher 850 Pro By Dipperfox is made in Estonia, the first prototype model was built in 2018.
I really like the principle of this machine, it's certainly a very different way of removing a tree stump. Traditionally, stump grinders have a cutting wheel that spins at high speed, with a number of teeth that chip away at the tree stump and grinds well below ground level, it's a good way of removing tree stumps. The stump crusher 850 pro takes more of a drilling action rather than a cutting action, I like this principle, especially for clearance jobs. The downside is that the stump crusher 850 pro takes a lot of hydraulic power.
The manufacturer recommends a minimum of a 100 hp excavator, so you are talking about 20 ton plus machines, not something that can easily be used in the average garden! It would be great if Dipperfox could perhaps make a smaller machine that would fit on smaller excavators, maybe this is easier said than done due to the hydraulic oil flow required.
Features
180 stumps in one hour – the fastest and quickest way to remove a tree stump.
Heavy-duty bolt on steel blades.
Ideal for forest situations and some urban areas.
Easy plug and play instalment.
Heavy duty gearbox.
Wait 575 kg.
Power requirement minimum of 100 hp
Weight 14 to 30 tons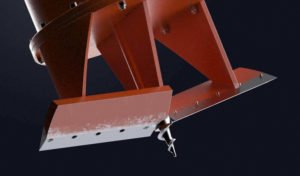 Simple Cutting Principle
The Stump Crusher 850 Pro By Dipperfox has more of a drilling principle rather than a high-speed traditional stump grinding cutter head. I like the idea of this principle as there is no flying debris, it's much quicker than traditionally grinding a tree stump and the work rate is excellent. In a forest situation, the pieces of wood would quickly rot down, it may be slightly different in a residential area. Whether the slices of wood can be cut smaller by drilling a second hole, I would guess the remaining debris could be made smaller with a second pass of the stump crusher.
The two cutting blades look extremely heavy duty, it would be interesting to know how often the blades need changing. My guess would be that it would be fairly frequently considering the excellent work rate of the stump crusher. The auger type drill bit would also take a fair bit of wear and tear, I guess, I would really like to see one of these machines in action, maybe I will one day soon.