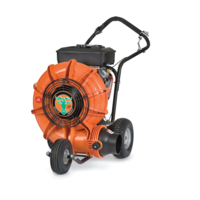 The Billy Goat Billy F1802SPV self-propelled force blower, I believe, is the most powerful wheeled blower on the market today. It is certainly Billy Goats most powerful walk behind blower. Billy Goat makes several models of wheeled leaf blowers, starting from the smallest model which is 5 hp and the largest model being 18 hp.
It is powered by a Briggs & Stratton Vanguard 18 hp petrol engine which can actually be the equivalent power of seven backpack blowers!
The model in the video has an engine hour meter fitted, which was actually fitted by the owner. I don't know why more manufacturers do not fit hour meters to the machine, to me it's very important to know how many hours work a machine has worked as to regard oil changes and servicing et cetera.
The machine in the video has around 150 hours on the clock, it is approximately four years old and it looks like it's been looked after and kept undercover. To me, it's always a good practice to keep your machinery clean, serviced and undercover.
What Can Your Billy Goat Wheeled Blower Be Used For?
The Billy Goat wheeled blower is ideal for clearing parking areas, as you can see in the video it quickly moves debris out the way. It's also good for blowing leaves on lawns and in fields and driveways.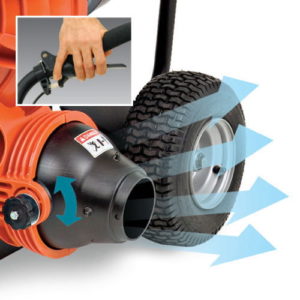 Using The Billy Goat Wheeled Blower
The Billy Goat wheeled blower is self-propelled, however, it does not have a reverse gear, so there may be times when you have to pull the machine backwards, depending what work is being carried out. Fortunately, the blower is quite light and pushes very easily backwards and forwards.
When using the blower on hard areas, for example, driveways and car parks is often easier just to push the blower as the forward speed is quite slow. It is very easy to push on hard surfaces, the forward speed can be used on hills or grassed areas where there is slightly more resistance when pushing.
The Aim N Chute technology enables you to move the chute from the handlebars of the wheeled blower. This is a great feature as it enables you to adjust the chute very simply depending on conditions or the material being blown.
Reliability
On this particular Billy Goat wheeled blower, the only issue the owner has had in four years is a new recoil start cord. Which to me is nothing, however, I would expect to recoil cord to last a bit longer than 150 hours. It's a very straightforward job to replace the recoil cord, a local dealer can carry out this job in a matter of minutes.
The machine normally starts on the first or second pull which is great. I have actually owned machines with this particular Briggs & Stratton engine, it's a good engine and easy to start. I believe on the particular engine that I owned had a recoil start and electric start. It's always good to have the optional recoil start in case the electric start fails! I don't think electric start is an option on this particular wheeled blower, to me this isn't a problem as it starts pretty easily and keeps the cost of the machine down.
The front wheel on this particular machine has also been replaced as it is used on hard surfaces and takes quite a bit of the weight. The tyres are foam filled so there is no downtime through punctures, which is a great idea. I've spent far too long over the years getting punctures repaired!
Features
The Billy Goat wheeled blower has the air filter mounted on top of the engine, so this is very accessible. Always make sure and keep your air filter clean and take care when removing the air cleaner from the engine. You do not want any dust or debris entering the engine as this can cause unnecessary wear and tear on the engine parts. A few minutes of regular cleaning can save you huge amounts of money in the long run.
The fuel tank is constructed in plastic material, its large fuel tank (approximately 2 gallons) that can give you plenty of work time between refills.
Final Thoughts
The Billy Goat wheeled blower has been a reliable machine and is a great way to move leaves. However, if you are using this machine all day can become slightly tiring.
The good news is that there is a Billy Goat stander blower coming out soon, in fact, I think it's probably out now in the US. I will try and find out more about this machine in the next few weeks.
Specification
Engine: Vanguard
Performance: 18hp / 13.4kW
Displacement: 570cc
Drive Type: Self Propelled
Output Diameter: 15.2cm
Productivity: 3.8x air volume of backpacks
Air Velocity: 320km/h
Impeller Blades: 16
Fan Size: 17″ / 43.2cm
Front Tyres: 10″ / 25.4cm x 3″ / 7.6cm
Front Tyre Type: Pneumatic
Rear Tyres: 13″ / 33cm x 5″ / 12.7cm
Rear Tyre Type: Pneumatic
Weight: 86kg
Length: 143cm
Width: 74cm
Height: 114cm
Please feel free to comment below.