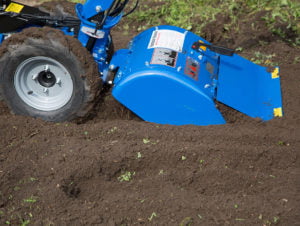 The Camon C8 Rotavator has an excellent build reputation and is a very durable machine. The Camon C8 Rotavator is a favourite for hire companies as they know the durability of a machine and the excellent performance. The Rotavator comes with a two-year commercial warranty and a three-year warranty if you are a private user. The manufacturer has great confidence in the products, hence the generous warranty!
The Rotavator is ideal for the private individual, as well as for commercial use, such as the hire industry and professional landscapers.
The Camon C8 Rotavator is very easy to use, it comes with very straightforward controls, it is powered by a Honda engine, (Honda engines are renowned for their reliability). With the combined gear drive this makes the Camon C8 Rotavator a very versatile tool that will tackle most jobs.
The Camon C8 Rotavator is a two wheeled Rotavator, the wheels are driven, which helps to make the Rotavator very easy to use. There is an optional quick coupling if you need to remove the Rotavator and add other various attachments which are available as an optional extra.
Specification
CAMON C8 Rotavator | Specification
Engine
Honda GX270 petrol

Net Power Output (3600 rpm)
6.3kW / 8.4hp

Fuel Tank Capacity
5.3L

Fuel Consumption (3600 rpm)
2.4L per hour

Starter
Recoil

Working Width
52cm (20″)
Digging Depth
23cm (9″)
Gears
1 forward
1 reverse
Speeds (kph)
I: 1.05
I: 2.68
Wheels
4.00 x 8 agricultural wheels
No of Tines
16
Weight
111kg

Warranty
Domestic use – 3 years
Commercial use – 2 years
Dimensions (L x W x H)
170 x 64 x 120cm