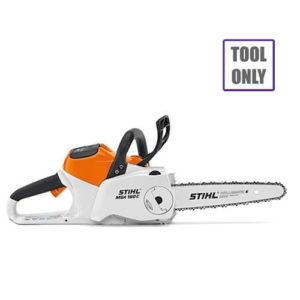 The title of my blog post today is; Will this Stihl Battery Chainsaw cut a load of wood on one charge?
Although I am not particularly enthusiastic about battery tools, however, I am hearing great things about the Stihl range of battery chainsaws. Some of us, including myself, probably prefer something with an internal combustion engine on, however, I can't deny that these Stihl battery products have come a long way in the last few years.
I have just watched a video on the MSA 161 T Top handle chainsaw and the challenge was "Will this Stihl Battery Chainsaw cut a load of wood on one charge"? It was actually a fallen over maple tree that was being cut, I guess the pieces of wood were around 10 inches in diameter. I was amazed at how quickly the chainsaw cut through the Maplewood, especially with battery power!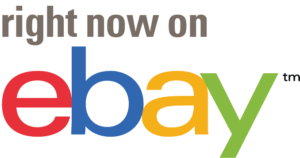 The fact is that this Stihl rechargeable battery chainsaw can cut a load of wood without the need to recharge the battery! I actually thought this result was quite impressive from a battery chainsaw and a good load of wood. Incidentally, the battery chainsaw still had some power left in the battery!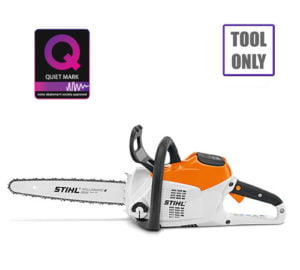 Stihl MSA 200 C-BQ Cordless Chainsaw
So, looking at the Stihl MSA 200 C-BQ Cordless Chainsaw this is a slightly different saw that was being used in the video. This particular saw is a two-handed chainsaw for general purpose use. The chainsaw used in the video was really a chainsaw for arborists being what we called a top handled chainsaw.
Top Handled Chainsaws
Top handled chainsaws are designed for arborists who are climbing trees regularly. If you use a top handled chainsaw when you are on the ground, which I don't recommend. Extreme care needs to be taken as you have one hand free and there's a temptation to use another hand which can be touched on the chainsaw blade if care is not taken. It might sound a bit extreme, but if I use a top handled saw on the ground, sometimes I even put my hand behind my back so there is no temptation to try and move wood, by reaching over the cutter bar. It is always better to be safe rather than sorry.
The batteries for this particular chainsaw that I am referring to are sold separately. However, the great thing is that if you have a number of Stihl garden and arborist products the batteries all fit in the same tools.
The Stihl MSA 200 C-BQ Cordless Chainsaw allegedly matches petrol power, I'm not quite sure about this though. I always think that petrol power has a bit more go than rechargeable machines! However, rechargeable products have come a huge way over the last few years.
A few weeks ago I was working with a gang of tree surgeons and they had several Stihl rechargeable products. These products included a top handled chainsaw, a hedge cutter, a pole hedge trimmer and telescopic chainsaw. They also had their traditional petrol Stihl chainsaws and hedge cutters on site!
I was really quite surprised to see professional tree surgeons using electric rechargeable tools. However, they were saying how good they were especially the top handled chainsaw for climbing, no engine to start and no noise.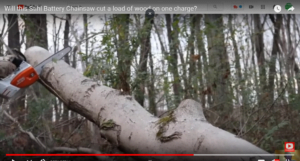 In the video, you can see the maple tree is quite large. However, the Stihl chainsaw appears to cope extremely well. Before I watched the video, I didn't expect the battery to manage a full load of wood. However, they did manage to cut a load of wood and managed to have a small amount of power left in the battery.
According to the manufacturer, the battery should last 35 minutes. Now I'm guessing that this must vary depending on how much load you're putting on the chainsaw.