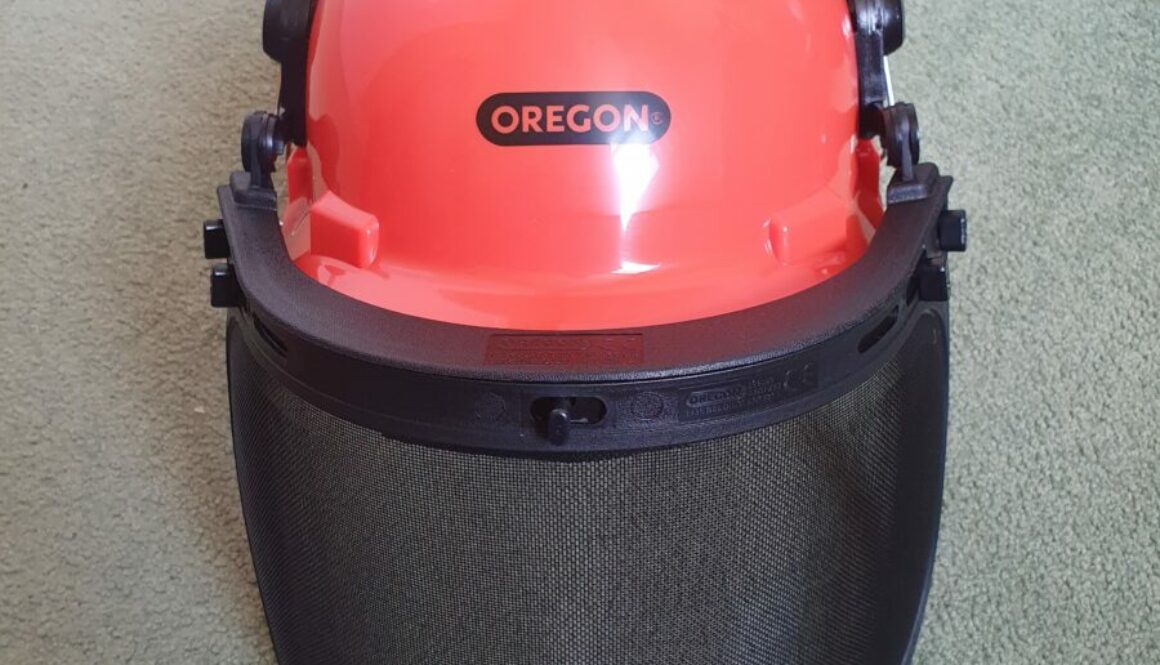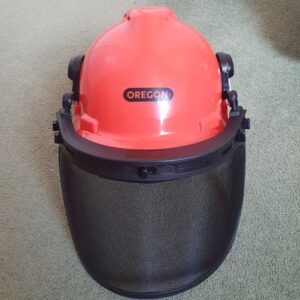 Today we are looking at the Oregon chainsaw safety helmet, which is available for £17.99 through amazon.co.uk. This is a budget helmet that offers excellent value for money, I will prove the point below.
Features
Impact-resistant helmet.
Six-point adjustable band for head comfort.
Wide stainless-steel mesh visor.
Six ventilation holes for breathability and comfort.
Value for money chainsaw helmet.
Chainsaw Helmet
The helmet comes in cardboard packaging that needs assembling, there are only four or five pieces to assemble. I never quite understand why the manufacturers do not just assemble the chainsaw helmet so that the product is ready to go. It takes about five or 10 minutes to assemble the helmet. Thankfully, it is not too technical and most of the parts are self-explanatory when assembling.
I just purchased my second Oregon chainsaw safety helmet as my original safety helmet had served me well having been used for well over 1000 hours. I use the safety helmet, mainly for tree stump grinding, but also for the odd bit of chainsaw work and strimming. The reason I know that the helmet has been used for over a thousand is the fact that my stump grinder has an hour metre on, which records the number of hours used.
I would not recommend this chainsaw helmet for climbers, but for strimming, chainsaw use on the ground, it is absolutely fine. I have just purchased my second helmet after one year's use (1000 use) due to the earmuffs becoming worn.
You Can See My Video Review Here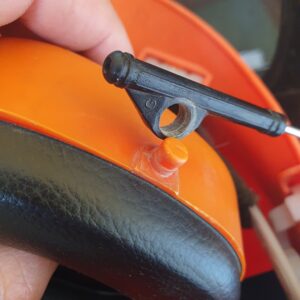 Worn Earmuff Fitting
The actual earmuff is fine, it is just where the earmuff pivots the plastic fixing has worn and became loose due to fair wear and tear (1000 hours use). There may be a solution to fixing this, however, for £18 it is probably not worth the time and effort it would take to fix.
To Conclude
This chainsaw helmet has been used for six days a week and around 50 weeks a year, in other words, it has a lot of use! I am recommending this product as I have just purchased my second helmet as the earmuff fixing was getting slightly worn.
I have looked at other chainsaw helmets which are considerably more money and some are either identical or very similar, but two or three times the price.
This chainsaw helmet is definitely recommended, 1000 hours use cannot be bad for this product.
Specification
| | |
| --- | --- |
| Part Number | 562412 |
| Item Weight | 1.06 Kg |
| Package Dimensions | 30.7 x 22.6 x 17 cm |
| Item model number | 562412 |
| Item Package Quantity | 1 |
| Batteries included? | No |
| Batteries Required? | No |