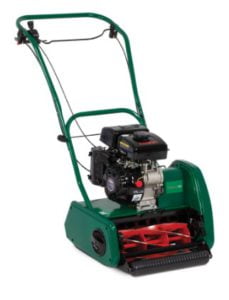 Today we are looking at the Allett Classic 17L Cylinder Mower. This particular cylinder mower is available for £889.33. The Allett Classic 17L s/p 43cm Cylinder Mower is part of the domestic range of mowers from Allett.
Yesterday we looked at the Allett Classic 17L s/p 43cm Cylinder Mower. This is Allett's cheapest petrol cylinder mower and is available for the cost of £765.
The Allett Classic 17L Cylinder Mower is designed for owners who want to have a perfect looking lawn. Allett cylinder mowers are used across the world in gardens, sports grounds, parks and bowling greens and anywhere else where a fine cut is required.
Not everyone's lawn is suited to a cylinder mower. If your lawn is a bit up and down and has twigs and other debris lying on the surface. It may be worth thinking about a rear roller rotary mower as this type of mower gives a good finish, including stripes. However, it's a bit tougher than your traditional cylinder mower. I'm not trying to put you off buying a cylinder mower, I just want you to make the right choice for your garden.
Features
The perfect cylinder mower for that bowling green look.
A 17-inch self-propelled cylinder mower.
87cc air-cooled four-stroke petrol engine.
Five blade removable cylinder cartridge.
Optional scarifying attachment.
40 L grass box.
Steel roller.
One year's warranty
Allett Classic 17L Cylinder Mower
The Allett Classic 17L Cylinder Mower is very much like the classic 14 cylinder mower that we looked at yesterday. With the five-blade quick cartridge, which is removable in seconds. The Allett classic gives a very prestige finish and the classic British striped finish to your lawn.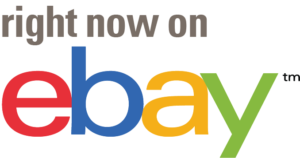 Engine
The Loncin four-stroke 87cc petrol engine powers the Allett classic 17. This modern air-cooled engine offers excellent economy along with low emissions.
Cutting Width
With a 17 inch (43.2 cm) cutting width the Allett classic 17 is recommended for lawn sizes up to 280 m². The five-blade quick-release cartridge cylinder head can be removed for a scarifier attachment. With the optional extra scarifier attachment, it really utilises your cylinder mower to its full.
Cylinder mowers have an almost scissor-type cutting action, which gives a razor-sharp perfect cut. So it is important that the blades are kept in perfect condition for that perfect cut. Cylinder mowers cannot stand up to the abuse that a rotary mower can take. The five-bladed cylinder rotates against a rigid lower blade that should slice the grass off perfectly and cleanly if the mower is looked after. It's very important with a cylinder mower not to run over twigs and obstacles as this will quickly impair the cutting quality. If your lawn is rough and takes a lot of abuse you're probably better off looking at a roller rotary mower as I mentioned earlier in this post.
Rear Roller 
The rear steel roller is the part of mower that enables you to have those perfect stripes. Not only does the rear roller strap your lawn, but it also helps to keep the lawn in good condition throughout the cutting season.
Adjustable Handlebars
The Allett Classic 17 comes with adjustable handlebars which also fold down for storage and transport. The adjustable handlebars are ideal to find that perfect comfortable cutting position to mow your lawn.
To Conclude
There's nothing better than a quality cylinder mower to give you that bowling green traditional English look to your lawn. However, just be aware that cylinder mowers really are for quality lawns and there may be some situations where a rear roller rotary mower is better suited for a particular situation. I'm not trying to put you off buying a cylinder mower as they can really give a fantastic finish. It's just important that you buy the right machine for the job as I mentioned at the beginning of this post.
The machine comes with a one-year manufacturer's warranty.
Specification
Recommended lawn size up to 280m2
17" (43cm) Self-propelled cylinder mower
87c unleaded petrol air-cooled Loncin engine 
Five-blade "Quick Cartridge" cutting cylinder
Takes the scarifier cartridge
66 cuts per metre
6mm – 32mm (¼" to 1 ¼") cut height
3 handlebar height position plus folding
40-litre grassbox
Recoil start
Polyethylene front roller
Single section steel rear roller
41.5kg
1-year parts and labour