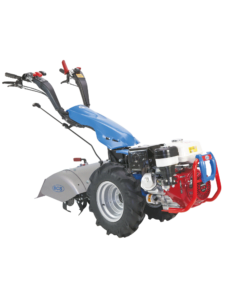 Today we are looking at the BCS 740 Wheeled Rotavator, which comes with a diesel or petrol engine option. Recently we were looking at the BCS 738 Wheel Driven Rotavator, a slightly smaller model. Once again, the BCS 78 is available with a diesel or petrol option.
The petrol BCS 740 Wheeled Rotavator retails at £3445 plus VAT and the Yanmar diesel model retails at £4065 plus VAT
Having owned a BCS 745 diesel rotavator several years ago and hiring many of these machines over the years. I know the capabilities that they have and how they have made a name for themselves. Many hire companies choose BCS as they know they offer value for money and proven reliability.
With five different models available, there really is a wide choice of flexibility and power available. In a few day's time we will be looking at the hydrostatic model, something that is quite new to the market, I believe.
BCS 740 Wheeled Rotavator
Features
A universal two-wheeled tractor.
A huge range of implements and attachments.
Petrol or diesel engine options.
Two-year commercial warranty or three-year domestic warranty.
Adjustable handlebars.
Parking brake.
Differential lock.
Steering brake.
Simple depth adjustment.
Hard-wearing tines.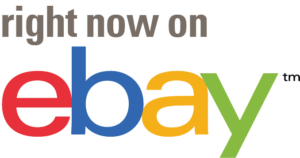 BCS has been making two-wheeled tractors for over 30 years, they quickly became popular with professionals due to their pricing and reliability.
The BCS 740 Wheeled Rotavator is the midrange machine out of the five machines that BCS offer. One of many good things about the BCS is that it offers a range of attachments. The rotavator attachment is probably the most popular attachment, however, with a range of many attachments, this machine becomes exceptionally versatile.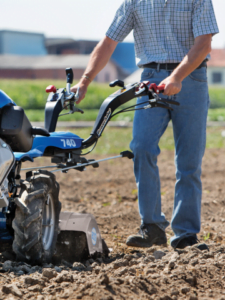 Wheeled Powered Machine
There are two types of rotavator or cultivator. There are the traditional garden cultivators that are powered by the actual digging rotors. The depth and speed are controlled by the amount of weight you apply to the handles. These machines are great for the keen gardener and allotment holders and they are also great for making a fine tilth in the spring.
However, wheeled powered machines offer much more flexibility and are normally used by professionals or keen gardeners. The BCS 740 Wheeled Rotavator has a gearbox which provides forward and reverse speeds. It also has an independent power take-off to drive various attachments, like the rotavator, for example. Wheeled machine provides much more control and can be used to reclaim old ground.
Engine
BCS offer to engine options for 740 two-wheeled tractor. The cheapest option is the Honda GX390 engine version, which develops 11.7 hp. The slightly more expensive version is the Yanmar diesel engine version, this engine develops 9 hp.
My preference would be to go for the diesel engine version even though it is slightly more expensive. I have found diesel engine rotavators to work better than their petrol counterparts due to the low down torque that a diesel engine offers. However, if you do go for the petrol engine, the Honda is an excellent engine and the many people Honda engines are the preferred choice on small machines.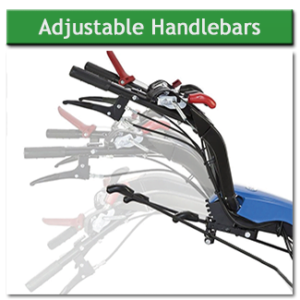 Rotavator
The BCS 740 Wheeled Rotavator comes with a 66 cm (26 inch) digging width. Which is small enough to manoeuvre through the average garden gate but large enough to cover the ground quickly. With the digging depth of 8 inches (20 cm) this is more than enough for most contractors and gardeners.
The depth is controlled by a skid that can be moved up and down with a simple lever movement. The higher you lift the skid, the deeper the rotavator will dig.
The rotavator has 20 replaceable tines that are capable of heavy digging or just making a spring onion bed. The weight of the rotavator alone is 40 kg.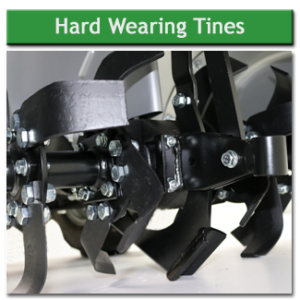 Gearbox
The BCS 740 has three forward and three reverse gears which range from 1.6 km an hour to 4.53 km an hour. Steering brakes help to assist the machine when turning. An independent differential lock help to keep this machine driving in all conditions. A parking brake comes as standard.
Attachments
One of the things that make the BCS two-wheeled tractor so versatile is the number of attachments available for this machine. The attachments in the cultivation department include; an adjustable ridger, cultivator kit, power harrow, reversible plough, rotary plough, rotavator, single furrow plough, tined cultivator, stone burier and trailed ridger.
In the grass maintenance line of accessories or implements include; scarifier, mulching mower, sickle bar type mowers, flail mower, hay rake, mini baler and rotary mower.
Other miscellaneous accessories include; Buck rake, chipper shredder, dozer blade, power brush, snowblower, snowplough, stump grinder and trailer.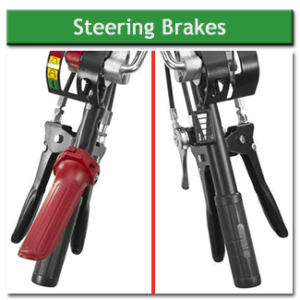 To Conclude
The BCS 740 Wheeled Rotavator is a popular machine for hire companies and landscapers. I like the fact that BCS offers a range of different implements and attachments. It is not only a rotavator, it offers much more and becomes a universal two-wheeled tractor.
I've always favoured diesel power over petrol engines, mainly due to the economy and longer life of the engine. I found diesel engines offer better low-down torque than their rival petrol engines. However, if you did purchase the Honda engine version, you definitely have a reliable well-engineered engine.
Specification
BCS 740 Engine
Model
Honda GX390
Yanmar L100N
Fuel
Petrol
Diesel
Net Power Output
11.7hp / 8.7kW
@3600rpm
9.0hp / 6.7kW
@3600rpm
Starting
Recoil
Recoil
Fuel Tank Capacity
6.1L
5.5L
Fuel Consumption
3.5L per hour
@3600rpm
2.1L per hour
@3600rpm
BCS 740 Power Unit
Gears
3 forward & 3 reverse
Speeds
Forward:
I: 1.26 km/hr
II: 2.92 km/hr
III: 4.30 km/hr
Reverse:
I: 1.33 km/hr
II: 3.08 km/hr
III: 4.53 km/hr
Brakes
Steering brakes
Parking brake
Differential
Locking differential
Wheels
5.00 x 10 agricultural
Weight
Honda GX390:
112kg
Yanmar LN100:
132kg
Dimensions
Length:
200cm
Width:
75cm (at handlebars)
58cm (at wheels)
Height:
120cm
Warranty
Domestic use:
3 years
Commercial use:
2 years
BCS Rotary Hoe
| | |
| --- | --- |
| Digging Width | 66cm (26″) |
| Digging Depth | 20cm (8″) |
| No of Tines | 20 |
| Weight | 40kg |