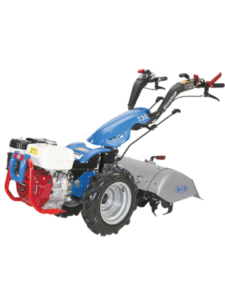 Today we are looking at the BCS 738 Wheel Driven Rotavator. Over the next few days will be looking at the BCS range of two-wheeled tractors. The most common use for these machines is the rotovator attachment, however, there is an excellent range of further attachments available.
Yesterday we looked at the slightly smaller, but versatile, BCS 710 Wheel Powered Rotavator. Having been an owner of a BCS two-wheeled tractor and using the BCS range of equipment. I know the capabilities of this machine and the versatility that they offer.
The BCS 738 Wheel Driven Rotavator retails at £3025 excluding VAT for a brand-new machine. If you're looking for a second-hand BCS rotovator you can also carry out an eBay search. I believe that the BCS machines offer excellent value for money. The fact that almost every hire company runs a BCS machine on their fleet, suggests something good.
BCS 738 Wheel Driven Rotavator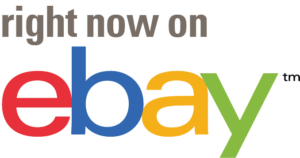 Features
Three engine models.
Petrol or diesel.
Three-year domestic warranty.
Two-year commercial warranty.
Offset handles.
Popular with landscapers and hire companies.
Easy-to-use.
Differential lock.
Three forward and reverse gears.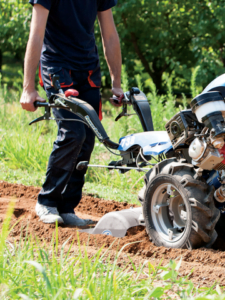 The BCS 738 Wheel Driven Rotavator is a popular choice of machine for landscapers, hire companies, smallholders and gardeners. The BCS 738 is a two-wheeled tractor that is more often than not used with the rotovator attachment. However, there is also a range of other attachments for this machine, this really makes the BCS 738 a powerful and universal workhorse.
There are two types of pedestrian rotavators, there is the classic garden cultivator that is driven by the actual rotors. This type of machine can be great if you have a veg patch or an allotment to look after. The depth and the speed of the machine are controlled by the amount of weight you apply to the handles.
The more professional type of rotovator that we are looking at today is the wheel-driven type. The BCS is a wheel driven machine that has a gearbox and a power take-off to drive the rotovator or other attachments. Contractors generally go for wheel-driven machines as they are much more efficient and easier to use.
Gearbox
With a six-speed gearbox, the BCS 738 Wheel Driven Rotavator really is a versatile machine. There are three forward and three reverse speeds and an independently driven power take-off shaft that drives the rotovator. The power take-off can also drive other BCS attachments.
Adjustable handles
With the adjustable handles and the ability to turn the handles 180° the BCS machine has the ability to handle many tasks. Setting the handles to one side is perfect for rotovating a vegetable patch when you don't want to tread on the freshly tilled ground.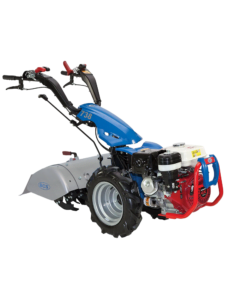 Rotovator attachment
The BCS rotovator attachment is a 66 cm (approximately 26 inch) width, which covers the ground very quickly. The maximum digging depth is 20 cm (8 inches) which is more than adequate for most jobs. There are 20 replaceable tines fitted to the rotor shaft.
The digging depth is controlled by a skid, which is operated by a lever on top of the rotovator housing. All the skid simply does is to control the depth, if you pull the lever up, you will dig deeper and vice versa.
Engine
There are three engine choices available for the BCS 738 Wheel Driven Rotavator. The choice starts with the Honda 8.4 hp engine, moving up to the larger 10.7 hp engine. And then there is a 7.5 hp Kohler diesel engine available, which is the most economical. Personally, I would go for the diesel engine as it offers economy and longer life. I also find that a diesel engine has more low-down torque which is perfect for rotovating.
A Wide Range Of Attachments
The BCS 738 Wheel Driven Rotavator has a wide range of attachments, ranging from; A flail mower, a range of sickle bar mowers, rotary mower, mulching mower, snowblower, snow plough. In the cultivating department, there is the rotovator, adjustable ridger, cultivator kit, dozer blade, reversible plough, rotary plough, single furrow plough and tined cultivator. And more!
To conclude
BCS has been manufacturing two-wheeled tractors for over 30 years, so they have plenty of experience in this field. Having used and owned BCS machines, I can personally recommend BCS Rotavators. With a two-year commercial warranty and a three-year domestic warranty, you certainly have peace of mind.
As I mentioned in the previous paragraph, my personal preference would be the diesel-engined model, however, Honda engines are excellent economical engines if you prefer petrol.
Specification
BCS 738 Engine
Model
Honda GX270
Honda GX340
Kohler KD350
Fuel
Petrol
Petrol
Diesel
Net Power Output
8.4hp / 6.3kW
@3600rpm
10.7hp / 8.0kW
@3600rpm
7.5hp / 5.5kW
@3600rpm
Starting
Electric or Recoil
Recoil
Recoil or Electric
Fuel Tank Capacity
5.3L
6.1L
4.3L
Fuel Consumption
2.4L per hour
@3600rpm
3.1L per hour
@3600rpm
1.4L per hour
@3600rpm
BCS 738 Power Unit
Gears
3 forward & 3 reverse
Speeds
Forward:
I: 1.26 km/hr
II: 2.92 km/hr
III: 4.30 km/hr
Reverse:
I: 1.33 km/hr
II: 3.08 km/hr
III: 4.53 km/hr
Brakes
Parking brake
Differential
Yes – locking differential
Wheels
5.00 x 10 agricultural
Weight
Honda GX270:
100kg
Honda GX340:
106kg
Kohler KD350:
116kg
Dimensions
Length:
180cm
Width:
64cm (at handlebars)
55cm (at wheels)
Height:
120cm
Warranty
Domestic use:
3 years
Commercial use:
2 years
BCS Rotary Hoe
| | |
| --- | --- |
| Digging Width | 66cm (26″) |
| Digging Depth | 20cm (8″) |
| No of Tines | 20 |
| Weight | 40kg |