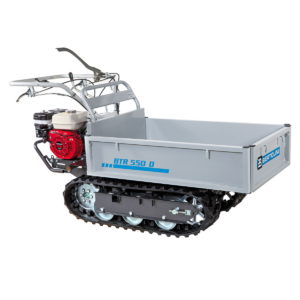 Today we are looking at the Bertolini BTR-550D Transporter, a great piece of machinery to make your life easier! Yesterday we looked at the Bertolini BTR-450 Transporter, today we are moving up the scale to Bertolini's largest transporter. The Bertolini transporter offers a saving of £400, the current prices £6599 including VAT.
As I mentioned yesterday, it's always difficult to know what to buy to replace the traditional, old-fashioned wheelbarrow. I have never yet found a complete replacement, however, may be the Bertolini BTR-550D Transporter could be the answer.
Bertolini makes a range of equipment for the landscaper and keen gardener. Their product ranges from wheeled Rotavators, sickle bar mowers, flail mowers, to transporters and more.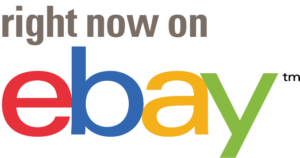 Bertolini BTR-550D Transporter Features
Heavy-duty tracked powered barrow for commercial use.
Six-speed gearbox.
Low ground pressure rubber tracks.
Reliable Honda engine.
Economical Honda petrol engine.
Strong and durable frame and chassis.
550 kg capacity.
Tight turning circle.
Hydraulic tipping.
Clutch lever steering offering great manoeuvrability.
Three-year warranty.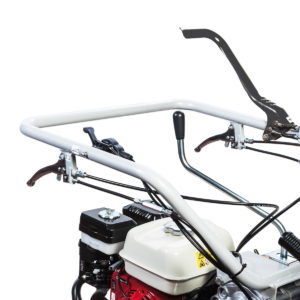 Bertolini BTR-550D Transporter
The Bertolini BTR-550D Transporter is a very versatile machine for moving topsoil, compost, grass, building materials and more. It always difficult to find something to replace the wheelbarrow, the Bertolini transporter with its 550 kg capacity does an excellent job of this.
I know what it's like to push a loaded Barrow around the garden, especially when the garden is on a slope. The Bertolini power Barrow really can make light work of once difficult jobs.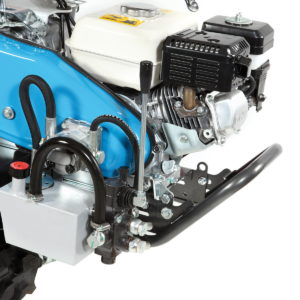 Bertolini BTR-550D Transporter Engine
It's good to see that Bertolini has used many people's favourite engine, the Honda engine. I have had owned many Honda engines on machines over the years and I have always been more than happy with their performance, efficiency, reliability and overall quietness.
I've never had to replace a single Honda part one and engine apart from the usual oil and air filters and spark plug. Many times, I have left a Honda engine all winter and have returned to start the machine and the engine will fire up on the first pull or first turn of the key. Over the years Honda has built up a great reputation for being very reliable engines.
Bertolini has fitted the Honda GX160 engine to their power Barrow, this is a four-stroke air-cooled engine that develops 163 cc and produces 4.8 hp. The overhead-valve technology and optimised valve timing all help to make the Honda engine one of the most economical engines in its class.
The automatic mechanical compression release makes the under engine exceptionally easy to start. This is something I have always noticed the Honda engines; it really does take minimal effort to pull the recoil starting rope.
Bertolini BTR-550D Transporter Transmission
The Bertolini is steered with independent track clutches and brakes that are controlled by handlebar-mounted levers. With the rubber tracks and the handlebar-mounted controls turning becomes very easy and the machine is very manoeuvrable, even in tight spaces. The actual turning circle of the Bertolini is just 70 cm, which is great. Care must be taken when operating on turf as tight turns can tear the turf, just take care to turn gently in these situations.
The oil-immersed transmission feature minimises wear and tear and give superior durability. Having rubber tracks gives the machine a very low ground pressure even when the machine is fully laden.
The six-speed gearbox ensures that there is a gear that is right for every condition. There are three reverse gears and three forward gears.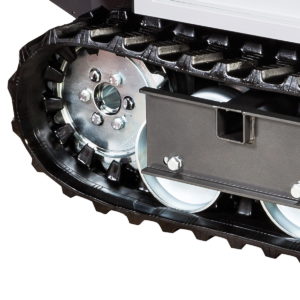 Large Capacity With Hydraulic Tip
I always think if you have a machine that chips it's great to have the tipping mechanism hydraulically powered. The previous Bertolini transporters we looked at were a manual tip, however, the Bertolini BTR-550D Transporter has a hydraulic tipping feature. In other words, it's effortless.
With the 550 kg maximum payload, tipping really does become effortless.
The Bertolini power Barrow will work on slopes up to 20° even when fully laden.
To Conclude
I know that everyone has a budget and we can't always afford the top of the range machine. However, if your budget allows this Bertolini transporter certainly has the most beneficial features. With a 550 kg payload and six speed gearbox, complete with hydraulic tipping, the Bertolini becomes a very universal machine.
Bertolini BTR-550D Transporter Specification
Gearbox: 6-speed (4 forward + 2 reverse)
Load capacity: 550 Kg
Lift/dump: hydraulic
Transmission: with gears in oil bath
Clutchbelt: with automatic disengagement when the control lever is released
Brakes: with expansion and automatic cut-in when the clutch is released
Body: telescoping
Dump angle: 50°
Steering: with independently controlled releases and brakes
Minimum turning radius: 700 mm
Power take-off: independent at 2100 rpm
Weight: 215 Kg