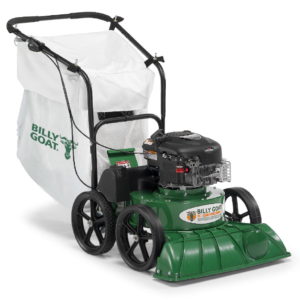 Today we are looking at the Billy Goat KV601SP self-propelled garden vacuum, this is a 6 hp machine. Yesterday we were looking at the smaller Billy Goat LB352 wheeled push vacuum with a 3.5 hp engine. This particular model costs £1299.99, or there is the Billy Goat KV601 push wheeled vacuum available at £999.98
The Billy Goat KV601SP self-propelled garden vacuum offers more power than the previous model and most importantly this model is self-propelled. So it takes any effort of pushing a machine away.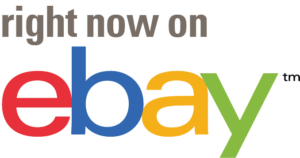 The Billy Goat KV601SP Self-Propelled Garden Vacuum
The Billy Goat KV601SP self-propelled garden vacuum is a 27-inch model that offers powerful garden vacuuming. The Billy goat is powered by a powerful 6 hp Briggs & Stratton professional series engine.
I have owned many machines over the years and my guess is that 75% of these machines have been powered by Briggs and Stratton engines. When I look back, I can honestly say that I have almost had zero problems with the Briggs & Stratton engine's that I have owned.
With the leaves falling right now the Billy Goat KV601SP self-propelled garden vacuum offers the perfect way to keep your garden tidy. You can either drive the machine up and down and clear leaves from your lawn and driveway. Or you can use the optional hose attachment which becomes like a giant vacuum cleaner for vacuuming leaves and flower borders and those awkward places that you cannot reach.
The Billy Goat KV601SP self-propelled garden vacuum it is ideal for clearing leaves from driveways, paths, lawns, tennis courts and all those awkward to get to places. Especially with the optional hose attachment that goes in places where blowers and rakes can't go!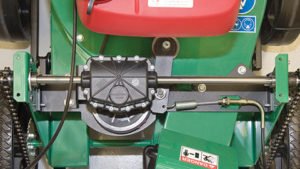 Self-Propelled
The Billy Goat is a self-propelled garden vacuum which takes the hard work out of pushing the machine. It has one forward speed and is highly manoeuvrable.
Adjustable Height
The Billy Goat has an adjustable height for maximum performance. For example, if you are clearing leaves on your lawn, you need to raise the machine slightly, so that you are not pushing through the grass. Whereas on a hard surface like a driveway, you can set the machine lower for maximum suction.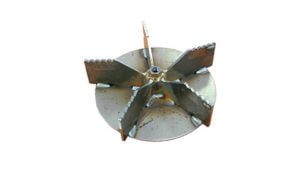 Accessories
Optional extras are available for the Billy Goat KV601SP self-propelled garden vacuum, including, a hose kit, a caster wheel kit which increases manoeuvrability. Billy Goat also offers a nozzle wear kit which helps to protect the nozzle on your hose.
If you're looking to reduce the amount of waste going into the collection bag there is a shredder screen kit that can reduce leaf waste up to 12 times. This obviously means fewer journeys to the compost heap!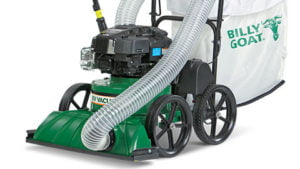 There is also a liner sleeve, this helps to protect the machine when it is used in sandy conditions. Sand can be particularly abrasive so I would definitely recommend this optional extra. It is probably not a bad idea to add it to protect your machine against general wear and tear.
Finally, there is a cover to keep your Billy Goat vacuum dry and clean when not in use. I would definitely recommend an outbuilding to house your machine, although if space is limited the cover could be an option.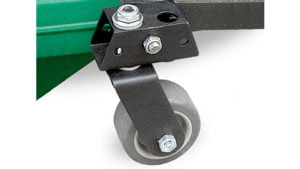 Look After Your Billy Goat Vacuum
As with all machinery it pays to look after your investment to keep it running properly. Make sure you clean your machine down after use, I often use a leaf blower to blow machinery down after use.
It also important to look after the Briggs & Stratton professional engine. I would recommend an oil change after the initial 10 hours of first use and then refer to the engine manual for future recommended oil changes. I always say that it's cheaper to keep the oil clean rather than wear expensive engine parts.
As with all engines and this is something that is often neglected. Make sure and keep your engine air filter clean, it's amazing how much dust and dirt can build up in an air filter, especially if you are collecting dry leaves.
Most air filters only take a few minutes to clean and are very easy to access. Simply remove the air filter and remove any dirt, ideally with an airline. Most air filters are dry paper filters which are very easy to clean and to replace. It is of utmost importance that no dirt or debris enters the engine as this will cause unnecessary wear and tear and shorten the life of the engine.
How Did The Billy Goat Perform?
The Billy goat has a good capacity for leaf collection, however, it is much easier to collect your leaves regularly rather than trying to collect wet sticky leaves all at once. As with rotary lawnmowers and leaf vacuums they have a tendency to block when you are trying to put too many wet leaves through.
The Briggs & Stratton 6 hp engine is very easy to start, spare parts are readily available at sensible prices.
The Billy Goat KV601 self-propelled garden vacuum is one of those machines that not that many people own, however, to me it's a great machine to make life in the garden easier.
If you look after your Billy goat vacuum properly it will give you many years of trouble-free service.
Specification
Engine Make
Briggs & Stratton
Drive Type
Self Propelled
Engine Model
Professional Series™
Working Width (cm/in)
69 / 27
Please feel free to comment below.