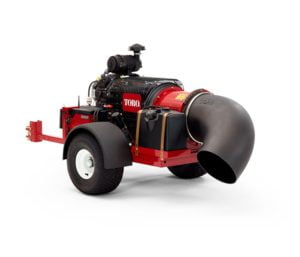 Today we are looking at something slightly different, the Toro pro force series debris blower. I appreciate that this debris blower may not be the right machine for most gardeners, however, it is always good to see machinery in action, that makes life easier!
I am someone who likes to make gardening and landscaping easier, so I'm always looking at various types of machine. If there is a machine that can make life easier, I am all for it!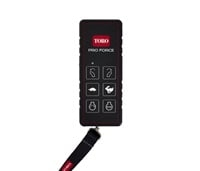 Toro Pro Force Series Debris Blower
The Toro pro force series debris blower as one of the most powerful machines on the market. It is powered by a 24.6 hp Kohler Command engine, with an electronic governor. The electronic governor sounds like a great idea as I have found on the Kohler engines the traditional governor can be a bit slow to react. The electronic governor should solve this issue. Having used Kohler engines for many years, I've noticed was the manual governor that sometimes they can be a bit slow to react you need more power. The range of Kohler EFI engines are now becoming more popular which gives increased efficiency and better governor control.
I think one of the main features of this blower is the fact that it has a "boys toy feature" the fact that it is radio remote. When I say radio remote, this is a towable machine, so the machine isn't fully radio remote. However, the wireless radio remote allows you to stop and start the engine from the operator's vehicle. You can adjust the throttle remotely up and down, from low to high revs and vice versa. It also allows you to adjust the blower nozzle 360° from the operator's seat!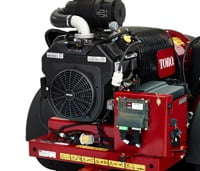 So, in other words, no jumping on and off the operator's seat to make adjustments, which to me is a very practical feature indeed. I can never understand why manufacturers of ride-on lawnmowers want to have a series of bags to unload. When in theory you should just be able to stay in the operator seat and control everything from the operator's seat. However, without going too much off track, I appreciate in some circumstances people may need to load the grass clippings into compost bins or something similar.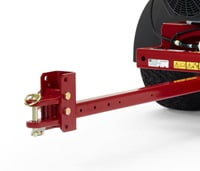 Who Needs The Toro Pro Force Series Debris Blower?
Obviously, the Toro pro force series debris blower is more for large estates, golf courses, parks, etc rather than the average garden. However, if you have a garden with a few acres this could be very useful tool for blowing leaves, clearing pathways and driveways. The Toro blower could also be used after scarifying your lawn to blow the moss and thatch into large rows for collection.
What Do You Pull Your Toro Blower With?
The Toro pro force series debris blower is a towable machine which can be towed by the Toro WorkMan or something similar like a John Deere Gator. Compact tractors, quad bikes, ride on mowers can also be used. At 475 lbs in weight, most of the above machines would cope with this sort of weight. The low ground pressure grade tyres help to keep turf damage and ease of pulling to a minimum.
To Conclude
Toro offers two years warranty or 1500 hours, whichever comes first. So they obviously have confidence in their product. As I mentioned this machine isn't for the average garden but certainly extremely useful for the golf course, large estate or garden and park areas and commercial landscapers.
Specification 
Air Flow
In independent 3rd party testing, the Pro Force™ demonstrated greater CFM, or air volume flow, than any single nozzle turbine-type debris blower currently available.
Engine
24.6 hp (18.3 kW) twin-cylinder air-cooled Kohler® Command Pro® with electronic governor
Fan
Axial flow
Height
33 inches (83.8 cm)
Length
79 – 115 inches (200.7 – 292.1 cm) from adjustable tow hitch to nozzle outlet
Nozzle Type
Impact-resistant plastic with 13″ (33 cm) outlet diameter
Tires
20 x 10-8, 4 ply turf tire
Warranty
2-year or 1,500 hour manufacturer's limited warranty
Weight
475 lbs. (215.5 kg)
Width
48 inches (121.9 cm)
Wireless RF Controller
Engine start, Engine stop, Engine speed, Nozzle directional control
Please feel free to comment below