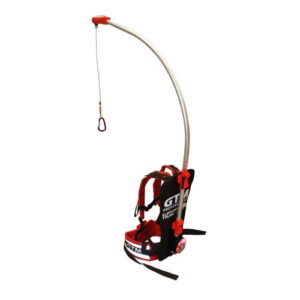 The elephant trunk harness, I believe is something rather unique to the landscaping industry. Having been in landscaping for over 30 years, I come across many different products, some excellent, some not so good and some just pointless. However, I think most of us who have carried out hedge cutting jobs appreciate that however many times you cut a hedge, your arms still ache!
I know that when I used to cut hedges and I still occasionally do, I normally do this in short bursts, doing as much as possible in one go and then giving your arms and shoulders a rest, due to the amazing amount of fatigue a hedge cutter puts on your arms and shoulders!
I normally like to use a Stihl 30 inch hedge cutter, I have always found Stihl products to be engineered well and long lasting. You can see our selection of hedge cutters here. It's always good to go for the largest cutting head possible as it definitely speeds up the cutting process. This is where I believe the elephant trunk harness can help you!
GTM Is A German Company
GTM is a German company that produces products for the garden and professional landscaper. These products are imported into the UK by EP Barrus, more commonly known as MTD Lawnflite.
So How Does The Elephant Trunk Harness Work?
The elephant trunk harness is basically a harness that fits in your back just like a tree climbing harness or a harness that holds your backpack blower. The harness has a long trunk with a wire cable, that is weighted at the end of the cable there is a carabiner clip which can then support your hedge cutter.
The weighted wire cable can support a hedge cutter that weighs up to 8 kg (approximately 17 lbs.) The actual cable is weighted at 3 kg, so in other words, your hedge trimmer will be 3 kg lighter making a considerable difference to your arms and shoulders.
Carry Bag
The elephant trunk harness comes with its own bespoke carry bag, although the trunk does stick out the top of the bag!
Adjustment And Comfort
It comes with lots of straps for comfort, all the straps can be adjusted to the particular size of the operator. It will probably take you a couple of times to make the harness fit comfortably on your back. It is a bit of her trial and error job to start with, but practice makes perfect.
Is The Elephant's Trunk Harness For You?
Although I haven't personally used the elephant's trunk harness myself, from reading the reviews and watching various videos on the subject, it seems like a great idea. I'm not someone who likes pointless gadgets. However, I do know that hedge cutting can take its toll on you especially as you get older.
Some people may think that it's a lazy way to cut hedges. However, I believe that if you are cutting hedges continuously or even have a lot of hedges in your garden this could really speed up production and reduce fatigue in a massive way.
Many professionals who carry out hedge cutting and similar jobs daily suffer from long-term injuries that reduce their ability to work quite so efficiently. This is where the elephant's trunk harness could really help many people.
According to the manufacturers, they say it can boost production by 100%, I believe that it can also save your body from aches and pains the next day.
The elephant trunk harness initially does take a little bit of time to get used to it. However, once you have got your harness fitted correctly and get used to the principle of this gadget, it really can save you a lot of time and effort.
Are There Any Negative Features?
The only real issue that can happen occasionally is if you are cutting a hedge which is under trees, the harness can become tangled in the overhanging branches. This isn't really a negative issue, it's just reality that often where there are hedges there can often be trees with overhanging branches. The best way to deal with this is to cut the part of the hedge where there are overhanging branches first. Then you can attach your harness and deal with the rest of the hedge.
Have you had experience with the elephant trunk harness?
Please feel free to comment below.