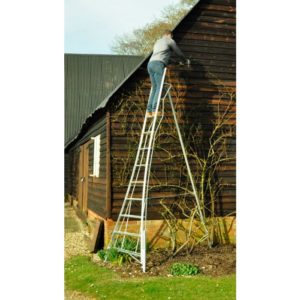 Today we are going to feature the Henchman 12 foot adjustable ladder review. I think those of us who have had the experience of cutting hedges know the issues that come with cutting hedges, especially tall hedges.
Henchman makes products for the gardener and professional landscaper that help to make hedge cutting, pruning and those jobs that need extra cutting height easier. I have never actually owned a Henchman product, however, I have had experience of using their products. I would rate their products excellent, due to the fact that they are far safer than your average ladder or platform, due to be adjustable legs and more.
Let's Take A Look At Jason's Review
Jason is going to review the Henchman ladder and carry out a comparison on the other tripod -type ladders that he uses. It will be a totally honest review. He also mentions that Henchman has kindly donated this ladder for him to review and keep for future use, very useful indeed!
Jason's three ladders are very similar apart from the other two makes of ladders are eight-foot and ten-foot respectively. The biggest difference is the large platform area at the top of the ladder.
Plus Points
• Very stable.
• Lightweight.
• Much more comfortable to use than a conventional ladder.
• Easily adjustable feet.
• Despite its size, it's ideal for tight spaces.
• Very useful top platform.
• Well-engineered.
Features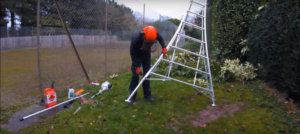 The ladder has three adjustable legs, this is obviously extremely useful for keeping the ladder upright on uneven ground. It seems to me that traditionally when you use a conventional ladder it's exceptionally difficult to keep it level in the average garden.
The two front legs are adjustable via a spring pin on the side of the leg. The legs simply drop down and can be adjusted to the required height to keep the ladder stable.
The rear leg is adjustable by totally removing the pin, ideally, a spring pin would be better as it can be slightly fiddly to put the pin back.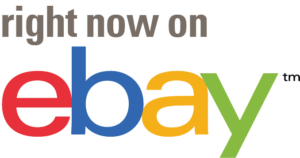 Jason has been using the Henchman 12 foot ladder for several weeks now and the is really finding the top step extremely useful. This ladder is far easier to use than a conventional ladder as you more or less stand upright.
I think we all know the problem of using a ladder when we are cutting a hedge and keeping it stable, the ground never seems to be level. With the Henchman, the legs can simply be adjusted to keep the ladder perfectly stable, such a useful feature. It definitely brings much more confidence when cutting tall hedges.
Lightweight Henchman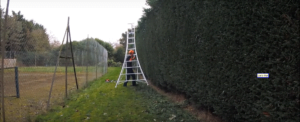 The henchman ladder is exceptionally lightweight and easy to move around. The henchman ladder can literally be picked up in one hand.
Tripod ladder
One of the biggest advantages of the tripod ladder is that you are not resting the ladder against the hedge like conventional ladders. This eliminates the risk of the ladder pushing into the hedge or the bottom of the ladder kicking out. It also stops the hedge potentially becoming out of shape due to the ladder resting against the hedge.
Another advantage of the tripod ladder is that you can use it sideways onto the hedge, which is exceptionally useful when you're cutting high hedges.
As the video shows the tripod ladder can get in fairly tight spaces between trees and shrubs, which to me is a really great advantage.
A very stable ladder
This Henchman tripod ladder is totally different from the traditional ladder, I think we have all experienced being upper latter and feeling that unpleasant wobble! The Henchman eradicates these unpleasant wobbles, due to the tripod design and the adjustable feet.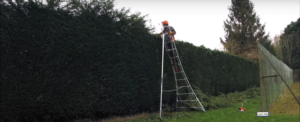 Is A Henchman Tripod Ladder For You?
As I mentioned earlier in this post, I have used Henchman products and although they are not cheap they are worth every penny, especially where safety is concerned.
The biggest advantage of this Henchman ladder over conventional ladders is the platform at the top. This platform proves to be a very useful feature that conventional tripod ladders do not have.
I would recommend the Henchman ladder for large gardens with tall hedges, gardeners, landscape contractors and tree surgeons.
More features!
• Three adjustable legs allow for level and stable steps on very uneven or sloping terrain.
• Uniquely, all Henchman Tripods include the 7″ deep "Platform" rung for safety and comfort
• Tuck your legs in, gain added support against your thighs, without hitting shins on rung above
• Top rail for one-handed support whilst working; or for leaning against whilst using both hands
• Wide, clawed feet are designed to "grab" soft ground and so prevent slipping or sudden sinking
• The 3-leg 'milking stool' principle makes it impossible to wobble and extremely difficult to topple
• Narrow top and third leg for access to tight awkward spaces.
• Incredibly light for ease of carriage and storage
• Rubber'shoes' for added grip and no scratching inside or on hard slippery surfaces
• Uniquely broad range of height options. Available in 6′ to 16′ sizes
Please feel free to comment below.