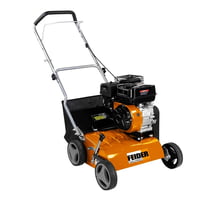 Today we are going to be looking at the Feider FST212 petrol lawn scarifier, which is currently on special offer. The petrol lawn scarifier is currently available for just £329.95 including VAT. This offers a massive saving of £170.
If you're looking to have a healthy lawn for the summer, a scarifier is a great tool to help you do create this. The Feider FST212 petrol lawn scarifier is one of the most powerful homeowner petrol scarifiers on the market today.
The petrol lawn scarifier comes with a powerful four-stroke petrol engine enabling the machine to be used anywhere.
With a two-year warranty and 57 reviews that rate at an average of 4.8 out of 5 stars. The Feider FST212 petrol lawn scarifier cannot be ignored.
Features
Excellent value for money.
Two-year warranty.
Keep your lawn looking healthy.
Powerful modern four-stroke petrol engine.
Large ball-bearing mounted wheels.
Debris bag included.
45 cm working width.
Excellent work rate.
Adjustable working depth.
4.8 out of 5-star reviews.
Feider FST212 petrol lawn scarifier
It's always good to see a well-manicured lawn, it really makes a garden stand out. One of the ways that we can achieve this is by using a scarifier. Scarifiers are generally petrol machines although there are a few smaller electric models available. I guess there are now a few rechargeable models available too. I like to have the freedom of a go-anywhere petrol model. There are no electric cables to get tangled up and generally petrol machines have more power.
A scarifier has the ability to remove the moss and thatch out of your lawn. In turn, this makes way for healthy lawn growth. In other words, it stops your lawn from being suffocated by moss and thatch. Thatch is something that builds up in your lawn over a period of time. Keeping on top of the thatch and the moss encourages healthy lawn growth.
Engine
With a four-stroke 212cc overhead valve petrol engine developing 4 hp. The engine has plenty of power to deal with moss and thatch in your lawn. The engine has a traditional recoil start for easy starting. The 3.6 L fuel tank will keep your machine running for long periods saving you valuable downtime.
Steel Blades
The Feider FST212 petrol lawn scarifier is provided with 18 sharp-tipped blades which will remove moss and thatch from your lawn. The Feider Scarifier has an adjustable blade so that it gives more flexibility to the conditions of the lawn. When the scarifier is used on a low setting it can be used as a slitting machine. These slits are almost invisible to the eye, but help to promote healthy root growth.
The working of the machine is 45 cm which is approximately 18 inches. The recommended lawn signs for this machine is up to 2000 m².
Push Model
I normally recommend that when someone purchases a lawnmower to purchase a self-propelled model over a push model. In this case, the Feider FST212 petrol lawn scarifier is a push model. However, a scarifier is not something that we use every week and at just 34 kg it is not heavy. The large double ball bearing 17.5 cm wheels help to make the machine easy to push across your lawn.
Collector
The Feider Scarifier comes complete with a 35 L debris collector. To be fair this is not huge as it really is surprising how much moss and thatch comes out of the lawn. More often than not I will not actually use a collector as sometimes it's easier just rake the debris up into large heaps. Moss and thatch are not heavy, in fact, it is very lightweight, so it's very easy to collect. The other alternative that I have used is to use a rotary mower with a collector on a high setting to collect all the debris. It works well and it also gives the debris time to dry out a bit making it even lighter to collect.
More Features
The Feider FST212 petrol lawn scarifier has a solid steel frame for strength. It also has fold-down handlebars for storage and transport. The soft-grip handlebars add to the user comfort.
To Conclude
Fieder is a French company that offer genuine home user products for the garden. They appear to have the ability to make good machines at excellent prices. In general, their machines receive excellent reviews. Especially in this case, as I mentioned earlier in the post, there are 57 reviews with an average rating of 4.8 out of 5 stars.
The Feider FST212 petrol lawn scarifier definitely offers excellent value for money at present with £170 saving on the normal price. It is also an excellent way of keeping your lawn in excellent condition.
Would I purchase this machine? The answer is definitely yes if I was a domestic user. The plus points are the excellent price and the continual good reviews and of course, the two-year warranty.
Specification
| | |
| --- | --- |
| Engine Capacity | 212cc |
| Engine Power | 4.0hp / 3.0kW |
| Drive | Hand Propelled |
| Blades | 18 |
| Working Width | 45cm |
| Working Height | -15 to +5mm |
| Height Adjustment | Single Lever (8 Positions) |
| Handles | Foldable with Soft Grip |
| Deck Material | Steel |
| Wheels | Double Ball-Bearing |
| Debris Collector | 35 Litres |
| Lawn Size | Up to 2000m2 |
| Weight | 34kg |
| Warranty | 2 Years |