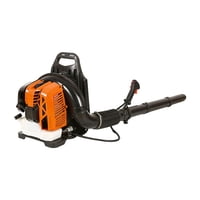 Today we are looking at the Feider TD55 backpack leaf blower, this is a budget leaf blower at an excellent price. The powerful Feider TD55 backpack leaf blower is currently available for the amazing price of £199.95 including VAT. Fieder obviously trusts their product as it comes with a two-year, peace of mind warranty.
Over the last few weeks, we have been looking at handheld petrol leaf blowers. I really like the versatility of the handheld leaf blowers, they are so easy to pick up and cart around and they take up minimum space. However, if you require a leaf blower with a bit more power, then a backpack leaf blower is definitely the answer. They are a bit bulkier than the traditional handheld leaf blowers, however, they make blowing leaves and clearing up much easier and quicker.
Feider is a French company that seems to have grown over the last few years, especially in the UK. Fieder appears to have the ability to make budget machinery at excellent prices. Their products continually receive excellent reviews, something that I wouldn't expect for a machine at this price.
Features
A value for money petrol backpack leaf blower.
Two-year warranty.
Top reviews.
Powerful 52 cc two-stroke engine.
Variable speed.
Lockable throttle.
Vibration damping harness.
The Feider TD55 Backpack Leaf Blower
As I've mentioned in previous posts, the leaf blower is the tool that I use most in the garden. Not only for leaves but also for many other tasks, like blowing driveways, patios and clearing up after a days work in the garden. A petrol blower literally saves me hours of work every year when it comes to clearing up, much quicker than a rake or a broom, in fact, I hardly use a rake or a broom.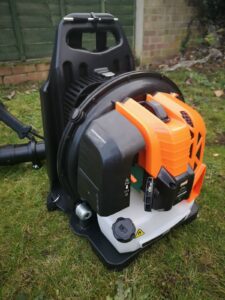 Engine
The Feider TD55 backpack leaf blower is powered by a powerful 52cc two-stroke air-cooled engine that develops 3.2 hp. The average handheld leaf blower will have an engine around the 27cc size, so you can see that the Feider TD55 backpack leaf blower has almost double the power of a traditional handheld petrol blower.
A useful feature is the transparent fuel tank that enables at a glance checking for the fuel level.
With a variable speed, lockable throttle, the backpack blower means that the machine can adapt to different conditions. For example, if you are blowing a driveway, and probably running the machine at full revs. However, if you are in a corner, you will often need less power to have some sort of control over the debris being moved.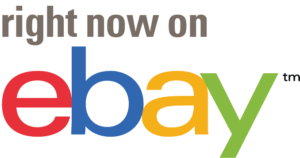 Antivibration System
In general, the more you pay for a petrol blower the better the anti-vibrating system. The Feider TD55 backpack leaf blower has a cushioned mounted harness that helps to reduce some of the operator fatigue. In normal terms, carrying a blower on your back makes it very easy to use.
To Conclude
Over the coming days will be looking at various backpack blowers, some basic and value for money models and the more expensive professional models.
As I mentioned earlier in this post, Fieder seems to have the ability to make value for money machines that receive good reviews. I believe the only downside with the budget Feider TD55 backpack leaf blower is the fact that it has a very basic antivibration system. This would be okay for short periods, however, for long periods having a machine that vibrates could become quite tiring. We have to remember that this is a budget machine and offers a lot for the money.
I personally use a Stihl backpack blower, it's almost three times the cost, however, we are talking about a different league of machines.
So, would I buy it? Yes, if I had a large domestic garden and wanted a budget blower with plenty of power then the Feider TD55 backpack leaf blower definitely offers value for money. I always tell customers to buy the best machine that they can afford. The Feider certainly offers plenty of power for the price!
Specification
| | |
| --- | --- |
| Engine Type | Petrol 2-stroke |
| Engine Capacity | 52cc |
| Engine Power | 3.2hp / 2.4kW |
| Engine Starting System | Recoil |
| Air Flow Volume | 1080m3/hr |
| Sound Level | 96dB (A) |
| Weight | 8kg |
| Warranty | 2 Years |