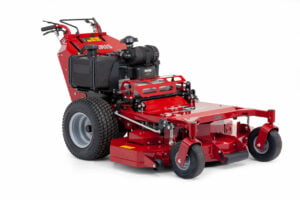 Today we are looking at the Ferris FW35 Zero Turn Mower, a heavy-duty walk behind mower. Over the past few weeks, we have been looking at our range of zero-turn ride-on mowers. Zero-turn mowers are the most manoeuvrable mowers on the market today, they can literally turn in their own width.
Recently we looked at the Cub Cadet XZ2-127 Zero-Turn Ride-On Mower, our largest professional zero turn mower. You can find more of our zero-turn mowers here.
Over the years, I have owned several Ferris mowers from walk-behind machines to ride-on machines. The two most significant factors that made me buy a Ferris mower was the excellent build quality and the zero-turn capabilities. I purchased my first Ferris walk behind mower back in 1992. I carried on using Ferris mowers up until recently when I stopped taking on grass cutting contracts.
The Zero Turn Advantage
As I mentioned earlier, zero-turn mowers really are the most manoeuvrable machines on the market today. They make grass cutting pleasurable and straightforward, obstacles can quickly be manoeuvred with ease. All zero turn mowers have two rear driving wheels that each have an individual hydrostatic motor attached. A hydrostatic motor gives you instant forward and reverse at variable speed through either a lever or foot pedal. There are a few machines like the Cub Cadet that have a steering wheel rather than levers or a foot pedal.
At the front of the machine, there are two heavy-duty caster wheels that turn 360°. On the Ferris FW35 Zero Turn Mower there are easy to operate the levers that give you instant forward and reverse and variable speed. There are no gears to change or a clutch to depress, the drive is fully hydrostatic.
Features
Zero-turn mowers are the most manoeuvrable machines on the market.
Effortless to walk behind.
Powerful twin cylinder Briggs & Stratton engine.
Built to last.
Easy-to-use controls.
Rear discharge or mulching capabilities.
Three-year domestic warranty or a two-year commercial warranty.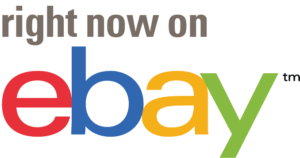 The Ferris FW35 Zero Turn Mower has been upgraded from the original Ferris Zero Turn Hydro Walk. Ferris has added more features and made it even more user-friendly.
Many people do not like the idea of a walk behind mower; however, Ferris zero turn pedestrian mowers really do make mowing straightforward and effortless. The zero turn capabilities enables you not to have to use any physical effort whatsoever to manoeuvre the mower, simply walk and mow!
Engine
The Ferris FW35 Zero Turn Mower is powered by an 810 Briggs & Stratton Vanguard petrol engine. The V twin two cylinder petrol engine develops 26 hp and is electric start. I have had the same engine fitted on machines that I have used and owned, and I have no complaints about this particular engine.
The great thing is with Briggs & Stratton engines is that parts are readily available and there is an excellent dealer network. Over the many years that I have used Briggs & Stratton engines the issues that I have had have been absolutely minimal.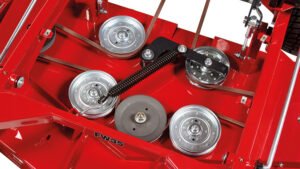 Cutting Deck
There are two cutting decks available, one being a 48 inch in the second a 52-inch deck. Personally, I would go for the larger size deck as it is slightly easier to cut around flower borders and obstacles with the large deck, due to the increased overhang.
The cutting deck offers rear discharge or mulching capabilities. I would definitely try and use the mulching feature as this really helps to keep your grass looking greener and healthier, especially in dry weather.
The cutting deck is made from heavy duty steel and has scuff guards and overlapped welded corners. All the cutting decks on the Ferris machines are extremely solid, you will struggle to find a stronger cutting deck on a rotary mower.
The cutting heights vary from 3.8 cm to 12 cm, height adjustment is adjustable from the rear of the machine. There are no levers to engage the blades just simply engage the clutch electronically.
There are three blades underneath the cutting deck that are offset to give plenty of overlap. The double-sided belts that drive the cutting deck have a spring pulley that keeps the belt tensioned at all times. Due to the tension feature there's no need to adjust any of the belts, which helps keep maintenance to a minimum.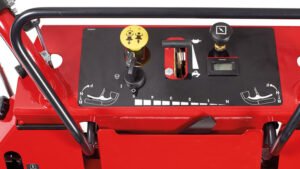 Easy-To-Use Controls
The easy controls make the Ferris FW35 Zero Turn Mower a pleasure to use. There are levers on the handlebars that control the instant variable speed forward and reverse. There are 2 foot pedals that will put the machine into neutral.
The PTO switch allows the operator to stop the mower blades by simply putting the machine into neutral, while the engine continues to run.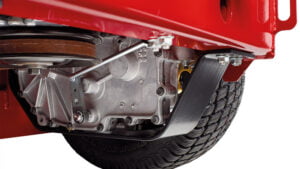 Transmission Belt
There is one transmission belt that drives the oil pump, in turn, drives the hydrostatic motors underneath the Ferris FW35 Zero Turn Mower. I used to make a habit of changing the transmission belt annually. If the transmission belt breaks when you are using the machine, the machine becomes very difficult to move. There are dump valves that enable you to push the machine. However, at 383 kg, you will find this machine challenging to load onto a trailer with no transmission belt!
I would like to see a twin pulley with twin transmission belts as a backup, just in case of belt failure.
To Conclude
I have always liked the range of Ferris mowers, due to their strength and their zero-turn capabilities. Grass cutting becomes effortless walking behind a zero-turn machine. I view the Ferris range of mowers for almost 30 years, and they have no complaints, I can only recommend them.
Ferris offers a peace of mind, two-year commercial warranty and three-year domestic warranty.
You can find more on the Ferris FW35 zero turn mower here.
Specification
FW 35 Specification
FW35BV2648CE
 Engine
Make
Vanguard – Petrol
Model
810cc
Horsepower
26 HP
Cylinders / Displacement
2 Cylinders V-Twin / 810 cc
Cooling
Air cooled
PTO
Electric PTO clutch
Starting
Electric
Fuel Capacity
19 Litres
Mower
Cutting width (cm/inch)
122 cm / 48" Rear Discharge
Deck Configuration
Rear discharge/mulching insert and mulching blades
Cutting Height (cm)
3,8 – 12,0 cm
Deck Construction
3.4 mm fabricated construction, full width double top deck, 6,4 mm scuff guards, 9.5mm leading edge, overlap welded corners
Mower Spindles
Cast aluminium 133 mm; 25,4 mm shaft
Deck lift system
Central height adjustment with single hand wheel
Suspension & Drive Train
Suspension
n.a.
Transmission
Independent Hydro-Gear® ZT-3100™ transaxles
Drive Axles
25,4 mm Tapered with 4-bolt flange
Drive Tyres (inch)
20 x 7.00 – 10 (4 ply)
Caster Tyres (inch)
11 x 4.00 – 5 (4 ply)
Noise and Vibration
HAV
< 2.5
WBV
N/A
Sound dB(A)
105
Ground Speed
Speed-fwd. (km/h)
0 – 11 km/h
Speed-rev. (km/h)
0 – 4,5 km/h
Dimensions
Overall length (cm)
200
Overall width (cm)
125
Dry weight (Kgs)
380
Operator Control & Comfort Systems
Roll-Over Protection Structure
n.a.
Instrumentation
Speed indicator, hour meter
Controls
Operator presence,cruise control bar, independent forward and reverse levers, foot activated neutral
Parking Brake / Safety Circuit
Integrated transaxle brake
Warranty
Engine
3-Year Manufacturer's Limited Warranty
Transmission
2-Year Manufacturer's Limited Warranty
Balance of machine
2-Year Limited Warranty commercial use. Unlimited hours, front to rear, parts and labour. Belts, Tires, Brake Pads, Battery, Blades: 90 days
FW 35 Specification
FW35BV2652RDCE
 Engine
Make
Vanguard – Petrol
Model
810cc
Horsepower
26 HP
Cylinders / Displacement
2 Cylinders V-Twin / 810 cc
Cooling
Air cooled
PTO
Electric PTO clutch
Starting
Electric
Fuel Capacity
19 Litres
Mower
Cutting width (cm/inch)
132 cm / 52" Rear Discharge
Deck Configuration
Rear discharge/mulching insert and mulching blades
Cutting Height (cm)
3,8 – 12 cm
Deck Construction
3,4 mm fabricated construction, full width double top deck, 6,4 mm scuff guards, 9.5mm leading edge, overlap welded corners
Mower Spindles
Cast aluminium 133 mm; 25,4 mm shaft
Deck lift system
Central height adjustment with single hand wheel
Suspension & Drive Train
Suspension
n.a.
Transmission
Independent Hydro-Gear® ZT-3100™ transaxles
Drive Axles
25,4 mm Tapered with 4-bolt flange
Drive Tyres (inch)
20 x 8.00 – 10 (4 ply)
Caster Tyres (inch)
11 x 4.00 – 5 (4 ply)
Noise and Vibration
HAV
< 2.5
WBV
N/A
Sound dB(A)
105
Ground Speed
Speed-fwd. (km/h)
0 – 11 km/h
Speed-rev. (km/h)
0 – 4,5 km/h
Dimensions
Overall length (cm)
200
Overall width (cm)
135
Dry weight (Kgs)
383
Operator Control & Comfort Systems
Roll-Over Protection Structure
n.a.
Instrumentation
Speed indicator, hour meter
Controls
Operator presence,cruise control bar, independent forward and reverse levers, foot activated neutral
Parking Brake / Safety Circuit
Integrated transaxle brake
Warranty
Engine
3-Year Manufacturer's Limited Warranty
Transmission
2-Year Manufacturer's Limited Warranty
Balance of machine
2-Year Limited Warranty commercial use. Unlimited hours, front to rear, parts and labour. Belts, Tires, Brake Pads, Battery, Blades: 90 days