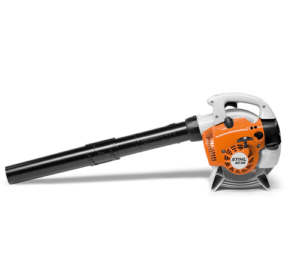 If you are thinking about purchasing a leaf blower then I hope I can help you select the right Stihl blower. I have used Stihl products for over 30 years with very few problems, in fact, virtually no problems whatsoever. I'm still using Stihl products right now and I will carry on doing so.
Which Blower Do I Choose?
In this video, Stihl will give you a few tips on finding the right blower for your garden or estate, just remember to buy the best blower that you can afford. The more powerful the blower, the quicker you are able to get your work completed.
First Ask Yourself These Questions;
How large is the property that I need to clean?

What type of material do I want to blow?

Are there any noise restrictions that I need to take into consideration in my area?

Are there any special features that I require my blower to have?
Now Let's Take A Look At Each Of The Above Questions
If you live in an urban setting that has minimum areas that need to be cleaned, such as driveways, paths and patios. If you are blowing lite material, for example, dry leaves and dry grass then the Stihl BG55 leaf blower could be a good choice. If you would like to step up to a couple more features then the BG56C offers simplified starting and automatic choke release. Both of these leaf blowers are comparable in power and performance.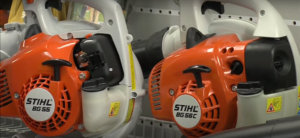 The Stihl BG55 leaf blower has a standard starting procedure with a standard on-off switch which needs to be turned to on, before starting. The throttle lever then needs to be locked on by pulling the lever and pushing the button in. The choke lever then needs to be placed in the choke position.
Easy Start Feature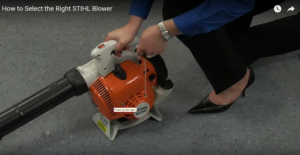 The Stihl BG56C leaf blower has an on-off switch that is always on the on position, to turn the machine off you simply hold the switch down in the off position. So, in other words, you don't need to turn the switch on before starting your blower as it is always in the on position. You then need to position the choke lever to the on position. As soon as the engine fires after pulling the starting cord and you touch the throttle trigger, the choke will automatically come off.
The easy to start feature enables the user to start the blower with an almost effortless pull cord, making starting exceptionally easy.
I personally use a slightly larger handheld Stihl blower and I have to say starting is exceptionally easy and on many occasions, the blower will actually start first pull.
Moving Up To A Slightly Larger Blower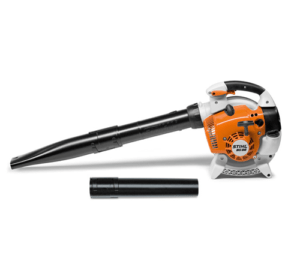 if you're looking for a slightly larger handheld blower, then the Stihl BG86 or the BG86C, these offer slightly more power than the previous models. They are also considered professional models. I would definitely go for one of these models as for the slight extra cost it's always worth having more power.
Simplified Starting Process
Both of these models feature a simplified starting process as well as an advanced anti-vibration system. On many occasions, I find with this starting process that the blower will start up first time.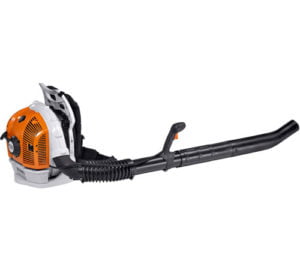 Knapsack Or Backpack Blowers
If you have a considerable amount of blower work then it is well worth considering a backpack blower. Using a backpack blower considerably reduces the fatigue on your body as you are carrying the weight on your back. However, although I own a backpack blower, I do like the flexibility of just being able to grab a handheld blower quickly and instantly start blowing. Another plus point of the handheld blower is that it is easy to transport and easy to store. The blower pipe is removable making it exceptionally compact. However, if you're looking for speed and productivity then you definitely need to be looking at a knapsack blower.
Stihl BR200 Leaf Blower
If you're looking for ease of operation then the Stihl BR200 leaf blower could be your answer. This has the same engine as the Stihl BG86, which develops just over 27cc. Having the ability to carry this leaf blower on your back is ideal for long time run situations and takes the fatigue out of blowing leaves etc.
Larger Leaf Blowers
Stihl has a large range of leaf blowers, the next model up is a BR350 which offers a bit more blowing power. I personally use a BR 600 which is a great blower for blowing leaves and clearing up after carrying out various tasks in the garden. I will probably upgrade this soon to a BR 800 which will give me an extra 25% blowing power.
The downside of a backpack blower is that they are quite bulky to carry around and store, however, for me, it is definitely worth having the extra power to carry out jobs quickly and efficiently. The knapsack blowers are all similar in physical size so this is another reason for going for the largest model, although on the larger models the engine size and blow power increases. When I purchased my BR 600 this was the largest Stihl knapsack blower, literally a few days after I purchased this model the BR 700 came out and now we have the BR 800! Whether there will be a 900 model in the future, I have no idea! There comes a point when we have to move from a knapsack blower to a wheeled leaf blower or a garden vacuum.
Noise Levels
If noise levels are an issue in your area it may be worth looking at the range of electric blowers or rechargeable battery blowers. However, I personally don't like the idea of dragging around power lead and being restricted to the length of the lead. I like the freedom to be able to walk around with the blower and not have the issue of an electric power cable.
The other option is to go for a rechargeable leaf blower, however, just remember that batteries do not last for very long before they need recharging. Spare batteries can be an option, but they can be expensive to purchase.
If you would like a petrol leaf blower but the price is too much may be worth looking at this budget petrol leaf blower. It is excellent value for money and reviews are good considering the price. However, just remember that if you are buying a Stihl product it could potentially give you many years of service. I know this for a fact as I have owned many Stihl products over the years and they have carried out huge amounts of work. I always say to people buy the best that you can afford.
Don't forget to ask yourself the four questions that we started with.
Please feel free to comment below.