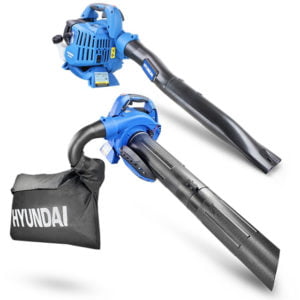 Today we are looking at the Hyundai 26 cc two-stroke three in one petrol leaf blower. Which also combines as a garden vacuum and shredder. The price of the Hyundai 26 cc petrol leaf blower is just £139.99, including VAT. This is exceptionally cheap, making me slightly question the petrol leaf blower! I always recommend that customers purchase the best machine they can afford. However, Hyundai does offer a three-year warranty for domestic use and a one-year warranty for commercial use.
Recently we looked at the Hyundai 52 cc two-stroke backpack petrol leaf blower, which is a considerable larger leaf blower. It is also a backpack leaf blower rather than a handheld leaf blower. It does not offer the vacuum or shredding feature that the smaller handheld model offers.
Features
Three-year warranty for domestic use.
Hyundai's best-selling petrol leaf blower.
Use all year round.
Lightweight, just 6.7 kg.
Highly versatile.
Large 40 L collection bag.
Economical two-stroke Euro five petrol engine.
The Hyundai 26 Cc Two-Stroke Three In One Petrol Leaf Blower
The leaf blower is the machine that I use more in the garden than any other piece of machinery. Despite being called leaf blower's, leaf blowers have many more uses than just blowing leaves in the autumn!
Leaf blowers are great for clearing up after carrying out jobs in the garden. They're excellent for blowing patios, driveways, courtyards etc. I will often use a leaf blower to blow down machinery after use. They're great for blowing down mowers and removing all the loose grass.
Something I like about the handheld leaf blowers is the fact that they are very compact and easy to use. Also, from a storage point of view, they don't take up much space in a vehicle or shed. Whereas backpack-type blowers are more cumbersome, especially when carrying them in a car or truck. To be fair, backpack and handheld blowers both have advantages over each other.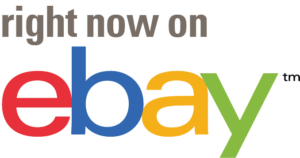 Two-Stroke Petrol Engine
The Hyundai 26 cc two-stroke three in one petrol leaf blower is powered by a 26 cc engine, which produces 0.65 kW of power. It has the traditional recoil start method and a variable speed throttle on the handle grip. The throttle can be locked if necessary. The Euro five engine helps to burn the fuel efficiently and enhance fuel consumption.
The fuel type is a petrol/oil mix; it's important to mix the fuel and oil correctly. The fuel mix is 40:1. A 2-stroke engine does not have a sump full of oil, it relies on the petrol oil mix to lubricate the engine.
The engine produces an air speed of 70 m/s, which equals up to 157 mph at variable speed. The maximum rated rpm is 7500.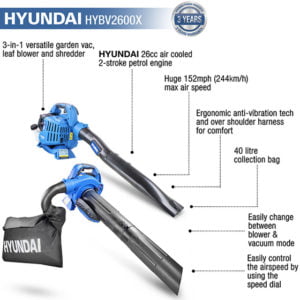 Vacuum And Shred
Although many of the handheld blowers also act as a garden vacuum cleaner and shredder, I personally think they are much better used as a blower. I have found the vacuuming and shredding to be exceptionally slow. In my experience, I find it better to blow the debris into a corner and pick up the material by hand or shovel it into a barrow.
The Hyundai 26 cc two-stroke three in one petrol leaf blower has a vacuum and shredding feature. It also comes with a 40 L collection bag. The manufacturers claim that the material can be reduced to 1/10 of its original size through shredding. Once again, I find it far quicker to blow the material and to barrow it away.
To conclude
The Hyundai 26 cc two-stroke three in one petrol leaf blower certainly offers value for money. However, looking at the reviews, they do not appear to be brilliant. You can see some Amazon reviews here. It appears that the collection bag isn't magically strong. I have to admit that for £139.99, you can't expect a leaf blower to be perfect!
The good thing is that Hyundai offers a three year warranty for domestic use. And one year warranty for commercial use.
I would recommend one of the handheld Stihl leaf blowers. We have used Stihl leaf blowers for many years with literally no problems whatsoever.
I appreciate we all have a budget to work to, but in this case, a Stihl blower would be more than doubled in price. Long-term, I know that it would be a much better investment and give the operator many years of trouble-free running, especially if you are using the machine domestically.
My current Stihl blower is used commercially and is still working perfectly after six years of daily use!
Specification
| | |
| --- | --- |
| Model | HYBV2600X |
| Start Method | Recoil |
| Variable Speed Control | Yes |
| Max Air Speed (m/s) | 70 |
| Max Air Flow (m³/h) | 348 |
| Volume (CFM) | 205 |
| Collection Bag Capacity (L) | 40 |
| Handle Type | Soft Grip |
| Safety Features | Trigger Control |
| Ignition Type | CDI |
| Engine Model | 1E34F |
| Engine Type | 2-Stroke |
| Engine Size (cc) | 26 |
| Rated Power (kW/kVA) | 0.65 |
| Rated Speed (RPM) | 7500 |
| Fuel | Petrol/Oil Mix |
| Fuel Capacity (L) | 0.5 |
| Engine Oil | 2-Stroke |
| Fuel / Oil Ratio | 40:1 |
| Gross Weight (kg) | 8 |
| Net Weight (kg) | 6.7 |
| Fully Assembled Dimensions (H x W x L) (mm) | 360 x 300 x 1080 |
| Package Dimensions (H x W x L) (mm) | 370 x 305 x 510 |
| Fuel Type / Power Source | Petrol |
| Product Type | Leaf Blower |
| Warranty (years) | 3 |
| Commercial Warranty (years) | 1 |
| Model EAN | 5056275799267 |
| In The Box | HYBV2600X, Collection Bag, Over Shoulder Support Harness, Suction Nozzle, Debris Tube, Tool Kit, User Manual |