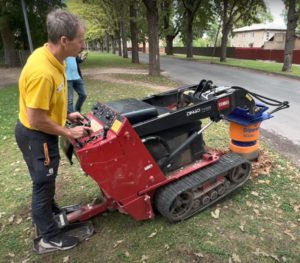 Today we are looking at the Dipperfox SC400 Stump Crusher, which is a very unique and novel way to remove a tree stump. This is Dipperfox's smallest and latest stump grinder, I believe it will be very popular! A few months ago, we looked at the larger Dipperfox SC600 Stump Crusher and the even larger Dipperfox SC850 Stump Crusher.
Drilling Action
The Dipperfox stump crusher works in a different way from the traditional stump grinders that most of us know and use. The stump crusher uses more of a vertical drilling action rather than a grinding action. On the cutting head, an auger-type drill creates a pilot hole that helps pull the machine into the wood. There are two steel blades that literally drill the stump out of the ground. It's a very simple and unique way to remove a tree stump.
The Advantages Of The Dipperfox SC400 Stump Crusher
I think one of the greatest advantages is the fact that there is no debris flying. So there is no need to place debris guards around the machine. Placing debris guards around tree stumps in confined areas can be time-consuming, especially when it's windy! The Dipperfox SC400 Stump Crusher does away with any debris guards, as there is no flying debris.
The Dipperfox SC400 Stump Crusher is also considerably smaller than the original Dipperfox SC850 Stump Crusher, making it a great option for grinding tree stumps. As you can see in the video, it doesn't take a huge machine to power the Dipperfox stump crusher. I believe the Toro Dingo is around 25 hp, which appears to be coping fairly well with the stump crusher. And the Avant loader is also around the 25 hp range. It's also great that the stump grinder can be used on a relatively small excavator. The minimal-sized power requirement for the Dipperfox SC400 Stump Crusher is a 1.5-ton excavator. The output also looks very impressive, as seen in the video, much quicker than the traditional grinding method.
Blade Sharpening
The manufacturers recommend running an angle grinder across the blades before starting work each day. The blades can be turned around for longer life. I'm sure keeping the blades sharp makes a huge difference to the output per day and puts less strain on the machine.
The Dipperfox SC400 Stump Crusher is expected to come into production in December 2022. The price is expected to be around €12,500 to €13,000. It could be a good investment.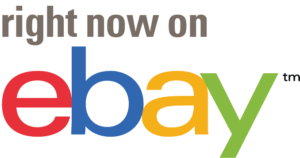 To Conclude
When I first saw the original Dipperfox SC850, I could see the machine's huge potential and great work rate. However, it was too large for most people to get into domestic gardens. The Dipperfox  Stump Crusher could change the way we traditionally grinder tree stumps due to the low power requirement. I like the idea of not having to put up debris guards every time I'm working in a domestic garden!
Specification