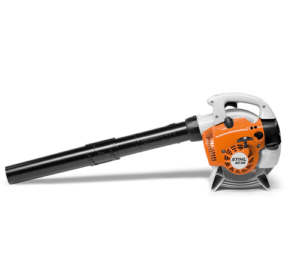 I know it's only August but, already we are seeing leaves falling, the title of my blog post today is, "it's time to put the wind-up leaves with a leaf blower part 1"!
Although we often refer to blowers as leaf blowers, I think probably a garden blower is something that I use in the garden all year round more than any other machine, in fact, I use mine every week at least, almost daily at times.
Leaf blowers come in all shapes and sizes and are powered by petrol, electric and rechargeable batteries. As a bit of a petrol head, I really like to have something with an engine on, for me having an electric cable trailing behind me is just a torment as an obstacle to slow the work rate down, however, some of these electric blowers do have quite a bit of blowing capacity! The rechargeable battery leaf blowers are now becoming quite popular, however, just remember that batteries are expensive to replace and they also run out of power!
You Can See My Video Review Below
My personal preference is to use a petrol leaf blower and although I use most of the time a knapsack leaf blower which is great power-wise and certainly has a great work rate when being used. I also use my knapsack leaf blower for clearing up after various jobs I carry out in the garden. Although I use and own a knapsack leaf blower they can be slightly cumbersome to carry around and for some people to carry on their back.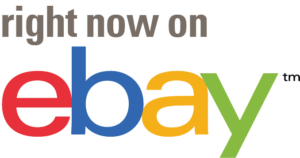 The petrol handheld leaf blowers are a very good option, these are very easy to carry in a van or car and can be used with one hand operation, there are exceptionally compact and take up very little storage space. Some of these models also offer a vacuum option, this is okay for occasional use or small gardens, however, I would say for general use your much better to just use your blower as a blower and blow your leaves and debris into a corner and then move to the compost heap or wheelie bin et cetera.
Buy The Best You Can Afford
As we know there are many different types and models of blowers available I would always recommend that you buy the best quality product that you can afford. My theory is that it's far cheaper to buy a quality product and keep it for many years rather than a cheap product that will be broken in a short period of time. Even using my knapsack blower regularly for business, I would expect quite a few years use from it. My present knapsack blower is three years old and still looks like brand-new, I may trade this model in soon as a decent blower holds its money, especially this time of year.
Let's Take A Look At The Various Blowers Available
We have many blowers available and I'm just going to mention a few models below.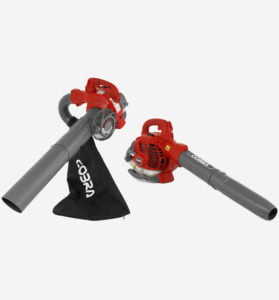 Cobra 26cc Petrol Powered Blower Vac
The Cobra 26cc Petrol Powered Blower Vac is our cheapest blower, which is priced at £129.99, I have to say this is an amazing price for a petrol leaf blower which also offers a vacuuming facility. The Cobra 26cc Petrol Powered Blower Vac is powered by a 26 cc 2 stroke petrol engine, the weight of the blower is 5 kg and the manufacturers give a two-year warranty.
This blower has very good reviews, 83% of reviewers gave this blower a five-star review, it has received around 3000 reviews, so not bad for a budget blower! You can read the various reviews here.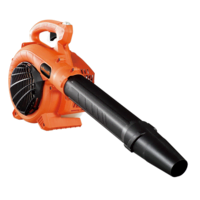 Tanaka TRB 24EAP Petrol Hand Held Garden Blower
The Tanaka TRB 24EAP Petrol Hand Held Garden Blower is another blower that I would recommend, although I haven't used this particular Tanaka blower I have used other Tanaka products and found them to be very good. The Tanaka TRB 24EAP Petrol Hand Held Garden Blower is powered by a 24 cc two-stroke engine and weighs just 3.9 kg which is a little bit lighter than the previous model we looked at. This model has a two-year manufacturer's warranty.
Once again the reviews look positive on this leaf blower, there are not as many reviews as the previous model, however, 87% of users have given it a five-star review, which is pretty good, you can see the reviews here.
My Top Recommendation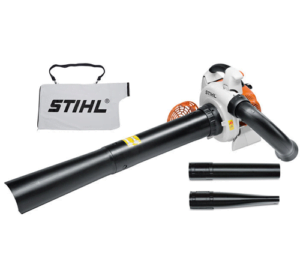 Stihl SH86CE Vacuum/Shredder
Here we have my top recommendation which is the Stihl SH86CE Vacuum/Shredder, I have owned one of these blowers and also use this particular model regularly, I don't know how many of these particular blowers have been made, but, I would imagine it to be in the millions!
The Stihl SH86CE Vacuum/Shredder is powered by a 27.2cc two stroke petrol engine which develops 1.1 hp. This machine is offered at £316.99 and comes complete with a vacuum attachment which is a useful feature, however, as I mentioned earlier, I find it much quicker to blow into a corner and clear up leaves debris with a shovel. Having said this, if you want to vacuum your patio, then this can be a very useful feature. The blower comes complete with a two-year warranty.
I would give the Stihl SH86CE Vacuum/Shredder five stars as I have used this particular machine for this several years and never had a single problem, it's a very well balanced blower to hold and very easy to start. I have seen many many contractors use this particular model of blower and I've also seen and used this in many gardens, it's a great blower.
Backpack Blowers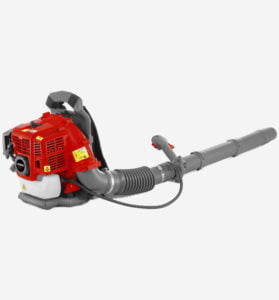 Cobra BP43C 43cc Petrol Backpack Blower
The Cobra BP43C 43cc Petrol Backpack Blower is our cheapest blower in this category, is priced at just £169.99 and is powered by a two-stroke 43cc engine. It weighs just 6.5 kg which is good for a backpack blower. This backpack blower is fitted with cruise control, in other words, you can lock the switch at a selected speed for ease of operation, it also comes with a two-year warranty.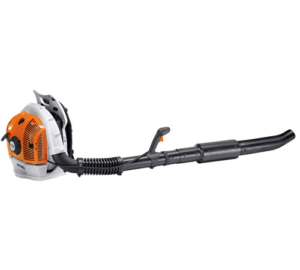 Stihl BR500 Backpack Blower
The Stihl BR500 Backpack Blower is another top quality leaf blower that I would recommend, I personally own a very similar blower which has given me great service with no problems whatsoever, I have also used and owned many more products under the Stihl name. I know that this isn't the cheapest product at £485, however, you will have a quality product that if looked after properly it will give you many years of trouble-free service.
The Stihl BR500 Backpack Blower is powered by a 64.8cc two-stroke four mix system engine, which develops 2.7 hp and has an airspeed of 207 mph! The weight of the backpack blower is 10.1 kg.
Some of the main features of this blower are a built in sound damper that reduces the noise which is always an excellent idea. It also has anti-vibration dampers, some of the cheaper models don't have this feature but I know with this particular model has a very good engine damping system, which makes the vibration minimal. The harness is padded and easily adjustable and very comfortable to wear even for long periods of work.
As for reviews, I would give this Stihl backpack blower five stars as I've used these blowers for many years and I've had trouble whatsoever. I know for a fact that these blowers are used by many landscape contractors and tree surgeons, it's a great choice if you want a blower that will last.
More leaf blowers come tomorrow.
Please feel free to comment below.