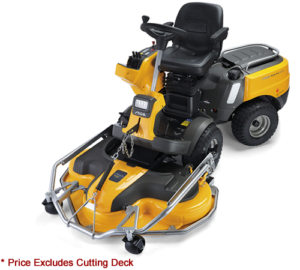 My question today is are Stiga out front deck lawnmowers the most manoeuvrable mowers on the market?
I think we all like the idea of having a ride on lawnmower to cut our lawns, but for the majority of us can't really justify a ride-on lawnmower. Not only because our lawns are not large enough but often a ride-on lawnmower can be very cumbersome, and not very efficient to use in small areas. The good news is that the range of Stiga articulated mulching mowers are exceptionally manoeuvrable and can go around flower beds and trees and obstacles at total ease!
In many cases, it is much easier to use a quality walk-behind mower than to have a cumbersome ride-on lawnmower as you can spend most of your time when manoeuvring around obstacles. However, the Stiga range of articulated mulching mowers changes this totally as the video shows.
Out Front Deck Or Zero Turn Mower?
Another type of lawnmower, which is highly manoeuvrable and probably my favourite is the zero-turn range of lawnmowers, however, care needs to be taken with these machines when turning as you can tear the turf. The Stiga eradicates this problem totally, however, I could probably achieve slightly more with a zero-turn mower, but it would be a very fine line. I actually think for most home users an articulated lawnmower is a very good option.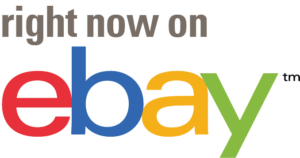 No Grass Clippings To Collect!
One of the many benefits of an articulated out front deck lawnmower is the fact that they do not collect the grass they actually mulch the grass, so in other words, they chop the grass so that it almost disappears. One thing I would like to mention when mulching is that it works much more effectively when you cut the grass on a regular basis. It is unfair to leave your grass for three or four weeks and then to expect a perfect mulch.
One of the most time-consuming jobs when cutting the lawn is having to empty the grass collection box, it's a very time-consuming business, especially if you're compost heap is some distance away from the main lawn. With a mulching mower, this puts an end to the time-consuming job of emptying a grass box. I appreciate that some of the ride on mowers can be emptied from the driver's seat, however, you are still losing time from carrying out this process.
Another benefit from mulching is that it is almost adding natural fertiliser to your lawn, this is especially beneficial in dry weather, it definitely helps to keep your lawn looking green and healthy throughout the year.
Some people say that when you mulch and don't collect the grass that you can get a build-up of moss, I would say that this can happen but at the end of the day if you're looking after your lawn properly this can be taken out with lawn feed and moss killer or scarifying your lawn once a year. Incidentally, scarifying and feeding your lawn on a regular basis is highly recommended if you want a healthy lawn.
So How Much Does An Out Front Mulching Lawnmower Cost?
The Stiga range of lawnmowers starts at £2330 for the smallest model which has an 85 cm deck (approximately 3 feet) and go up to £8999 for the largest model which has 120 cm deck (approximately 4 feet) and comes with four-wheel-drive. These models come with a three-year warranty.
Engine Sizes
Just remember that with a mulching mower it takes a little bit more power to cut the grass as traditionally with a lawnmower you are trying to remove the grass out of the deck to reserve power and fuel efficiency. However, with a mulching mower it actually tries to keep the grass inside the deck for as long as possible as this is where the mulching process takes place, it obviously takes power to do this process.
Once again, I would always go for the most powerful machine that you can afford as it speeds up the cutting process and if the grass is long you have the extra power to keep going.
There Are Many Models Available
Stiga offers many various models of out-front deck machines, below is just a small selection. For the full range of Stiga out front deck mowers please click here.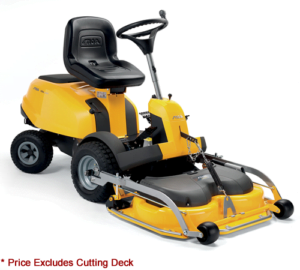 Stiga Villa 14 HST Out Front Deck Lawn Rider
This is the smallest model of the Stiga out front deck rider mowers, having said this, there is the option for a 85 cm or 95 cm deck which with this size deck you can actually soon cover the ground. Also, remember that there is no box to empty so you are literally cutting grass continuously!
This machine is powered by a Briggs & Stratton 344 cc engine which develops 10.5 hp. There are 10 different cutting heights which vary from 25 to 85 mm and the transmission is hydrostatic transmission which gives you instant forward and reverse speeds on a foot pedal, a very efficient way of powering a lawnmower.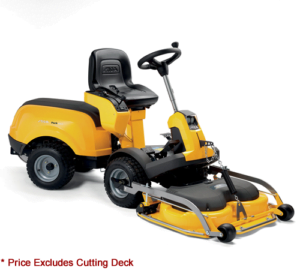 Stiga Park 520 P 2WD Out Front Deck Ride On Lawnmower
If you're looking for a mid-range lawnmower the Stiga Park 520 2WD could be a good option, it comes with a selection of cutting deck options which range from 95 cm to 105 cm with an option of two or three-bladed decks. There's also an option for an electric lift, in other words, the cutting height is adjusted electronically, which is great for the operator. My personal choice would be to go for the three-blade deck with electronic lift, the three blades will help to make the mulching process much more efficient.
The Stiga Park 520 is powered by a Briggs & Stratton single-cylinder engine which develops just over 13 hp. The cutting height is from 25 mm to 95 mm, this can be adjusted manually or electronically depending on deck choice.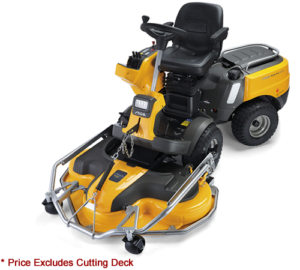 Stiga Park Pro 740 IOX 4WD Out Front Deck Ride On Lawn mower
Now we are moving up to the top of the range machine, the Stiga Park Pro 740 IOX 4WD Out Front Deck Ride On Lawnmower is priced at £8999 which offers a saving of £1380 currently. You could say this is the singing and dancing model which has everything on it including four-wheel-drive which is a great asset.
This machine will comfortably cut a 4 to 5-acre lawn which is more than enough for most gardens. This machine is ideal for the keen garden or contractor who has a large lawn to manage and wants a machine that will cover the ground quickly.
The Stiga Park Pro it's powered by a Briggs & Stratton two-cylinder 724cc engine which develops 18.7 hp, I have had experience with this engine as it has been fitted to various machines that I have owned. It is a very efficient two-cylinder petrol engine that takes work in its stride.
The cutting deck comes in five different sizes ranging from 95 cm to 125 cm, once again there is a two or three-bladed option, I would personally go for the three-bladed version for more efficient mulching.
The cutting height is controlled electronically and ranges from 25 mm to 95 mm cutting height, which offers plenty of flexibility. Just a quick tip, never cut your lawn too short, for a healthy lawn regular cutting pays off, nothing looks worse than a lawn that has been scalped and cut too short, regular cutting is the key.
Like all Stiga out front mowers, this machine is powered with hydrostatic transmission which offers instant forward and reverse and variable speed, a very efficient way to power a lawnmower.
To conclude
A Stiga out front deck mower is one of the most efficient ways, if not the most efficient way to cut your lawn. Combined with its mulching abilities and the need of no grass collection can make your lawn cutting extremely pleasurable. I think it's a much less daunting task to jump on a ride on lawnmower knowing that all you have to do is is to sit on your mower and let the machine do the work, no grass collector to empty just mowing!
Please feel free to comment below, it's always good to hear feedback and questions and comments.