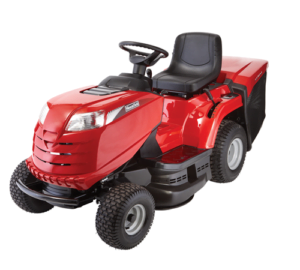 Today we are looking at the Mountfield 1530M Lawn Tractor, a compact machine with a twin bladed cutting deck. This model is on offer for £1899 offering a saving of £200. Yesterday we looked at the Mountfield 1530H Lawn Tractor, which is an identical tractor apart from the transmission.
First, let's take a quick look at the brand name. Mountfield has been making garden machinery for almost 50 years. Mountfield first started producing rotary mowers back in 1962 in their Maidenhead factory. I remember the familiar Mountfield Roller rotaries from my childhood and teenage years. These well-made machines were a familiar sight, quite a few of these machines can still be seen working today. I believe that Mountfield has come a long way since these machines were first produced, with many products added to the range.
Mountfield produces two 1530 machines one with hydrostatic transmission and one with manual gearbox transmission. Hence the H and the M after the model number. I would not buy a gearbox machine today if there was a hydrostatic option available. For just £150 approximately more you have a machine that is far more versatile than the traditional old-fashioned gearbox type. I will explain more in this post further down.
So, Let's Take A Look At The Mountfield 1530M Lawn Tractor.
Features
A great compact machine with twin blades.
Twin blades for a great finish.
Superb grass collection. The
Well-proven Mountfield engine.
Simple straightforward design.
Straightforward controls.
Comfortable adjustable seat.
Electronic cutter deck engagement.
Large capacity grass collector.
Grass can be emptied from the operator seat.
Deck wash system.
Headlights.
Optional extras.
Free mulch plug worth hundred and £125.
Five-year manufacturer's warranty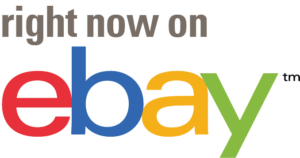 The Mountfield 1530M Lawn Tractor is a compact machine which has an 84 cm cutting deck (approximately 33 inches). Apparently, Mountfield is the first company to put a twin bladed cutting deck onto a machine of this size. Traditionally machines with this size deck would have a single cutting blade. Mountfield has produced some great features on this machine and has been able to keep the cost down to below £2000.
Engine
Mountfield uses their own engine to power the Mountfield 1530M Lawn Tractor. It's an 11 hp 452cc engine with overhead valve technology. The engine also has a cast-iron liner which prolongs engine life. As with all engines, always follow the manufacturer's instructions for servicing and routine maintenance.
The Mountfield lawn tractor has a 6 L fuel tank.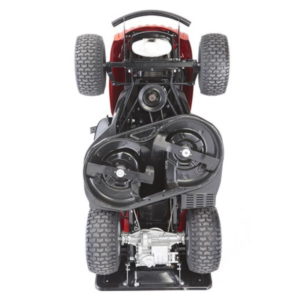 Cutting Deck
The dual or twin blades are slightly offset, enabling the blades to overlap and not touch each other. The twin blades offer a more efficient cutting action and a much more efficient collection system over traditional machines.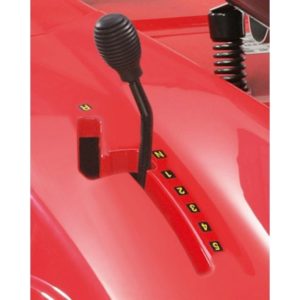 The cutter deck has electronic engagement, simply click the switch and the cutting deck will engage. Take care when engaging the cutter deck, most cutting decks can be engaged on tick over. It is a good practice to engage the electric cutting deck clutch on tick over as this puts much less strain to the clutch and the belts. I see far too many people running their engine flat out and then engaging the clutch, something that you wouldn't do on a car!
With seven different heights varying from 25 mm to 80 mm, there's a height to suit everyone's needs. I like the idea of having an option for a high cut for those occasions when your lawn has grown slightly out of control. When the need arises to cut some long grass down it's always useful to have a high cut to knock the grass down gradually.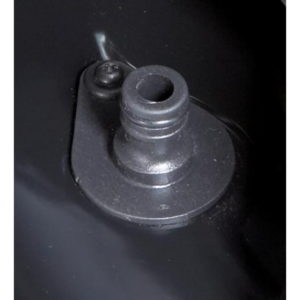 Grass Collection
The counterrotating twin blades help greatly with the grass collection, creating a strong airflow. The grass is blown straight out the cutting deck directly into the collector, this is an efficient way to collect the grass. The grass collector can be emptied from the operator's seat which is a huge plus point. No one wants to keep dismounting from the machine to empty the grass collector.
I always advise people to purchase a lawn tractor with either a brush collection system or a system that blows the grass directly into the box. I would most definitely avoid collection systems with long tubes as the grass will almost certainly become clogged in these areas.
Another type of grass collection system that I would avoid is the type where you have two or three bags on the rear of the machine. These bags require being emptied by physically removing yourself from the machine. This is not only time-consuming, to my mind, but it's also totally unnecessary and partly defeats the idea of having a ride-on mower.
It's so simple when you have a collector that can be emptied from the operator seat. Mowing will be continuous, simply drive up to your compost heap, pull the lever and the grass is dumped, and then carry on mowing! The great thing is that the Mountfield 1530M Lawn Tractor has an alarm sounds when your collection box is full. In this way, you can maximise the capacity of your grass collector.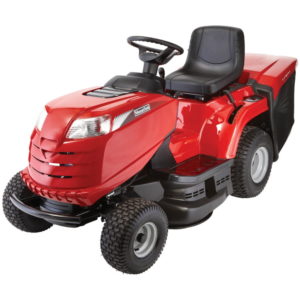 Common-Sense Design
The Mountfield 1530M Lawn Tractor is a well-designed machine with controls placed sensibly. It is also designed so that you can easily get on and off the lawn tractor. I know many machines that you have some the obstacles in the way when you are dismounting or mounting a machine.
Accessories
There is a separate deflector kit that enables you to tackle longer grass. The deflected kit disables the collection system which then gives you more power to cope with long grass.
Mountfield also offers a mulching plug, however, just remember that mulching takes quite a bit of power. I am actually in great favour of mulching, however, sometimes if you actually want to mulch your grass you're actually better to look for a specialist mulching mower. Although, the mulching plug is definitely worth a try, especially if you cut your grass regularly.
Other options include a tow bar that can be used to pull accessories like trailers and other towable garden tools.
At the time of writing this Mountfield, lawn tractor has a free mulch plug available worth £125!
To Conclude
Today we have been looking at the Mountfield 1530M Lawn Tractor. Although it's a nice compact machine, I would go for the hydrostatic Mountfield 1530H Lawn Tractor. There is only £150 price difference between the two machines. The benefits that a hydrostatic machine gives are unbelievable compared to the manual machine.
Another great plus point with these two Mountfield machines is the fact that they have a five-year peace of mind warranty. To me, this suggests that the manufacturer really trusts their machine.
Specification
| | |
| --- | --- |
| Engine Make | Mountfield |
| Engine Model | Series 7750 OHV |
| Engine Type | Petrol 4-stroke |
| Engine Capacity | 452 cc |
| Engine Power | 8.4kW (11.2hp) @ 2800rpm |
| Engine Cylinders | Single |
| Engine Starting System | Electric Key Start |
| Engine Fuel Tank Capacity | 6.0 Litres |
| Transmission | Manual – 5 Forward / 1 Reverse |
| Drive | Rear Wheel |
| Speed | 9.7km/hr (Max.) |
| Cutting Width | 84cm |
| Cutting Heights | 25-80mm |
| Height Adjustment | Single Lever, Spring Assisted (7 Positions) |
| Blade Engagement (PTO) | Electronic |
| Turning Circle | 140cm |
| Blades | 2 |
| Grass Collector | 240 Litres |
| Empty Grassbag from Seat | Yes |
| Grassbag Full Indicator | Yes – Audible |
| Mulching | Yes |
| Rear Deflector | Optional |
| Side-Discharge | No |
| Headlights | Yes |
| Seat | Highback / Adjustable |
| Deck Washout Port | Yes |
| Tow Bar | Optional |
| Front Bumper | Yes |
| Wheels – Front | 380mm (15″) |
| Wheels – Rear | 460mm (18″) |
| Dimensions (HxWxL) | 110cm x 90cm x 234cm |
| Sound Level | 100dB (A) |
| Weight | 190.5 kg |
| Lawn Size | Up to 5000m2 |
| Warranty | 5 years |