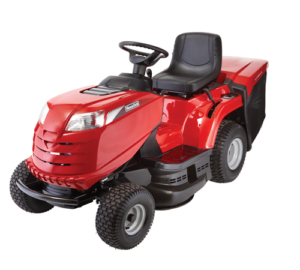 Today we are looking at the Mountfield 1530H Lawn Tractor, this is a hydrostatic drive lawn tractor. Recently we looked at the Feider FBA-E200 Self-Propelled Powered Sweeper. As spring is coming around so quickly, I thought it would be good to look at some more lawnmowers and lawn tractors.
The Mountfield 1530H is currently priced at £2149 offering a saving of £100. There is a cheaper gearbox drive machine available, however, I would always recommend a hydrostatic drive mower over a gearbox drive. I will talk more about hydrostatic drives later in this blog post.
Mountfield has been making lawnmowers since 1962, almost 50 years. I remember the Mountfield roller mowers in the early 70s, they had a good reputation for reliability. Many of these machines can still be seen in use today.
One of the most important things for me when I purchased the machine is the warranty period. Having used machinery commercially for all my working life, it's important to have something reliable and long-lasting. Mountfield offers a five-year warranty on this machine, this suggests something good!
Let's look at the Mountfield 1530H Lawn Tractor in greater detail
Features
A totally original lawn tractor.
Twin bladed cutting deck.
Smooth cutting action.
Powerful and efficient Mountfield engine.
Cast-iron engine liner.
Hydrostatic drive for optimum efficiency and manoeuvrability.
No gear changes.
Easy mounting and dismounting.
Electric blade clutch.
Excellent grass collection.
Large capacity collecting bag.
Full grass bag alert alarm.
Empty the collector from the operator seat.
Twin nozzle cutter deck wash system.
Headlights.
Optional mulch plug and tow bar.
Five-year peace of mind warranty
Mountfield has brought a new concept to the design of the Mountfield 1530H Lawn Tractor. The Mountfield 1530H ride-on tractor has a compact 84 cm (33 inch) cutting width. Traditionally on a machine of this size, the cutting deck would have just one blade. However, Mountfield has added twin blades that overlap and counter-rotate that help to give that perfect finish to your lawn. Mountfield has also achieved to make a machine with great performance and great collection ability. Efficient grass collection is of great importance on any mowing machine.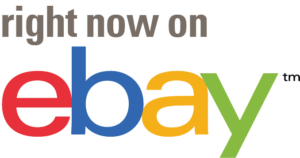 Hydrostatic Drive
The majority of ride-on machines come with a hydrostatic drive today. Traditionally, the early ride on tractors came with a gearbox and clutch control. The gearbox on a ride on mower is not always the smoothest and quickest to engage. Thankfully, hydrostatic drives have made ride-on mowers much more practical and manoeuvrable.
Hydrostatic drive brings total freedom to mowing and ease of use. Personally, although there are a few machines available without hydrostatic drive I wouldn't recommend purchasing a gearbox machine, even though they are cheaper in price.
A hydrostatic drive is basically a drive that offers variable speed in forward and reverse, by using either a foot pedal or lever. There is no clutch to depress or gearbox, simply an oil-driven motor and an oil pump to drive the motor. Hydrostatic drive really does make mowing so much more enjoyable and so much easier. For example, if you are mowing your grass and you come to a thick area of grass, you simply slow down, without having to change gear! It's similar to driving an automatic car, no gear changing!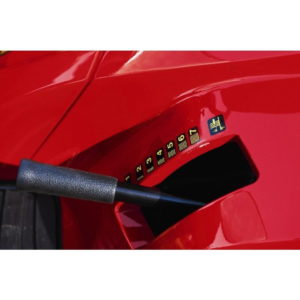 Engine
The lawn tractor is powered by a Mountfield 7750 452cc engine, which develops 11.2 hp (8.4 kW). This particular design of engine has been developed over the past 10 years, so it comes with expert design and lots of research. Bearings are used on all the spinning parts of the engine. There is an oil pump within the engine that ensures the engine is lubricated continually, even when being used on gentle slopes. The piston moves in a cast-iron liner which ensures engine longevity.
With a 6 L fuel tank ensure long sessions without the need to refuel.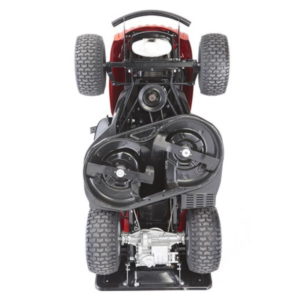 Cutting System And Collection
The overlapping twin blade action on the cutting deck cuts beyond the width of the machine. The deck is designed so as the blades overlap each other, so there are no streaks in the cutting action. There is also blades protection should any obstacles encounter the blades.
Due to the airflow created by the twin blades and the design of the cutting deck enables excellent collection in wet or dry conditions. The grass is directed straight back into the collector, no angled tubes where grass can so easily become entangled and blocked.
The machine has an excellent capacity grass bag, 240 L to be precise, this is excellent for a machine of this size. The less time you spend emptying the collector, the quicker you finish the job! The collector can be operated from the driver's seat. I see some machines that have two or three collection bags on the rear of the machine. I would avoid these machines at all costs. Who wants to dismount from a machine to empty the grass bags, when you can empty from the operator seat!?
The cutting deck has seven different cutting heights, ranging from 25 mm to 80 mm. This enables you to have a nice clean cut for that perfect room lawn look. However, if your grass is slightly out of hand there is a high setting available to take control of your lawn again.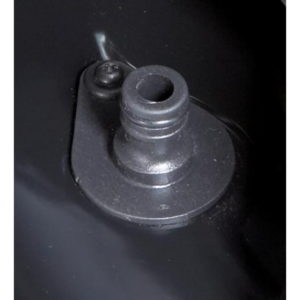 Electric clutch
The lawn tractors cutting deck is engaged by an electronic clutch, no levers to push or pull, just a flick of a switch. Take care when engaging the clutch, keep the engine revs low to minimise strain on the clutch and belts.
The Mountfield 1530H Lawn Tractor has a useful hose attachment that enables you to wash your cutting deck. There are two ports on each side of the cutting deck.
An optional deflector kit is available for the Mountfield 1530H Lawn Tractor, which enables you to tackle longer grass. There is also a mulching plug available and a tow bar for attachments.
Well-Designed
Although I always tend to look at the practicalities and functionality of a lawn tractor rather than looks. Mountfield has certainly made their lawn tractor look the part. The controls are sensibly placed and the tractor is easy to get on and off the machine.
The wheels are heavy-duty with pneumatic tyres for excellent traction and stability in awkward terrain. If you feel inclined to work in the dark the Mountfield lawn tractor is even equipped with headlights. Personally, I would prefer to cut my lawn in the daylight hours!
To Conclude
The Mountfield 1530H Lawn Tractor is a practical lawn tractor for the garden which has been well thought out. One of the most important things for me is the efficiency of the collector. It appears that Mountfield has made a good job of producing an efficient collector.
It is good to purchase a machine that is from a well-known brand, Mountfield has been a popular brand for almost 50 years. With a five-year peace of mind warranty, the 1530H is definitely worth looking at. When I'm purchasing a machine, I like the idea of a long warranty for minimum future costs. To me, when I see a five-year warranty it means that the manufacturer trusts their machine.
Another good point is to purchase a machine with hydrostatic drive. There is a gearbox model available, however, I would definitely go for the hydrostatic drive machine. To me, it is well worth the extra money, in more ways than one!
Specification
| | |
| --- | --- |
| Engine Make | Mountfield |
| Engine Model | Series 7750 OHV |
| Engine Type | Petrol 4-stroke |
| Engine Capacity | 452cc |
| Engine Power | 8.4kW (11.2hp) @ 2800rpm |
| Engine Cylinders | Single |
| Engine Starting System | Electric Key Start |
| Engine Fuel Tank Capacity | 6.0 Litres |
| Transmission | Hydrostatic – Foot-Pedal Controlled |
| Drive | Rear Wheel |
| Speed | 8.8km/hr (Max.) |
| Cutting Width | 84cm |
| Cutting Heights | 25-80mm |
| Height Adjustment | Single Lever, Spring Assisted (7 Positions) |
| Blade Engagement (PTO) | Electronic |
| Turning Circle | 140cm |
| Blades | 2 |
| Grass Collector | 240 Litres |
| Empty Grassbag from Seat | Yes |
| Grassbag Full Indicator | Yes – Audible |
| Mulching | Optional |
| Rear Deflector | Optional |
| Side-Discharge | No |
| Headlights | Yes |
| Seat | Highback / Adjustable |
| Deck Washout Port | Yes |
| Tow Bar | Optional |
| Front Bumper | Yes |
| Wheels – Front | 380mm (15″) |
| Wheels – Rear | 460mm (18″) |
| Dimensions (HxWxL) | 110cm x 90cm x 234cm |
| Sound Level | 100dB (A) |
| Weight | 190.5kg |
| Lawn Size | Up to 5000m2 |
| Warranty | 5 years |