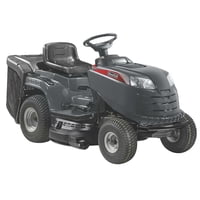 Today we are looking at the Mountfield T38H-MC Lawn Tractor, this machine is currently on special offer. Yesterday we looked at the smaller compact Mountfield 827M Compact Lawn Rider, which is a great machine for gardens with obstacles. The Mountfield T38H currently has a discount of £500 and is available for just £1999, so a great saving.
There are all sorts of ride-on mowers on the market, in fact, we are actually spoilt for choice. However, this can make choosing a lawnmower more difficult. Over the coming months as we move towards the spring, (I know it's early yet, but spring soon arrives) I want to show you the various options available.
So, let's look at the Mountfield T38H-MC Lawn Tractor and some of its features and benefits.
Features
Powerful purpose-built Mountfield engine.
11 hp overhead valve engine.
Generous cutting width.
Electric clutch engagement.
Easy clean deck.
Mulching feature.
Large capacity collector.
Empty collector from operator's seat.
Hydrostatic drive.
No gear changing.
Good stability on slopes.
Optional tow bar for pulling implements.
Twin headlights.
Robust front bumper.
Tight turning circle.
Spring-assisted height control.
Three-year warranty.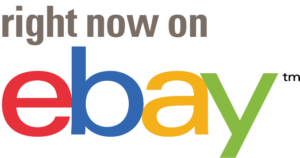 Mountfield T38H-MC Lawn Tractor
The Mountfield brand has been around for almost 50 years. Mountfield started production back in 1962. I can remember as a child Mountfield and Hayter rotary mowers being extremely popular. In fact, virtually every petrol roller rotary mower was either a Mountfield or a Hayter mower. I still see many of the old, early Mountfield mowers still going strong today. I always think it is good to purchase a brand that is well known and has good parts and service backup.
The Mountfield T38H-MC Lawn Tractor is a 98 cm cut (approximately 3 feet) which comes with hydrostatic transmission, a powerful petrol engine and large collector.
Hydrostatic Drive
The Mountfield lawn tractor has a hydrostatic drive system which gives you instant variable speed forward and reverse, there is no clutch or gearbox to contend with. Most ride-on mowers today are powered by a hydrostatic drive, there are a few gearbox models still available. However, although hydrostatic drive mowers are slightly dearer, they are definitely worth the extra money for the extra flexibility that a hydrostatic drive machine brings.
Traditionally ride-on lawnmowers had a gearbox and clutch, but thankfully with hydrostatic drives, cutting grass has got much easier! The hydrostatic drive consists of a hydraulic pump and a hydraulic motor. This enables the machine to be able to move at variable speeds in forward and reverse just through using one-foot pedal, there is no clutch or gearbox.
Hydrostatic drive is so much easier than the traditional gearbox, if your grass is long, you can instantly slow down. If it's short you can speed up instantly, no gear changing! It's also great for manoeuvring around obstacles, flower borders and trees et cetera.
Engine
Mountfield has its own engines to power most of their machines. The Mountfield T38H-MC Lawn Tractor is powered by a Mountfield 4 stroke overhead valve petrol engine. This is a 432 cc engine that develops 11.2 hp at 2800 rpm. It also comes with electric start so there is absolutely no effort to start this machine. The 6 L fuel tank will allow you to cover lots of grass in one fill-up.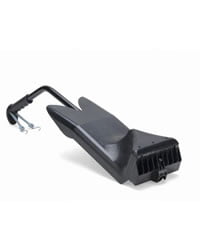 Cutting Deck
Blade engagement is electronic, so you simply just flick a switch and the cutting deck is engaged. Just a word of warning, always engage your cutting deck at low revs as to prolong clutch life. Failure to do so shortens the clutch life. If you think of it like this, you wouldn't run your car flat-out and then engage the clutch, it's the same thing!
The seven-position variable cutting height lever gives you cutting heights from 25 mm to 80 mm. Spring-assisted height control makes changing the height straightforward and effortless. I always prefer to cut grass longer rather than shorter, especially in dry weather as this helps to keep the lawn healthy. I see far too many people cutting their lawn far too short which is the perfect way to wreck a good lawn. The 80 mm maximum height of cut is ideal if the lawn has become long, in this way the longer grass can be cut effortlessly.
Grass Collector
The machine features a large grass collector that can be emptied from the driver's seat. To me, this is a must, I see no point in having a ride on mower where you must leave the seat to empty their collector. Some manufacturers offer a bagging system that has two or three bags on the back to manually empty, in most cases I would say that this is a pointless idea. Mountfield has designed a neat ride on machine where the grass clippings can be emptied from the operator's seat.
The grass collector has an alarm to warn you when the grass box is full. In this way the alarm avoids any blockages to the machine, I think we've all spent unnecessary time unblocking grass collector's that take up valuable time!
More Features
A heavy-duty bumper is fitted to the Mountfield T38H-MC Lawn Tractor that protects the front from any accidental impact. Another very useful feature is the deck washout port that helps to keep the cutting deck clean and efficient. Simply attach your garden hose to the deck, engage the cutting deck for a few minutes and you have a nice clean cutting deck!
To Conclude
Mountfield is a well-known brand who have great knowledge in the manufacturer of lawnmowers. The Mountfield T38H-MC Lawn Tractor offers excellent value for money for a machine of this size. With the hydrostatic transmission and the efficient collection system, you quickly cover large areas of lawn. The machine comes with a three-year peace of mind warranty.
Specification
| | |
| --- | --- |
| Engine Make | Mountfield |
| Engine Model | 7750 OHV |
| Engine Type | Petrol 4-stroke |
| Engine Capacity | 432cc |
| Engine Power | 11.2hp / 8.4kW @ 2800rpm |
| Engine Cylinders | Single |
| Engine Starting System | Electric Key Start |
| Engine Fuel Tank Capacity | 6 Litres |
| Transmission | Hydrostatic – Foot-Pedal Operated |
| Drive | Rear Wheel |
| Speed | 9.7km/hr (Max.) |
| Cutting Width | 98cm |
| Cutting Heights | 25-80mm (7 Positions) |
| Height Adjustment | Single Lever – Spring Assisted |
| Blade Engagement (PTO) | Electromagnetic |
| Turning Circle | 140cm |
| Blades | Twin |
| Grass Collector | Rear Collect |
| Empty Grassbag from Seat | Yes |
| Grassbag Full Indicator | Yes |
| Mulching | Optional |
| Rear Deflector | Optional |
| Side-Discharge | No |
| Headlights | Yes |
| Seat | High Back / Adjustable |
| Deck Washout Port | Yes |
| Tow Bar | Optional |
| Front Bumper | Yes |
| Wheels – Front | 380mm |
| Wheels – Rear | 460mm |
| Dimensions (HxWxL) | 110cm x 103cm x 234cm |
| Weight | 160kg |
| Lawn Size | Up to 6000m2 |
| Warranty | 3 Years are you spastic |