I thought I would look at something different today as it's Boxing Day, the world's fastest mower! So today we are taking a look at the Viking ride on mower and the Honda racing mower, not quite your normal ride on mower.
It looks like the Honda ride on mower broke the speed record in 2014 by reaching 116 miles an hour. The next record by Viking mowers, although I can't find this recorded in the Guinness book of records, reached 215 km/h which equals 133.5 mph! Both amazing speeds for a ride-on lawnmower.
The World's Fastest Viking Mower
Apparently Viking entered the record books on November 5, 2015, to become the world's fastest mower. The Viking ride on mower reached 215 km/h (133.5 miles an hour)! The record run took place at a Norwegian airport. Viking is part of the Stihl group who manufacture chainsaws, Strimmers, hedge cutters and more.
For any record to be officially approved, there are many regulations, one of the regulations is that the ride on mower must be able to mow a lawn. In other words, the machine can do what it was primarily designed for. So in this case machine is equipped with cutting blades and a collection box all in working and functional order.
The world's fastest mower, Viking is powered by a 408 hp engine, not your average Briggs & Stratton mower engine! It also has a Formula One steering wheel and Formula 3 tyres. Viking just adjusted their ride on mower slightly or maybe a bit more than slightly well respecting the rules for their record-breaking attempt.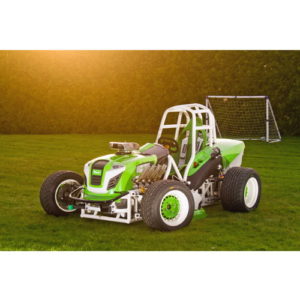 The weather was difficult for the first attempt in Oslo and it actually failed. The record attempt worked on a one-mile stretch of ground.
The record attempt took many months of preparation between Viking and the Norwegian Motorsports Association. I can imagine a huge amount of work goes into trying to set a speed record on a ride-on lawnmower.
Apparently, these speed records are regularly contested by the largest manufacturers, it must cost a fortune to contest these speed records, however, it must be very good fun!
Stihl Group
The Stihl group is well known for its manufacture of petrol and now battery tools for the forestry industry, landscapers and gardeners.
Over the last few years, the Viking range seems to have grown considerably, although I haven't used a Viking mower, I've heard good reports.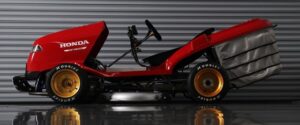 Honda Racing Lawnmower
Here is the Honda racing lawnmower that reached speeds of 116 miles an hour (187 km/h, quite amazing, but even more amazing is that the Viking ride on goes faster.
If you're someone who doesn't like cutting your lawn, then maybe this high-speed mower may be the answer. Or maybe more realistically a robotic mower may be more suitable and cheaper for your garden and quieter!
The record was achieved in Tarragona, Spain. The task was to beat the previous record from 2010 by a John Deere ride-on mower. I have to say that the Honda mower looks slightly more like a traditional lower than the Viking ride on mower.
Engine
Honda has fitted a thousand cc superbike engine to the machine to give it a rapid performance. The engine is the VTR 1000F Firestorm engine that develops 109 hp and nought to 60 in just four seconds. The weight of the machine is just 309Ibs (140 kg), I'm surprised the mower doesn't take off being so lightweight! I would have thought the horsepower may have been greater than 109 hp?
Apparently, the Honda mower gives a better power to weight ratio than the Bugatti Veyron. I certainly wouldn't expect this sort of performance from a ride-on lawnmower!
It appears that one of the biggest problems was the wind resistance as the machine was originally designed to go at a maximum of 12 mph. That's a big difference from 116 miles an hour! The driver said that the Honda mower felt surprisingly stable and even when accelerating it tracks very straight and true. I cannot imagine going 116 miles an hour on a ride-on lawnmower, you need to look out for those low overhanging branches!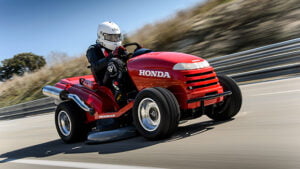 The speed was measured through a 328 feet (100 m) speed trap which was overseen by official timers.
To meet the Guinness book of records regulations, the Honda mower had to prove that it could cut grass in a conventional way. Apparently, Honda discovered that it could actually still cut grass at 15 mph, to me that's quick. I wonder if the collector was able to cope with the amount of grass flowing through?!
The Honda mower or "Mean Mower" has been designed and built in the UK. It's good to know that we can still design and make things in the UK!
The mower is fitted with a custom speed six-speed gearbox, it also has a custom-made cobra sport seat! I'm guessing the original Honda may have been a hydrostatic drive which would have been capable to reach such speeds.
To Conclude
I find it absolutely amazing that engineers can make a ride on lawnmower travels so fast. I wouldn't want to sit on any ride-on machine at that speed! I've owned a few zero-turn machines and sitting on these machines at 12 mph even with suspension seems fast, especially when the ground is slightly rough!
Information was sourced from the Daily Mail and Annuaire.