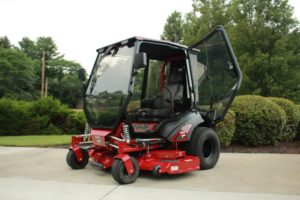 I came across this premium air-conditioned cab for a Ferris ISX3300 zero-turn mower! I must admit I didn't know that such a thing was available and it's something that I have never seen before! The cab looks almost larger than the actual mower. I guess it's a good idea, although it could be a bit restrictive when cutting under trees and overhanging branches etc.! It's great for those hot days to keep out the way of dust and flies etc. It is also great for those colder damp days.
Having owned several Ferris zero-turn mowers, I very much appreciate the build quality and everything that is zero turn mower has to offer. I believe that zero-turn mowers are the most manoeuvrable mowers on the market today. They also have a great capacity for cutting grass extremely efficiently. Zero-turn capabilities makes them ideal for manoeuvring around obstacles and trees etc.
Premium AC Cab For Ferris ISX3300 — Fits Ferris Model ISX3300 (Vanguard® BIG BLOCK™ EFI ETC with Oil Guard) with 60″ (5902064), 61″ (5901881), or 72″ (5901872) Side Discharge Mower Decks (2020+)https://t.co/zQrhAZNnoa pic.twitter.com/5l745rRznx

— Curtis Industries, LLC. (@CurtisCabs) February 8, 2023
Lightweight
The cab weight is just 252 lbs, I actually thought it may weigh a bit more than that! I think the photograph makes the cab look bigger than it really is. The cab width is 80 x 50". Apparently, it takes 4 to 6 hours to install the cab. The windshield and the door windows are made from polycarbonate.
You can see the features below of the premium air-conditioned cab for a Ferris ISX3300 zero-turn mower. It also comes with some optional features, which include a wiper kit, console kit, light kit and side view mirrors. I would think that you need side-view mirrors if you have a cab.
Features
Air Conditioned Operator Enclosure
Fully Assembled Drop-On Cab
Lightweight aluminum construction
Weather-tight, full perimeter sealing
Hard-coated, tinted, scratch-resistant polycarbonate windshield & doors
Effortless entry with large, rear-hinged, lockable side doors that may be quickly removed
Automotive-style A/C, fully charged, mechanically driven compressor
Easy fuel tank access
Specification
Install Time: 4-6 Hours
Shipping dimensions: 84 x 62 x 71 inches
Shipping weight: 439 lbs.
Cab width: 80 x 50 inches
Cab weight: 252 lbs.
Height above floorboard: 57″ at the highest point
Windshield: Polycarbonate
Door windows: Polycarbonate
Roof: Aluminum with acoustical headliner
Pre-drilled holes for optional side mirrors
For more details, Curtis can be contacted here, you can also see their Twitter link here.