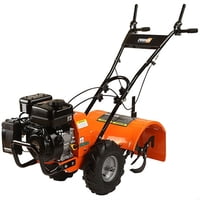 Today we are looking at a special offer – the Feider RTF220 Pro Rear-Tine Tiller. I am always looking for ways to save time and make life easier in the garden, the Feider RTF220 Pro Rear-Tine Tiller does exactly this!
The Feider RTF220 Pro Rear-Tine Tiller is currently on special offer at £699, which is actually a £300 saving on the normal price.
There are different types of tillers and cultivators available. I would always recommend a wheel driven rear tine tiller type of Tiller over a Tine driven machine. Obviously, different types of Tiller have their place, but in general, a rear Tine machine is much more efficient and much easier to use.
Features
Pro rear tine tiller capable of handling many different soil conditions.
Powerful 208 cc four-stroke engine with overhead valve technology and low emissions.
Large fuel tank for non-stop operation.
Two-speed gearbox making pro rear Tine Tiller very easy to manoeuvre.
Chain drive rotors for top performance and low maintenance.
Debris guard to protect the operator and assist tilling.
Two-year warranty with optional five-year protection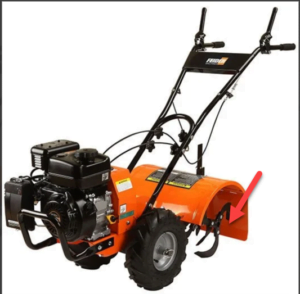 The Rear Tine Advantage
There are all sorts of tillers, cultivators and Rotavators available to the horticulturalist and keen gardener. As I mentioned, my favourite type of Tiller is the wheel-driven rear Tine type. A wheel-driven tiller takes the hard work out of tilling and rotavating by using the powered wheels to drive the machine forward.
With tine driven tillers the tines drive the machine forward, which is fine, but it does require a lot more effort from the operator. I started out with a tine driven tiller which worked fine but did require a lot of physical effort. Moving up to a wheel driven machine was a great move forward as I could literally rotovate all day, effortlessly.
Obviously, many things depend on our budget, but if you can go for a wheeled driven tiller, you will not regret it.
Feider RTF220 Pro Rear-Tine Tiller Engine
The Feider RTF220 Pro Rear-Tine Tiller comes with the high performance 208 cc overhead-valve four-stroke engine. The engine is built to a commercial specification which benefits from excellent fuel consumption, quieter running and low emissions.
A 3.6 L fuel tank means maximum productivity without the need to refuel too often.
Transmission
With the two speed gearbox, which makes for very easy manoeuvrability. The one forward and one reverse gear makes turning easy, no pulling or straining, just simply engage reverse gear.
The rotors or tines are driven through a chain drive that guarantees maximum performance, no belts to slip or adjust.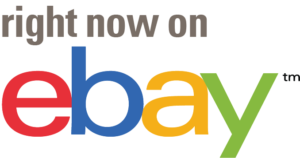 Tilling Width
The tilling width is approximately 15 inches (40 cm) so makes it easy to negotiate narrow gates and pathways. The Tiller width is wider than the wheel width making sure that no wheel marks are left on your freshly tilled soil.
There is a robust debris cover that stops stones and earth flying everywhere. The debris cover also helps to smash up the soil as it hits the cover and comes back onto the rotors. At the rear of the debris cover, there is an adjustable skid that helps to control the tilling depth.
To Conclude
I always like to purchase a quality product for the garden and also a product that will last and give many years of service. I much prefer a wheel driven tiller with the rotary tines at the rear. The Feider RTF220 Pro Rear-Tine Tiller offers excellent value for money at just £699.
Specification 
| | |
| --- | --- |
| Engine Make | Feider |
| Engine Type | Petrol 4-stroke |
| Engine Capacity | 208cc |
| Engine Fuel Tank Capacity | 3.6 Litres |
| Oil Tank Capacity | 0.6 Litres |
| Transmission | 2 Speed |
| Drive | Chain |
| Working Width | 40cm |
| Working Depth | -35cm (Max.) |
| R.P.M. of Rotars | 3600rpm |
| Wheel Type | with Pneumatic Tyres |
| Weight | 73kg |
| Warranty | 2 Years |