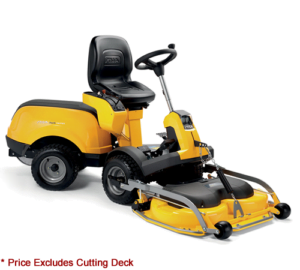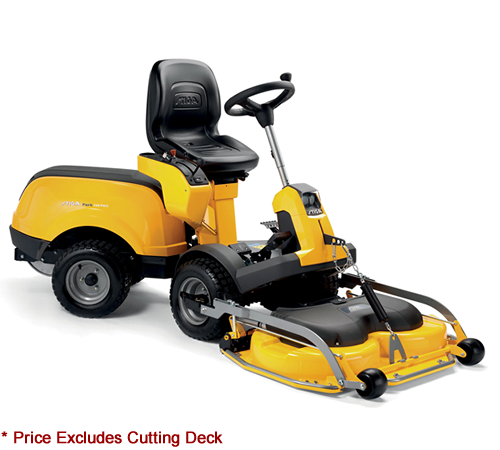 Today we are looking at the Stiga Park 740 PWX 4WD Out Front Deck Lawnmower. Over the past few days, we have been looking at the Stiga range of out-front deck articulated steer mulching mowers. Recently we looked at the slightly smaller, but highly manoeuvrable, Stiga Park 120 2WD Out Front Deck.
The Stiga Park 740 PWX 4WD Out Front Deck Lawnmower is available for £4855 including VAT. The current price offers a saving of £1124. Please be aware that this machine does not come with a cutting deck. The reason the deck is not supplied is that Stiga offers five different cutting deck sizes for this machine. The cutting deck size starts at 95 cm and goes up to 125cm. I would always go for the largest deck in normal circumstances, however, if you have narrow gates to negotiate then a smaller deck is perfectly adequate.
As I've mentioned before in my previous blog posts the articulated steer principle and the out-front mulching deck offers excellent manoeuvrability and efficiency. I believe the most manoeuvrable ride-on mowers on the market are zero-turn mowers. However, the Stiga range of articulated steer mowers are close behind and are cheaper than zero terms to buy.
Features
One of the most manoeuvrable machines on the market.
Four-wheel-drive.
Hydrostatic drive.
Power-assisted steering.
Adjustable seat and steering wheel.
Electric cutter deck engagement.
Powerful 18 hp Briggs & Stratton engine.
Electric start.
Mulching deck.
No grass clippings to collect.
Electric adjustable cutting height available.
Three-year warranty.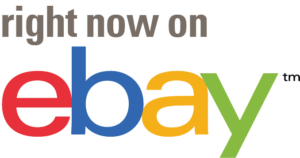 The problem that I find with many ride-on mowers is the lack of manoeuvrability and the fact that they can be quite cumbersome at times, especially in confined spaces. The articulated steer principle changes everything when it comes to manoeuvrability. The Stiga articulated mower can negotiate obstacles like trees, flower borders, shrub beds, etc with great ease. You can literally drive around a tree without having to reverse or manoeuvre at all!
Hydrostatic Drive
Most ride-on lawnmowers today have hydrostatic drive systems. Although there are a few budget machines that still use the traditional gearbox and clutch system. I would never recommend buying a ride on mower without hydrostatic drive.
Hydrostatic drive offers variable speed and instant forward and reverse, normally on a couple of foot pedals or a lever. You literally press one-foot pedal for forward and the other pedal for reverse, some machines have forward and reverse all on one pedal. The great thing is that you have variable speed. So, for example, if you come to a lush area of grass and you need to slow the machine down, it's instant! No gears change or clutch pedal to depress, just instant forward and reverse and variable speed! Hydrostatic drive really takes the hard work out of mowing.
Four-Wheel-Drive
Another great feature of the Stiga Park 740 PWX 4WD Out Front Deck Lawnmower is the fact that it has four-wheel-drive. This is a great asset if you're lawn is on a slight slope or if you leave in a particularly wet area. If money was no object I would always choose a four-wheel-drive machine over a traditional two-wheel-drive machine. Believe it or not, grass can really be quite slippery and greasy, the four-wheel-drive ensures that you keep moving forward efficiently.
Engine
It's always good to know that you have an efficient and powerful engine on a machine. The Stiga Park 740 PWX 4WD Out Front Deck Lawnmower is powered by an 18 hp V twin four-stroke petrol engine. I have had personal experience of the 18 hp Briggs & Stratton engine as I have owned several machines that have been powered by this model of engine. It is a very good engine.
The Briggs And Stratton engine has electric key start.
Articulated Steer
The articulated Steer gives the Stiga out front mower excellent manoeuvrability. On this model the steering is hydraulically powered making it extremely easy-to-use.
Mulching Cutting Deck
Traditionally a rotary mower throws the grass out of the rear of the machine or side discharges, in this way it helps to keep the machine running efficiently. However, with a mulching deck the grass is kept inside the deck and is chopped into small pieces, which then creates a mulch. This does require slightly more power than a traditional mower deck, fortunately, the Briggs & Stratton 18 hp can cope with this with ease.
When mulching grass, it's very important to cut your grass on a regular basis to have an efficient mulch. I would suggest cutting at least once a week, possibly more in the height of the growing season. It's too much to expect if you're going to leave your grass three or four weeks and then expect a good mulch. Fortunately, the mulching deck has a feature where the deck can be made into a traditional rear discharge deck, should your grass become too long to mulch.
The mulching deck has an electric clutch that engages the deck at the flick of a switch. Take care to engage your cutting deck at low revs as this puts less strain on the clutch. The actual deck lift is mechanical and is adjusted with a foot pedal.
Cutting Heights
The cutting height ranges from 25 to 90 mm depending on which cutting deck is purchased. There are 10 different height adjustments which can be operated manually or electronically depending on what cutting deck you purchase There are five different cutting decks available for your Stiga mower.
To Conclude
I have always liked the out-front deck principle on lawnmowers as I believe it is the best position for a cutting deck. Combined with the out-front deck and articulated steer the Stiga Park 740 PWX 4WD Out Front Deck Lawnmower really is a manoeuvrable machine. The four-wheel-drive is an added bonus that is definitely a useful feature to keep you moving forward.
If I was looking for a ride on machine this is something that I would take a serious look at. I really like the idea of mulching as it saves huge amounts of time, no grass collector to empty. Just remember that you need to cut your grass regularly to achieve an efficient mulch. However, the manoeuvrability and the mulching ability of this machine make it far quicker than the traditional lawn tractor. My approximate estimate is that the work rate is double to that off a traditional lawn tractor with a collector on in my experience.
Another great feature is that Stiga gives a three-year warranty on the machine and 10 years chassis. I always like the idea of a decent warranty as it shows that the manufacturers trust their machine.
Specification
Engine: Briggs & Stratton Vanguard 18 Twin Cylinder
Power Output: 11.9kw
Transmission: Hydrostatic and Reverse
Drive: 4 wheel drive
Maximum Speed: 0-10 km/h
Fuel Tank Capacity: 12 litre
Starter: Key Start
Power-Assisted Steering: Hydraulic
Steering Link: Chain / Chain
Deck Lift : Mechanical – foot operated
Cutter Deck Sizes : 95 cm, 100 cm, 105 cm, 110 cm and 125 cm
Cutting Deck Heights: 10 positions , 25-85mm or 25-90mm depending on deck size
Electric Cutting Height Adjustment: Yes, NB requires an electric deck
Wheel Size: Front 16″ and Rear 16″
Hour Metre, Lights, Adjustable Steering Wheel : Yes
Adjustable Seat: Yes
Weight : 218kg
Warranty : 3 Years Domestic Machine Warranty – 10 Years Chassis