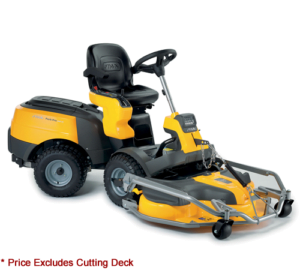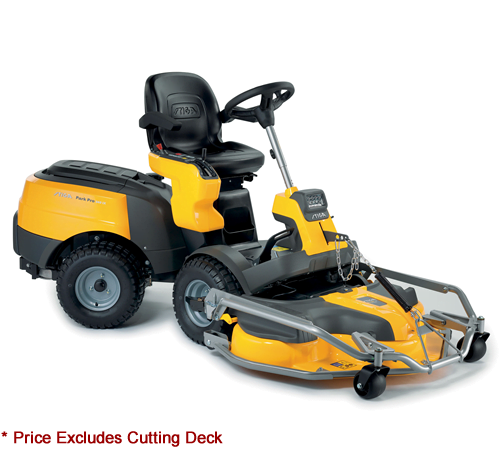 Today we are looking at the Stiga Park Pro 340 IX 4WD Out Front Mower a machine aimed for the professional. Yesterday we looked at the Stiga Park 740 PWX 4WD Out Front Deck Lawnmower, which is a great all-round machine.
The Stiga Park Pro 340 IX 4WD Out Front Mower is on sale for £6155 which at the time of writing offers a saving of £1044. Please be aware that not all the Stiga out-front mowers come with a cutter deck. This model has several various cutting decks available, which are around the £1000 mark. Stiga offers a choice of decks for this machine ranging from 95 cm to 125 cm.
As I've mentioned in previous posts, I really like the out-front deck mower principle and the articulated steer. The articulated steer machines are one of the most manoeuvrable and versatile machines on the market. I'm a great fan of the zero-turn mowers which are the most manoeuvrable machines on the market, however, they do have a higher price tag. We will look closer at zero turn mowers in a future blog post.
Features
One of the most manoeuvrable machines on the market.
Out front deck.
Mulching mower.
No grass to collect.
Hydrostatic transmission.
Power-assisted articulated steering.
Adjustable seat and steering wheel.
Range of mulching decks.
Briggs & Stratton 18 hp engine.
Attachments are available.
Three-year domestic warranty.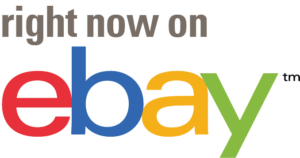 The main advantages of the Stiga out front deck range of mowers is the fact that they are; highly manoeuvrable, there are no grass clippings to collect as these machines mulch the grass. You can literally cut around trees without having to reverse, the turning radius is amazing with these articulated steer machines.
Engine
The Stiga Park Pro 340 IX 4WD Out Front Mower is powered by an 18 hp twin Briggs & Stratton four-stroke petrol engine. These are excellent engines and offer power, economy and smooth running. I have personally owned several machines with an identical engine.
To be fair over the years I have had many machines with Briggs & Stratton engines and the issues I have had have been minimal. The fact that Briggs & Stratton are probably one of the most popular engines available means that there are a great service dealer network and parts are sensibly priced.
Cutting Deck
I have always liked the idea of mulching grass; this is for two reasons. One of the reasons is that the mulched grass acts like green manure or fertiliser, so it keeps your grass looking greener for longer, especially in dry periods. Another reason is the fact that there is no grass to collect as the grass is mulched. Although some of the ride-on machines have large collectors, it still takes time to empty the collection system, particularly if the grass was long.
In my experience, the Stiga mulching mowers cut twice as fast as a traditional lawn tractor. This is due to the fact of the extreme manoeuvrability and mulching ability.
How Does A Mulching Deck Work?
Traditionally cutting decks are either rear discharge or side discharge, in the UK we tend to have more rear discharge machines. To save power a traditional cutting deck needs to discharge the grass quickly to make the most use of engine power.
With a mulching deck, grass clippings are kept in the cutting deck for as long as possible to chop the grass and make it into mulch. A mulching cutting deck does require more power than traditional rear discharge cutting deck.
For effective mulching, you need to try and cut your grass at least once a week in the peak growing season. I have been amazed at how effective these mulching mowers really are, they have come a long way over the past few years. Although you cannot leave your grass for three or four weeks in the peak growing season and expect your grass to mulch efficiently.
Cutting Widths
There are five different cutting decks available for the Stiga Park Pro 340 IX 4WD Out Front Mower. The mulching cutting decks range from 95 cm to 125 cm. Stiga gives you many options with their cutting decks, from electric height adjustment to smaller cutting decks for more confined spaces.
Cutting heights range from between 25 to 90 cm, the heights can be adjusted electronically depending on what type of deck you purchase.
Hydrostatic Drive
Most modern ride-on mowers are fitted with hydrostatic drives rather than the traditional clutch and gearbox. Although a traditional clutch and gearbox are slightly cheaper to buy I would never recommend buying a lawnmower that does not have a hydrostatic drive system.
Hydrostatic drive gives you instant forward and reverse and variable speeds on one-foot pedal or lever. This is such a timesaving invention, it makes cutting your grass so much more pleasurable. Gone are the days when you have to keep selecting a different gear for different conditions. With hydrostatic drive, you just vary the speed instantly depending on the conditions. It's a bit like driving an automatic car, no gear changing!
Adjustable Seat And Steering Wheel
The Stiga Park Pro 340 IX 4WD Out Front Mower features an adjustable seat and steering wheel for maximum comfort.
To Conclude
I speak to a lot of people about what type of machine to purchase as there are so many machines on the market. A lawn tractor can look very attractive in a photograph with its headlights and bright colours. However, more often than not I will recommend a Stiga out front mulching mower due to the manoeuvrability and mulching abilities. I always like to purchase something that is practical, efficient and reliable.
Stiga also gives a peace of mind three-year warranty on their machines and a 10-year warranty on the chassis.
Specification
Model: Park Pro 340IX
Type: Out front deck
Engine: Briggs & Stratton
Engine Type: Vanguard 18
Cylinders / Output : 2 / 11.9kW
Transmission: Hydrostatic + Reverse
Steering: Articulated
Servo: Hydraulic Servo
Steering Linkage: Chain / Chain
Wheels – Front / Rear : 17 inch
Max Driving Speed (kph) : 10
Seat: High back comfort with armrests
Headlight: Yes
Mower Deck Cutting Width : 95cm – 125cm
Cutting Heights* : 25 – 85mm or 25 – 90mm *(depending on deck size)
Deck Cutting Height Adjustment: 10 positions with electric deck
Deck Lift: Manual
Overall Length: 255 cm
Overall Width : 135cm
Weight : 236kg
Warranty : 3 years domestic, 1-year commercial