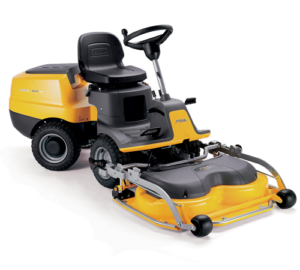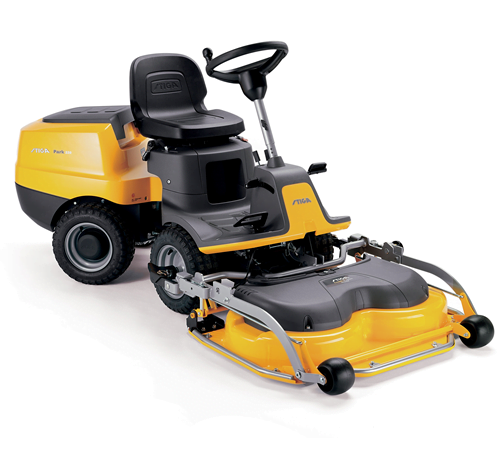 Today we are looking at the Stiga Park 120 2WD Out Front Deck articulated ride on mower. Recently we looked at the slightly cheaper Stiga Villa 14 HST Out Front Rider. These articulated out front deck machines give exceptionally good manoeuvrability around trees, flower beds and various obstacles in the garden.
The Stiga Park 120 2WD Out Front Deck is currently available at the price of £2599, which includes the cutting deck. Just be aware that when you are purchasing a Stiga mower not all models come with a cutting deck. I believe the reason for this is to give you a choice of cutter deck size.
As I mentioned in my previous blog post, I find that these out front articulated steer mowers are some of the most manoeuvrable machines on the market. I find the most manoeuvrable machines are the zero-turn machines, which we will talk about another day. However, zero-turn mowers are dearer to buy than articulated steer mowers in general; the Stiga out front articulated steer mowers are far more manoeuvrable than any tractor type mower.
Features
One of the most manoeuvrable ride-on mowers on the market.
Excellent mulching ability.
No grass to collect.
Extremely quick mowing times.
Optional rear discharge cutting deck feature.
Adjustable seat and steering.
Electronic cutter deck engagement.
"Quick Flip" cutting deck for easy maintenance.
Three-year warranty.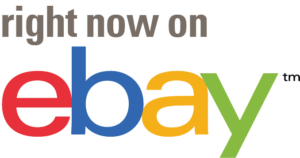 As I mentioned in the previous paragraph the articulated steer principle offers amazing manoeuvrability. You can literally cut right around trees without having to reverse or manoeuvre. With the out front mulching deck, in other words, no grass clippings to collect, these machines can outperform traditional lawn tractors. This is partly due to the manoeuvrability and the fact that there is no downtime in emptying a grass collector.
Engine
The Stiga Park 120 2WD Out Front Deck is powered by a Stiga engine which has a power output of 7.1 kW which is 10 hp. This is a four-stroke single-cylinder petrol engine with electric start.
Cutting Deck And Mulching
With an 85 cm cutting deck, the Stiga Park 120 has to be one of the most manoeuvrable mowers on the market. The electronic clutch on the cutter deck is engaged by a button, there are no levers to engage.
Traditionally cutting decks are designed to remove the grass from the cutting deck as quickly as possible to reduce the load on the engine. However, mulching decks are designed in the opposite way, they try to keep the grass inside the cutting deck. In this way, the grass is kept in the deck and made into mulch. Specially designed blades also assist with the mulching process.
No Grass Collector To Empty
I think the two biggest advantages with a mulching mower is the fact that there is no collector to empty, which in turn speeds up the mowing process. And secondly, the mulching process helps to keep your lawn greener the longer. The mulched grass acts as green manure or fertiliser which helps to keep the grass green even in dry weather.
The cutting deck is adjustable, cutting heights range from 25 to 80 mm.
Stiga'scutting deck has a feature which is referred to as "Quick Flip" this enables the cutting deck to be positioned for easy cleaning and maintenance. To me, this is a very useful feature as cutting decks can sometimes be quite awkward to access. With this feature, cleaning the cutting deck and removing the blades becomes a much easier task.
The cutting deck also has a feature that enables you to turn the mower into a rear-discharge machine. This is particularly useful if your grass has become long and needs to be knocked down quickly. Mulching does take quite a bit of power as the grass is being kept inside the deck. However, having the ability to make the machine into a rear-discharge machine reduces the load on the engine, and make the cutting more efficient.
Adjustable Seat And Steering
To maximise operator comfort Stiga has made the steering adjustable and the operator seat adjustable.
To Conclude
I've always been a great fan of out front cutting decks as to me this is the correct position to have your cutting deck. It also helps with manoeuvrability. If I was looking for a ride on mower, I would definitely look at articulated mulching machines as it is a brilliant way to keep your lawn under control. In fact, I always recommend articulated steer mowers to customers.
I appreciate that some people do like the option to be able to collect the grass clippings. However, the time saved throughout the year through using and outfront mower is huge. I have found that in my experience if your lawn is cut on a regular basis there is minimal grass left. Even in the autumn time when there are leaves around the mower still seems to be able to mulch leaves. Obviously, you will not be able to mulch huge heaps of leaves, but in normal terms these mowers cope well in this situation.
Stiga has confidence in their machine as they offer a three-year peace of mind warranty. Would I buy this machine? A big yes!
Specifications
Model : Park 120
Drive : 2WD rear wheel
Transmission : Hydrostatic
Engine : Stiga
Cylinders : 1
Power Output : 7.1kW @ 3200rpm
Steering : Articulated
Steering Linkage : Wire / wire
Wheels – front & rear : 15″
Max driving speed (kph) : 9
Cutting Width : 85cm QF manual deck included
Cutting Heights : 25 – 80mm
Deck Lift : Manual
Overall Length : 168cm
Weight : 167kg
Domestic Warranty : 3 years