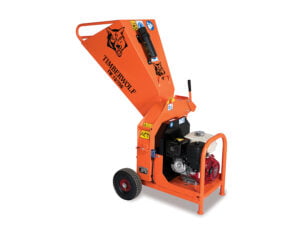 Today we are looking at the Timberwolf 13/75G Chipper, this is Timberwolf's smallest chipper. However, it's not your average small chipper! Yesterday we looked at the Timberwolf 280TVGTR Chipper, today, we are going to the other end of the scale, with a gravity feed chipper.
Features
Made by the top woodchipper manufacturer in the UK.
Reliable Honda four stroke 13 hp petrol engine.
3 inch (75 mm) cutting ability.
Positive blade feed.
Solid or pneumatic tyres.
Easy to maintain.
Parts and service readily available.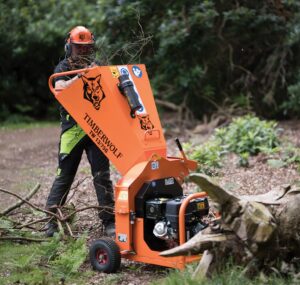 Timberwolf 13/75G Chipper
The Timberwolf 13/75G Chipper is a small and compact gravity-fed chipper manufactured by the largest seller of chippers in the UK. It may be small and compact, but it really is a great workhorse. You can see in the video at the foot of this page how well the Timberwolf gravity-fed chipper performs.
Although the Timberwolf 13/75G Chipper is a small and compact chipper. It is ideal for the hire market, the landscaper and the keen gardener. I have often thought about buying a chipper like this myself and hiring it out. It's a small chipper with a commercial specification and excellent work rate.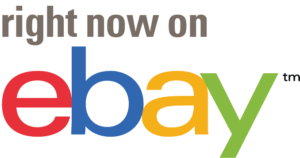 Timberwolf claims that this gravity-fed woodchipper has a working life in excess of 10 years, even when working in the demanding hire industry. This machine is very easy to operate, it's easy to move around with the transport wheels. It also has a great work rate in a sensible price bracket of around £4000, it really is in a class of its own.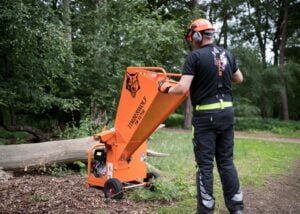 Engine
It's always good to know that when you are purchasing a quality product that you have a quality engine. The Timberwolf 13/75G Chipper is powered by a Honda four-stroke overhead valve 13 hp engine. I know many people who prefer Honda engines over any other engine on the market.
I have personally owned several different machines with Honda engines, and I have always been impressed with their economy and performance. There have been many times when I have left a machine unused over the winter for a few months. In general, Honda engines will start up on the first pull even after several months of being unused.
Low Running Costs – High-Capacity
Having used Honda engines for many years, I know that the economy is excellent on these engines. I remember owning a pedestrian flail mower which was powered by a Honda engine. I believe this machine would last around three hours on one fill-up, I believe the fuel tank was around 6 L capacity. This is excellent fuel economy for an engine of this size.
With a chipping ability of 3 inches (75 mm) this gravity-fed Timberwolf chipper copes with the average homeowner's trees and shrubs. Most people tend to log anything that's over 3 inches in diameter.
The gravity feed works off a strong self-feed action which is produced by the "positive blade feed" that is incorporated into the feed funnel. The 7 inch fully hardened blade quickly chips wood into small chips which can either be composted or used as a mulch. Personally, I prefer to compost woodchip for a couple of years before mulching.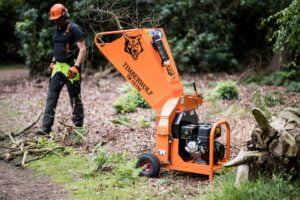 To Conclude
There are many small woodchippers on the market similar to the Timberwolf 13/75G Chipper. However, I believe that the Timberwolf has the edge as Timberwolf have the experience of successfully being the number one manufacturer of woodchippers in the UK. The fact that this machine is used in the hire industry suggests that it is a well-made and designed product.
As I mentioned earlier, this is the type of machine that I would buy to hire out to people, compact enough to move around easily and yet powerful.
Specification
Engine

13hp Honda 4 stroke

Fuel

Unleaded petrol

Tank capacity

6.5 litres (1.4 gallons)

Weight

188Kg

Length

1565mm (working) 815mm (feed funnel removed)

Width

800mm

Height

1600mm

Maximum Diameter Infeed

75mm

Throughput

0.75 tonnes per hour

Feed Method

Positive blade feed

Blades

1 x 177mm (7") fully hardened